Imagine being in an amazing band like Shadows Fall, now imagine being chosen to be the guitarist of one of your favourite bands growing up. This kinda happened to Jon Donais, who has been a full-time member of iconic thrash band Anthrax since 2013. Earlier this year Anthrax released 'For All Kings' featuring Donais. We caught up with Jon at Bloodstock-Open-Air 2016 to talk about performing with Anthrax, Shadows Fall and metal festivals.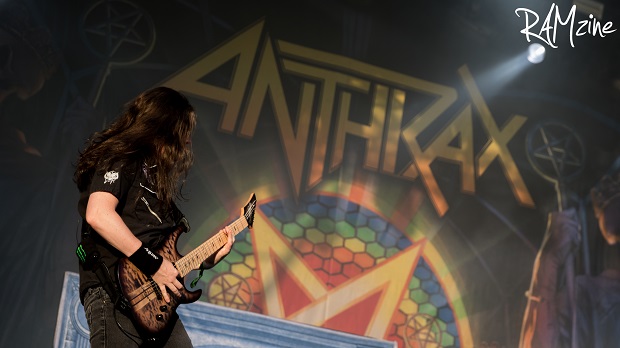 So you joined Anthrax in 2013, how does it feel three years on?
It's  a dream come true! I've been listening to them since I was a kid and watching them on MTV. It's crazy that it actually happened.
Coming from Shadows Fall, did you feel you had big shoes to fill when joining Anthrax?
Of course, it's nerve-racking because they're a legendary band and been around for so long. I know metal-heads are really hard to please so it was VERY nerve-racking.
You've just brought out a new album and doing a few live dates, have you got anything else in the works?
We have a few European dates soon then going home for a few weeks. Then we are going on a seven-week tour with Death Angel and Slayer in the US. Then going to Japan, doing Knot-fest and a few more festivals after that and maybe a headline tour.
What can we expect tonight (Bloodstock)?
We're gonna go up there and give it our all like every night. Hopefully everyone's gonna have a good time.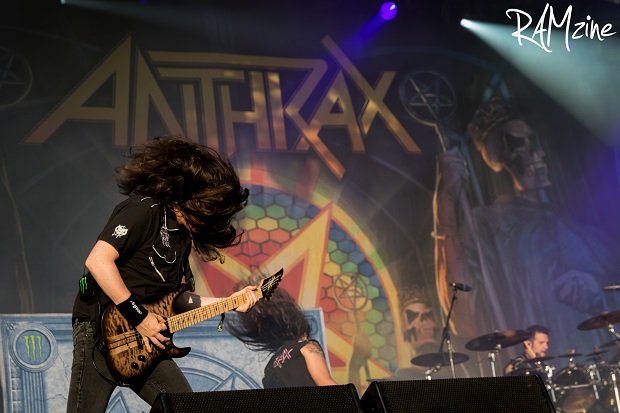 How do you feel to be playing Bloodstock, possibly the biggest metal festival in the UK?
I love it! I love these festivals because you run in to all these bands you have toured with, it's like a reunion, it's cool also because you have all kinds of different fans for different bands and you get to see fans that wouldn't usually see you. You might turn a few heads and get some new fans.
So do you have any more plans with Shadows Fall?
No plans. It's open for things, but it's hard for us to get together. We get asked about it all the time. If we get offered some shows, and maybe make a little money, we'll do it. We can't lose money though because we have kids and families. You can't just tell your wife 'I'm just gonna go fuck off for a week' and not come home (laughs). We live far apart so it would take a lot of flights for us to even jam. So it's not that easy.
Are you looking to check out any other bands this weekend?
Yeah –  I like Symphony X, Slayer are always awesome. Those two for sure, but I haven't seen the full line up yet. I kind of just woke up (laughs)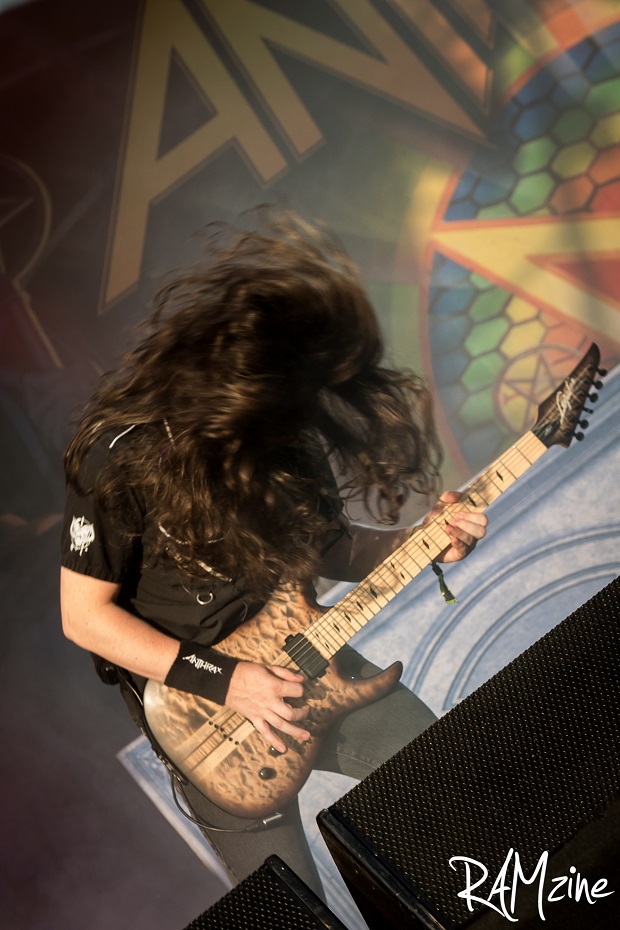 What do you feel the reaction to the new Anthrax  album 'For All Kings' has been like?
Great! The reviews are good and fans tell me they love it. The shows have been great, it's all on the positive!
Do you ever notice the ages of the fan change – from fans of earlier stuff to newer fans?
Of course it has. There's 14-15 year olds. They're all wearing the jackets with the patches with old school bands on them. Then when you meet them it's sometimes fathers and sons. Their Dad saw us on the 'Among The Living' tour and now it's the son's first time seeing us. Two generations now come to see Anthrax.
If you had to put together a line-up for your dream festival, who would be on it?
A mix of 80s mainstream metal and heavy bands. Like: Skid Row, Guns N Roses, Ratt, Dokken, Tesla, Cinderella, and then also Megadeth, Slayer, Anthrax, Testament, then heavier stuff like Carcass, In Flames, At The Gates, Morbid Angel. So it would be a mix of 80s hair up to death metal (laughs).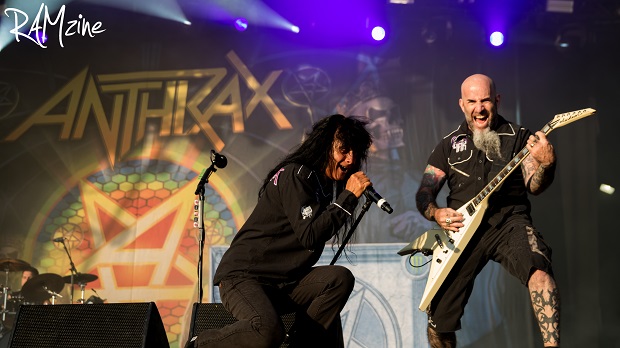 Keep checking RAMzine.co.uk for more interviews and podcasts from Bloodstock 2016 and out full review of the festival in issue 10 of RAMzine digital zine. 
You can check out our highlights reviews here:
You can even watch Anthrax's set IN FULL from BOA 16 here:
All photography in this post is by Ash Crowson. Check out his  work on his official Facebook
Below are a few more pics he took during the Anthrax set.