With 4 albums including the brand new 'InVader' which was released last March, Reckless Love are literally reckless! These glam rock guys have been touring non-stop and also promoting the new material. They have recently presented the new video for 'We are the weekend' and they are back in London today to play Camden Rocks. This time we get to speak to Olli, frontman of the band, who shares funny stories and give us some news about what the band is up to and what is in store for them.
RAMzine: So you are back here after only a couple of months since you played at Scala in London, what makes you want to come back so often?
Olli: – The audience of course, I mean, UK audience is the best, they have always made us feel welcome since 2010 when we first came here to play at the Barfly which was the very first place where we
got a show here. And that was even before we did our major tour in Finland, our home country, so basically the UK is our first home soon after Finland which feels pretty weird to say but it's always been like that. People here love to have a good time, everyone in the world likes it but especially people here.
RAMzine: Today you are playing Camden Rocks, what's the difference between performing your own show and performing in a festival?
Olli: – First of all the setlist is a lot shorter, we would of played for twice this long on our own show but now we only got 45 minutes and we have four full albums of material which means we have to skip so many good songs and even leave some of the singles out because we want to play some new stuff as well.
RAMzine: What happened in the last couple of months since you left the UK?
Olli: – We have been touring in Finland quite massively but you usually only play on the weekends there, but still, we did plenty of shows and it's been a good tour.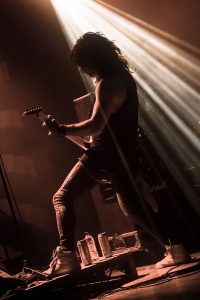 RAMzine: Your new album 'InVader' has been out since the 4th of March, how's the response going? And would you have done anything differently?
Olli: – Well, I have no regrets on that album, I think that's the best album we've done so far and I still listen to it very often. I really think this is one of our strongest albums so far. I wouldn't change anything on it which is pretty weird because I would change little things in each and every of the previous records.
RAMzine: Is there a song in particular that represents 'InVader' best?
Olli: – 'We are the weekend' is probably the one that represents the whole band the best at the moment because of the lyrics and the overall feel good of the song and that's the whole point of Reckless Love, our definition. Anyone who works 9 to 5 for five days a week knows the feeling  of the clock ticking 5pm on a Friday and that's exactly what you get in a Reckless Love show. Let us be the soundtrack for your party, a short vacation from this shithole we call earth. I mean there's war, poverty plus everyone has their own problems, it's a depressing place to live in and the news is full of that. Some of the rock bands even write songs about it and I don't really understand why people would pay money to listen to what we listen to all the times. So my message is kick back, enjoy your time and come listen to Reckless Love!
RAMzine: Where do you usually find inspiration or ideas for the new songs?
Olli: – Touring is one of the most inspirational things that we do, being on the road is unreal. 'We are the weekend' is a great example, we would be nothing without the audience and our fans so together audience and fans create that kind of weekend party feeling anytime, anywhere and we don't need a reason why. Summer is a good inspiration, it's coming now so the skirts are getting shorter and people seem to always have good vibes.
RAMzine: Can you tell us something about your new video?
Olli: – 'We are the weekend' just came out and it's a live video we shot in spring when we came to Nottingham, some of the material was shot in London and some in Helsinki as well.
RAMzine: What do you think makes you guys stand out from the other glam and hard rock bands of today?
Olli: – What a tough question, there are a lot of great bands out there but I suspect it's the quality of the songwriting that Pepe does, treating melodies differently, it's nothing you have heard before, it's more pop than sleaze or heavy metal because people usually use those words just to justify that one song and Pepe does not do that. I mean those songs could work on any artist.
RAMzine: Throughout all of these years with Reckless Love is there any memory in particular you would like to share?
Olli: – Being on the road is a constant cloud of chaos in which you live in and there are many of those funny little things that might not be funny for other people but they are for us. That was during the spring tour, they brought us this really bad bus that had busted air conditioned and so when it was still it got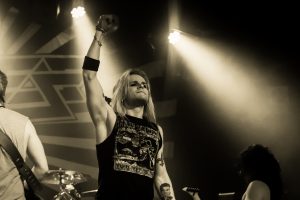 burning hot inside but when it was moving it started to be freezing. Unfortunately everyone got sick and we had to change bus. Our bass player was sleeping in the lower bunk on the right side of the bus. When we changed
bus he took the lower bunk on the left side of the bus and that evening he was quite drunk that he forgot we had changed buses so he thought that instead of the wall we had put our gears in front of his bed so he felt trapped and started to scream 'I can't get out'! He never realised of the open space on the other side until he turned on the lights (laughs).
RAMzine: Anything else you would like to add?
Olli: – The bigger news will be out on Monday and it's an announcement of when we are going to come back to the UK for our next shows in autumn and we are also going to do another European tour, so we are definitely coming back to it!