Come the end of April, Camden town descends into a sea of long hair, beards and beer guzzling monsters. Catering for the Stoner/Doom/Sludge/Psychedelic rock crowd across multiple venues, Desertfest finds its home in the heart of it all, cutting off and taking over Greenland Place (just off the side street by Worlds End) and having the Black Heart at the very centre. Being a first timer to the festival, getting to know what is where regarding everything Desertfest was real simple, and before you know it you can get straight on with the priorities, finding and making new friends, beer drinking and band watching.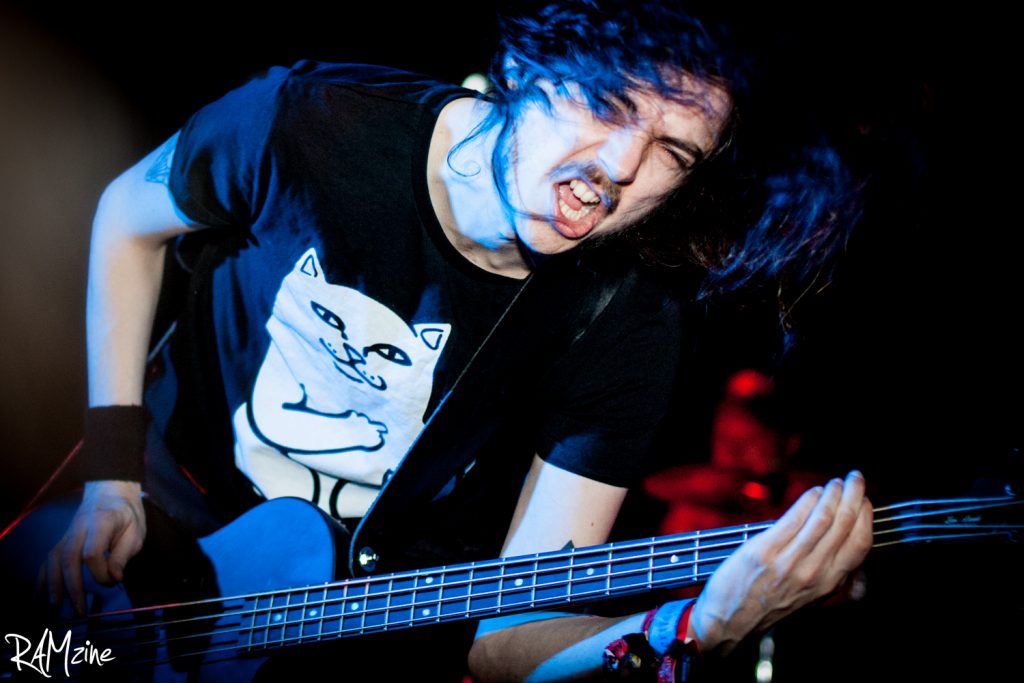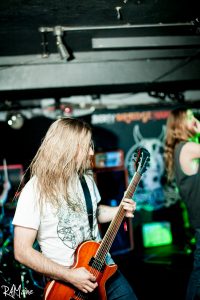 Gurt were nothing short of amazing and completely packed the Underworld out. A great start for the opening band of the day. Fighting my way through the crowds, I eventually managed to just about squeeze into the Underworld to catch Raging Speedhorn for the first time since December, original guitarist Gaz even managed to make the journey all the way from Stockholm making this an extra special show for them. Playing as tight as ever, louder than hell, and to a crowd hanging on every song, they nailed out an utterly mesmerising set full of fan favourites and even 3 new tracks off the upcoming album. The only annoyance, and this happens a lot throughout the festival, is having to leave early to head elsewhere, and with Crowbar soon on at the Electric Ballroom, I soon ran off to get a good spot. Crowbar have never let me down live, and celebrating their 20th anniversary tour of album Broken Glass this was set to be something. Dominating the stage with their presence, they nailed through a predominately old set with only a couple of songs off the latest few releases. Come towards the end of the set they nailed out the performance of the day, with all the regular crowd pleasers being played; 'When Planets Collide', 'All I Had I Gave', 'The Lasting Dose', but the most special and unexpected was their 1993 cover of No Quarter which went down a storm, catching up with a good friend not long after Crowbars set, his exact words were "Oh my God, they played No Quarter! That's almost worth the £100 ticket alone!".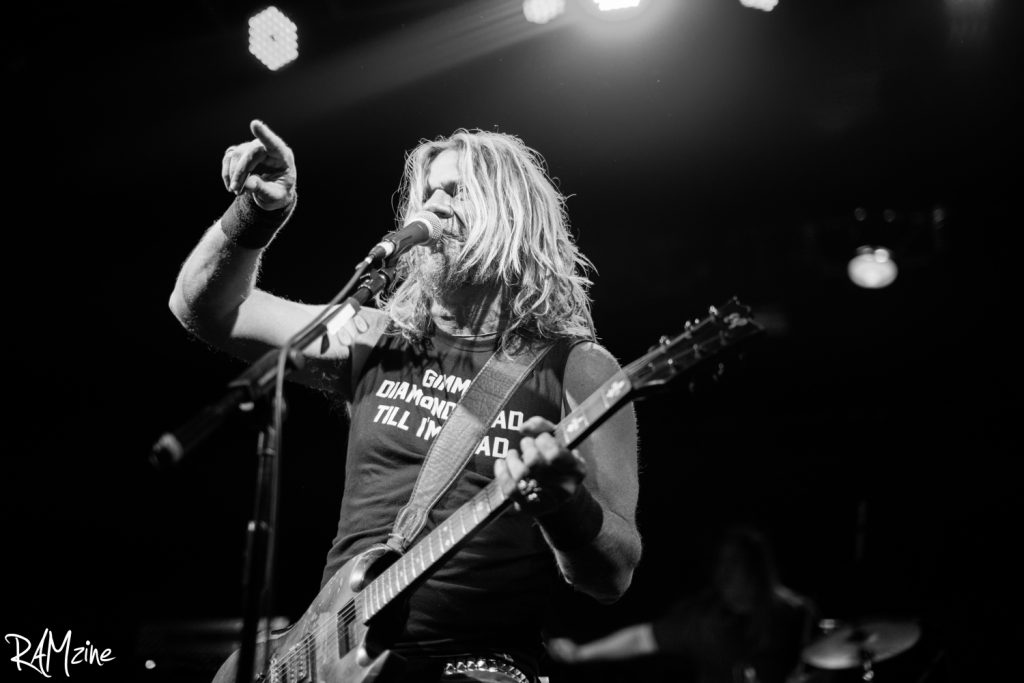 Staying put in the Electric Ballroom and sacrificing the chance of seeing JK Flesh in the Black Heart proved worthwhile as it soon ended up with a one in, one out policy for those wanting to catch Corrosion of Conformity. Having recently been rejoined with Pepper Keegan, this is a throw back to the dirty, southern sounds of the 90's/early 2000's playing tracks from all the albums in between. Smashing through song after song, they put on a hell of a performance to a loving, packed out venue. A superb way to finish off the first night and made my journey home fly by.
On day 2 venues are packed out just like Friday thanks to all the weekend and day tickets being sold out. Scurrying down towards the Electric Ballroom I managed to get myself right down to the front ready for Conan. The Liverpool lads only last year released Revengeance which we were lucky enough to review. Although it has more pace than previous releases, it still holds true to the Conan style, and they brought that crushing sound alive on stage with an absolute monster of a set. Despite they sheer heaviness of the band, the set seemed to lack a little something, not through the lack of bands efforts, but the front of house and quite possibly the way the sound engineer set it just didn't quite have the power as the last few times I've had the pleasure of seeing the band. Making up for this though was having to cut Conan short to get back down to the Underworld for Slomatics. Having not heard of these before and them even being recommended by Conan, they certainly brought the heavy. Even with earplugs in they brought a new meaning to the word crushing. Only staying put for 20 minutes before running to catch TruckFighters, the Underworld put up a fight to let me out, and when I finally managed, the queue for the Underworld was a real decent size proving Slomatics to have been one of the must see bands of the weekend.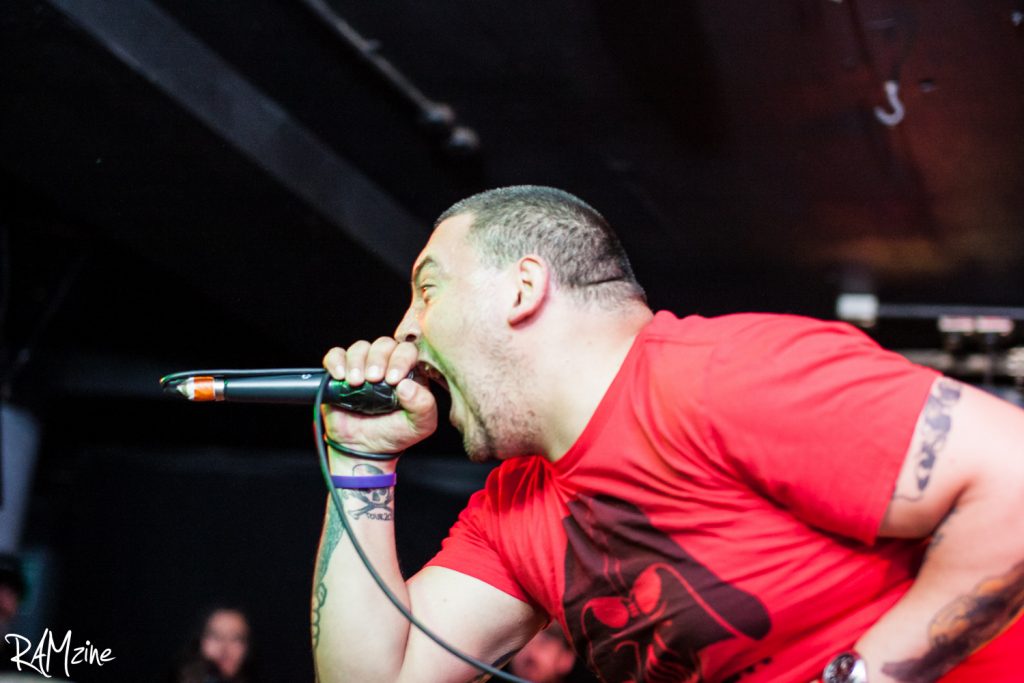 Truckfighters probably stole the show with the sheer energy and showmanship on stage. Guitarist Dango especially, like a man possessed he barely stood still! Clearly the journey from Sweden didn't tire them out at all! Highly entertaining, and a good wake up like a shot of adrenaline in a day full of slow and heavy, which takes me back to the Underworld for Monarch! The French band are something special indeed, with a 50 minute slot being enough to only fit in a handful of songs, such is the mammoth size of their music. Sounding like something so dark and heavy, even the devil would be nervous, but with the voice of Emilie Bresson being as hypnotic as her beauty. Using such a dynamic range of vocal talent, witnessing them live is really something to behold, just a shame so many people were intent on talking through it all. Having to sacrifice my spot in the Underworld where Samothrace and Unearthly Trance were set to destroy, and while Crystal Head and Mantar were preparing to play in the always packed Black Heart, I settled on a spot for Pelican and Russian Circles to finish off my night, i was not disappointed. Both instrumental acts have not shared a stage with each other for the past decade, and both made their time worthwhile. Pelican pulled off the tightest, and most amazing set, making them quite possibly the band of the weekend for me. While Russian Circles tried to upstage them with their own styles, the crowd soaked up the atmosphere and lit up all over the venue, driving security wild in search of the earthly smell that people were enjoying to make a perfect end to the days festivities.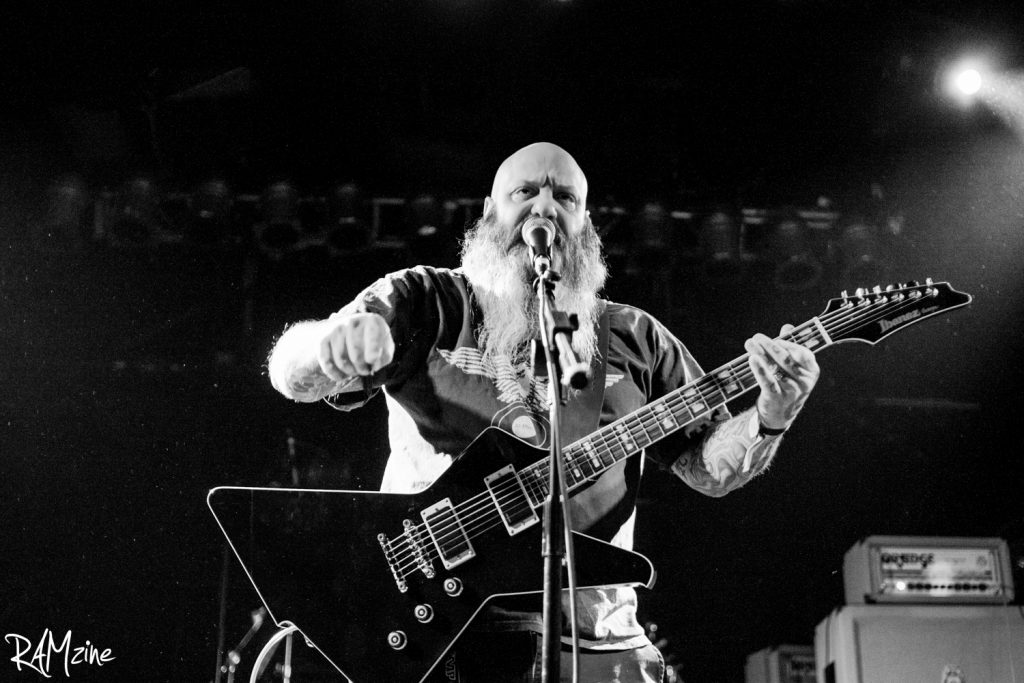 Day 3 seems to have arrived far too quickly, and with the addition of The Koko in venues being used with such an impressive line up, cutting bands short to run from venue to venue to beat the rush seems key! Grabbing a quick pint in Brewdog around the corner before cutting through the Desertfest village, the Black Heart is yet again rammed, no surprise! So the Underworld for the first band it is. Upon arrival, it is yet again filled out quickly as Ohhms have not long taken to the stage and brought a set that could cause more destruction than the North Korean armoury, and the stage presence you expect from only the finest of seasoned bands. After 45 minutes, necks are sore and bodies are starting to feel the effects of the weekend, so another quick break is already needed along with a quick pint and chat with fellow 'festers, before a steady stroll north to catch a quick bit of Bast whom never disappoint. Having caught them over previous years at Damnation festival and Bloodstock, what they brought was typical Bast which is nothing to complain about, but after only 15 minutes the walk towards The Koko to catch opening band Monolord was needed. The band started impressively with the venue filling out quickly, setting the standard for the day. With sets now reaching an hour long, more leaving venues early to catch other bands had to happen, much against my wanting to relax and enjoy a band!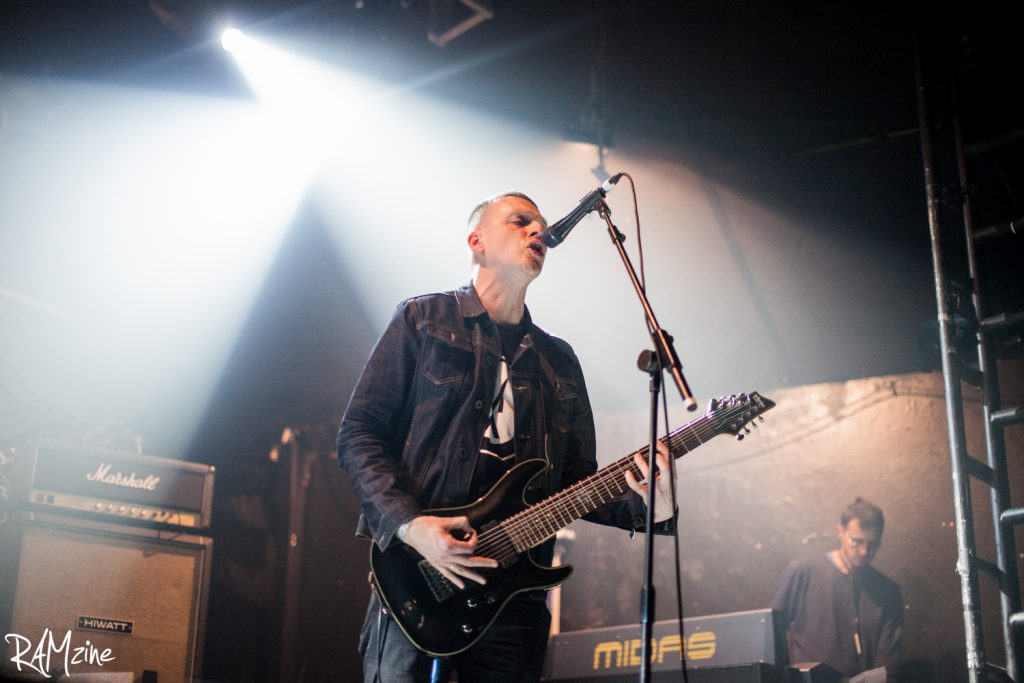 Leaving Monolord early to check out some recommendations made it completely worthwhile though, arriving back in the Underworld to check out my first unknown of the day, Dyse, and they proved to be one hell of a superb three piece instrumental band. Being a guitarist myself and seeing bands for so many years, you get to a point where you think you've seen everything, so when the guitarist brings the guitar up towards his head I expected the typical flamboyant behind the head or teeth picking, instead I was treated to the man screaming into his pick ups with great effect! Always nice to get a little something new! The language barrier between the band and crowd held nothing back from the band as a whole as they, and the crowd thoroughly enjoyed every minute of their set. Meanwhile however, Elder were preparing to bring their epic music to The Koko, and even while jokingly saying that "It's not a live gig without any technical difficulties!" with an issue with guitar pedals in the first song, they were flawless. Well worth the trip down the road in the rare hot sun.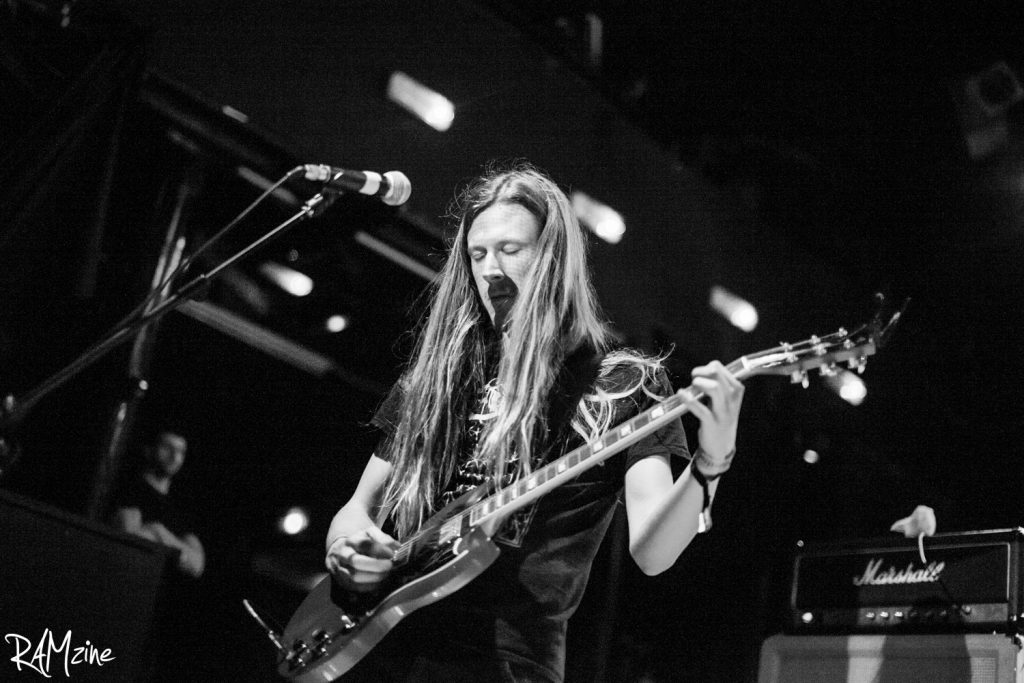 Sienna Root were set to take the stage at 19:00, and being told numerous times they are one not to miss I headed back not knowing what to expect, squeezing my way into the Underworld I arrived just as the band took to the stage looking far different from every band over the weekend I had seen so far. Living up to their appearance, they brought a fresh sound to 70's inspired psychedelic rock, well worth checking out! Doom legends Trouble had made the journey over seas to join the line up of The Koko while celebrating their 35th year, and in doing so brought their classic sound to life in a way only fitting by a band of such stature. Struggling to work my way through the crowd to get up towards the Electric Ballroom is testament to the bands following, as if having to leave before they get through their set wasn't hard enough! Toronto based Blood Ceremony proved worth the effort with their female led, doom laden performance. Touching slightly on folk with thanks to some flute playing, they created a superb atmosphere that grabbed hold of every person in the venue. Following on from Sienna Root back in the depths of the Underworld were heavy rock trio Mothership, owning the stage in their own style, they ripped through song after song making it impossible for anyone in earshot to not stand still. Wo-Fat were preparing themselves to decimate the Underworld soon after, and with a recent new release people that stayed were set to be destroyed, but much like everyone else, the highlight of the night was to be at The Koko. Headliners Electric Wizard were set to close the legendary venue and it was always going to end up overflowing with people. So begrudgingly leaving anywhere in Camden to make sure you could get into The Koko was on almost everyone's minds. Three days of travel, liver abuse and superb bands was set to come to a close real soon and people were soon hanging around in huge crowds outside the venue chatting away over cheap beers from local shops about their weekends highlights while brimming with excitement for the great wizard. Climbing the stairs in the venue passing people going every which way, finding a decent viewing spot was proving a struggle, tired legs making hard work of all the stairs but this was soon to be forgotten as the background music faded before the band took to the stage. Almost instantaneous, plumes of smoke start coming up throughout the crowd everywhere as people spark up, while others are still rushing around trying to find a place to fit themselves into every nook and cranny to see the stage from the balconies. With the walls sweating, Electric Wizard made the struggles worth it, their crushing doom reverberated through the place, feeling it in every limb. Maybe it may have just been where I had found myself stood, but vocals were almost incomprehensible over the sheer volume of it all, and the natural harmonies of the building seemed to fall in tune with long held chords, which even overpowered everything and even caused my ears to suffer despite decent ear plugs. Other than that though, Electric Wizard put out a performance worth remembering. It was always going to be something special, but they left me completely and utterly broken! Godflesh were set to be the final act of the festival over at the Electric Ballroom, but such was the battering of Electric Wizard, my time at the festival was up and slowly I was in a place where I had to steadily start getting my battered body towards the train station for my last journey home of the weekend.
Desertfest 2016 certainly left its mark on me, Damnation and Bloodstock have sadly now been put back a place in levels of favourite festivals with Desertfest taking to the top spot in flying colours. That isn't to say that it doesn't have its flaws though, Desertfest proved one major flaw all weekend, and regardless of what can be done or said, this flaw will be forever present. Quite simply, it just has far too many superb bands playing over the weekend that you just cannot see them all without missing out on loads! You will always get your weekend tickets moneys worth, but you cannot help but also miss out on as many bands worth seeing as you actually do see. You can never have too much of a good thing though, and there is always something somewhere on of great quality. Now there is just the long wait until next years, unless of course you travel to one of the European Desertfests… Now where's my passport?!