James Toseland is a man of many enviable talents. He's also a bloody lovely guy. Racing motorbikes for Honda at 18 years old, Toseland retired due to injury in 2011 with 252 races, 61 podium positions, and two World Superbike titles under his belt. So what's a world class biker to do when he can't ride competitively any more? Be a rockstar of course.
Having played piano from the age of eight Toseland swapped Yamaha for Yamaha, jumped back on the keys and started stretching those lungs again. We met up with James Toseland on the first date of his headline tour…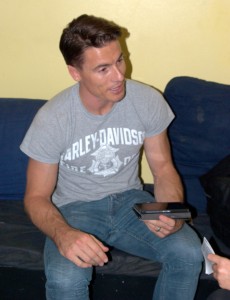 Between your retirement from racing and Toseland, you were in the band called Crash. Was that the start of your musical career?
"I was with Crash for the better part of 10 years. I did that as a bit of an added extra. How it all came about with Crash is I learnt the piano from my grandparents, my grandma. I loved it so much. My mom had a boyfriend with a motorbiker and that's where it kind of went off. Even though I got better and better at the motorcycle racing, I never gave my piano playing up. Luckily I got to a decent stage, an audition level of playing. I think most people, if they get to that decent level of playing that you get something from it, you can't let it go. Luckily I've just got to that point before my motorcycle career kind of took off when I was kind of 16. I studied the piano for eight years then, just as I was professionally starting racing."

"Then I went down to Newquay when I was 17 years old and there was a band playing down there just in the caravan parking–Hendra, Cornwall down in Newquay. The lead singer recognized me because it was a bike band. That was early days. Their keyboard player left. We kept in touch after Newquay because I went to go see a couple of their gigs because we're down there just on holiday having a jolly. I kept in touch with the band. The band back then was called Shazoom. They just did covers, and just great lads. As I said, the keyboard left and they rang me and said, "Do you want to just fill in a few gigs for us, just off and on again between the racing?" Because I was playing so much I said, "Oh, I'd love that," to do a few gigs with them. So that's how it all came about and we changed the name to Crash because a few people found out that I was in a band so we did corporate stuff for racing."
What happened after that?
"I worked for Yamaha for three years, so Yamaha sent me off to Japan four times just promote the pianos. One of the proudest moments I had in my racing career was getting the boss of Yamaha music to come to his very first motorcycle race, he'd never been, he was never invited to a motorcycle race."
How did that come about?
"The nice thing was that Yamaha motorcycles, the original guy to start producing motorcycles, asked the Yamaha music guy for the name. After World War I he had a warehouse that was building the propellers for airplanes and that all stopped after the war. They wanted to then manufacture motorcycles. He was friends with the Yamaha music guy and he says, "Can I use Yamaha as a name?" That's the story. I only know the story because I had to go to Japan three times. There are slight differentials in the logo and in the name. The M doesn't come as far as down in the middle and three tuning forks. That's why there's tuning forks on the Yamaha motorcycle because it's all connected to the music. That connection was great. Then, as I say, with Crash, I went to Vegas and launched the new R1. So for a just pretty good cover band, which we were–just having fun. We never rehearsed. We learned the song back at home and then we just arrived and then we'd learn it in the right key."
That sounds like quite the musical career you had going already, at that time…
"It wasn't serious. I had my serious job with motorcycling and racing, but it kept my piano playing up and it gave me a bit of stage experience. I started singing. I wasn't singing at first in Crash, but I was joking around singing "Sweet Child O' Mine" one day and the boys went, "Oh, hang on a second", and that's how I started singing in the band three years ago. I go, okay, I've got something so let's give my same dedication to this as what I did with motorcycle racing. This is going really well now and it's just about wiping its feet because I invested in the album and I invested in the band and everything. It's my own label, and it's starting to just wipe its feet. If I can do that and do this job, it's what I love doing."

"With my old job I used to love so much for 17 years, if I can have another job that I love so much as well I'd be pretty privileged. It is because the better the band does you got to kind of make the shoe a bit bigger. I've just invested in some lovely show gear with a new T on it and the new backdrop and all that, which is part of it. As I say, it's going really well. Tickets have been going great. I think we just about sold out Nottingham Rock City. It's the first time we've sold out. But it's not just selling out, they're bigger venues as well. I think the last run, the most tickets we've pre sold was 160, but that's at 300 capacity. In just six months it's been a great, great progress. We've got the Slade Rooms as well. That is the highest pre-sale ticket place that we've done. So the Midland seems to be a real rock area."
Do you think that's because people are just becoming more aware of you, they're hearing your name around more and stuff like that and word of mouth, social media, all that sort of thing?
"Yeah. Planet Rock Radio really championed us. There's not really many places you can listen to rock music these days and that's one of them. I've got a lot to thank for Planet Rock for playing the songs because when I first started out there was probably about 100 people at the first few gigs and I think most of them were just bike fans wondering what I've been up to for 18 months."
Tell us about how 'Renegade' came to be…
"I literally locked myself away in a hotel for eight months. I just checked in the hotel. I was living there pretty much full-time for eight months. It wasn't easy, givig up the racing at the same time as well. It was almost like I actually locked myself away to make that transition from being a sportsman to what I did first. It wasn't as difficult as I thought it was going to be because I actually found myself as I was before my mom met the boyfriend. As I said, the music started almost like I came back out of being an obsessed, competitive maniac racer to being that person I was that fell in love with music. I liked that person. I love the racing and all the rest of it, but it was nice to come back to that state of mind as a musician. When you get to the top of everything the pressures are all different as well."
You've had a busy year so far. In the last six months you've released the album, been guest to Status Quo, Calling, with the likes of Aerosmith. You supported Sebastian Bach, I understand, and you mentioned a couple of other bits and pieces you've been doing as well?
"Yeah. Steelhouse Festival. We did the Rock and Blues Festival. We did the Durham festival. We played at Silverstone GP. That's kind of the one I did a corporate thing for what I used to do. It works out well for that."

"We've got a lot to thank for Planet Rock and also Undercopy for putting us on. There was word that we could've done Download, but because we did that the year before on the acoustic stage there was a slot at Calling because he does both the Undercopys. It's just been a great year to be able to play in front of a lot of people. To be able to play in front of a lot of people you need some support from your agents. So the agents have done a great job this year. With all the exposure with playing in front of people, because it's rock music, it's difficult to hear on radio and other genres. That's why we've got the numbers up."

"The Status Quo gigs did really well for us when it was a revival tour. It was the Frantic Four Tour. But the Carfest was great for Chris Evans. They were amazing. Calling Festival was probably the most high pressured gig that we've done so far, because we're on the same time as Thunder. It's a similar kind of vibe, but the tent was absolutely packed. It was one in, one out. We got both agents there because I get help from Steve Strange and Steve Zap."
Did you work together on the album?
"We kind of worked collectively on it, which is nice. We've worked really hard. That stuff's been the main thing, why it's working out. We rehearse a lot and we're always constantly thinking. I've been writing again for album two. We're going to introduce two songs tonight from that. It's the first time we've got like a 90-minute set with those two extra songs in as well. So that's a big step."
You're releasing 'Just No Way' on October 13th, is that right?
"Yeah, I just found the video for it. I think the video comes live next week."
You mentioned Toby Jepson of Little Angels, who produced the album. He's also worked with the likes of Saxon and The Answer. Is he good to work with? Is he good fun to work with? Is he a hardcore worker?
"He is, but he's really passionate about what he does. That was great for me because when I first walked into his studio up in Scarborough he didn't know who I was, didn't know what I did, but he just knew I was a sportsman that used to ride motorbikes. He wasn't kind of keen on that because the whole cliche that I've had to get across…"
That you're going to come in with this kind of attitude or something like that?
"More the cliche from a sportsman to something else, there's been a few of them that have tried and done it. It's either a car crash or it works. Like Julio Iglesias, which not a lot of people know, but he was the goal keeper from Real Madrid. Anyway, Toby had a bit of a thing about that. He was a bit frosty at first, to say the least. So he just gave me a song, which was Just No Way. It was a song he wrote for his wife about 10 years ago. He says, "I've done this song. I think it's killer. I haven't done anything with it really. Go away because you're a piano player," because it was a key song. "Go away, learn that, and come back next week, and I'll see if we can do something, see if we can work together."

"It was such a big song that I obviously thought he's either going to do justice to that or it's not going out, which I really liked actually even though it was a bit frosty. I was like, oh, Christ, because long hair down till you're proper rock and roll, you know? He's the kind that's been there and done it."

"So, anyhow, I came back the next week and sat and played it and had a big chat in his kitchen. What was really nice was he realized that he'd got someone who could play the piano and sing to a certain level that we could work together. Our relationship just went from strength to strength and we started writing. Then we put a couple of demos down and then he was like, oh, I want a second. So then he picked the phone up to Steve Strange and all the people I used to work with and said, "Listen to this. I think we've got something." That's how the team kind of came around. I was in the kitchen when we did a couple of demos, and he just picked the phone up. I knew nothing about the industry."

"All I wanted to do was write my own album. That's all I really wanted to do. I wasn't thinking about a band together or touring. I just always wanted to do my own album, but then he started picking the phone up to a few people and then they started talking."
Your guitarist, Zurab Melua, I assume there is some sort of familial association with your wife, Katie?
"Yes, he's Katie's younger brother."
Has he been touring for you for long? Has he been there from the start?
"When I retired from racing I got Toby Jepson, who helped me write the songs on the album, and a wife, and a lead guitarist. It was strange because I met Katie at a concert. I took my mom to see a concert. Katie's a piano player and unbeknown to be was the biggest bike fan on the planet.

He spotted me in the crowd, emailed me. "It'd be great to see you again. If you want to come to a gig, no problem. I'll get you a ticket." I was in the area that night for the second gig, so I had a drink with her. Because we played keys, you see–my interest in keys. I took another drink, went backstage, and went in the dressing room, having a crack with the band, and then Katy came in. Dadda, dadda, dadda, and the rest is history."

"I was injured with the injury that retired me.I didn't know it was going to retire me at that point, but I was injured. So then I had to retire and then Katie was by my side at that point and that's why we got so close."

"She took me to the in laws for the first time and heard this young lad practicing in his bedroom. I went, "He's pretty handy with that." So really, he's just been playing for four years now. He's getting quite good. You know when you hear somebody. He came in, such a quiet lad. Such an unassuming, quiet lad. He was only 19 at that point. I went, "Hi, mate. I'm James." Awkward, you know, dating your sister. Awkward. "Can you listen to that and see if you'd like to play in the band I'm trying to get around this?" He listened to it. He went, "I love this." Cool. And the rest is history. He wrote most of the riffs. Me and Toby wrote the songs and then Zurab came and the rest is history. He's a great kid."
What can people expect from Toseland for this tour? When they come see a show, what are they going to see? What are they going to get?
"We love it, we love it up there, and you can feel that. Everybody in the band wants to do this. We like being on tour. We all get along, which is a rare thing sometimes these days. I think that really hypes up the crowd if you're hyped up, and they're hyped, and you kind of bounce off of each other. We all have a good time. I think the reason why I wanted to write music and get into music is just because I love it. To do this and to spend all this time away from home and all the rest of it again . . . because I had 17 years of racing, traveling around the world, watching CNN on your own in hotels, it has its times where it gets a bit much."

"To do that life again with this, it ought to be fun. That meant getting guys that I had fun with, which is not looking where you're looking for five other musicians, to all be on the same page, the same commitment, the same drive, not be on the drugs or the alcohol too much and the girls, whatever it might be. To get everything knitting wasn't easy, but I've been really lucky to find that."
What has Toseland got in store for the rest of 2014 and next year?
"We're hoping to get a support in November, December time. There's so many bands that we've been pitching for but nothing's come up yet. If not, then I'll crack on and keep on writing for the album two. We've got at least 10 ideas, me and Toby already. We've put two of the ones that we like so far in this set just to show people because it might the third or fourth time someone's come to see us now and it's nice to give them something new for what's in the future."

"I'm really excited about it because album one was autobiographical because of the hardship of having the finish racing and all the rest of it. It was my first album so it's quite a simple process of finding songs that you want to write about because it's all there. I don't know if I've got another 11 stories, so I'm going to have start making a few up now, so it gives it a bit of a different spin. It's not as easy. Because it's not as easy, it's more challenging, which further reward will come from that. It's just going to carry on the journey really. People liked it, so we're going to stick with that lineup."
Don't go abstract on us or anything like that.
"No. I'm not going to go jazz on you just yet…"
You can see James and the band in action on the following dates:
Thurs 2nd October 2014 – The Roadmender, Northampton, England Sat 4th October 2014 – Donne E Motori, Castegnato / Ospitaletto, Brescia, Italy Wed 8th October 2014 – 100 Club, London, England