Creating a brilliant live album is a tricky game to play.  For every 'Kiss Alive' or Thin Lizzy's 'Live and Dangerous', there are dozens that just fail to register. Albums which manage to take one of the best things about being a music fan, live shows, and remove all the soul, either through digital tinkering or bad recording. With a band like Meshuggah, that problem becomes even more of an issue.  They are a band that needs a good sound to really shine and thankfully, 'The Ophidian Trek' manages to capture that.
Recorded on the tour of the same name last year, in support of 2012's 'Koloss', this is a live album that manages to capture a little bit of why Meshuggah are such a great band.  Listened to turned up really loud, the machine gun drums and down tuned guitars will shake the room and you are able to appreciate just how good these guys are.  When it comes down to musical precision, Meshuggah are one of the best in the world and it's nice to listen to a live recording that backs that up.
This does not mean this is one purely for the musical nerds. Meshuggah do good songs as well and they are done justice on this album.  The live staples of 'Bleed' and 'Rational Gaze' sound as good as they always do, while new tracks like 'I Am Collossus' and 'Do Not Look Down' are not lost amongst their large sounding friends and sound like they have been in the setlist for years.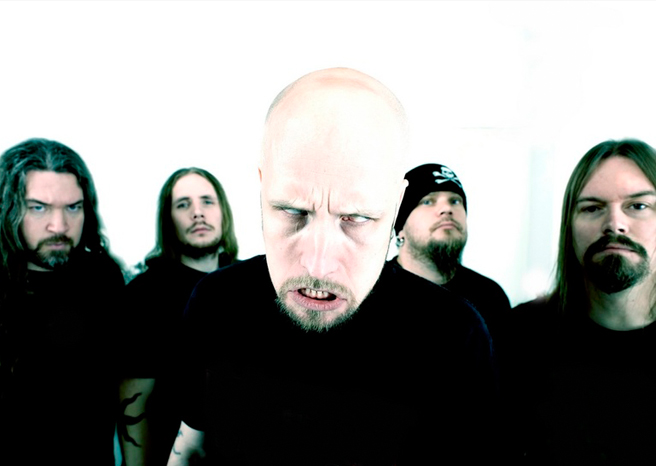 Despite all these good points, it is still hard to claim that 'The Ophidian Trek' is essential in the way that those classic live albums are. This is Meshuggah sounding good, but there is nothing to make them sound incredible and there is a failure to capture the spark of a real life live show.  It might well be that this kind of precise music does not need to be recorded live.  It is the kind of music that when listening to it at home you want to savour every lick of it, whereas the aforementioned classic live albums are played by rock and roll bands who, while incredibly gifted, bring a sense of danger and unpredictability to the live environment, which they then somehow managed to capture on CD.  There is a lack of that on this album, maybe because Meshuggah are just a little bit too good.
None of this is meant as an insult to Meshuggah. If you are a fan, this album will give you everything you want it to, but it does not feel like something that non-diehards should be rushing to get.  If you were looking to get into Meshuggah for the first time, you would be much better suited going for their studio albums, because as good as this live album is, it only captures this moment in their career and misses out so much that a new fan would wish to discover.  Therefore, much like with the remastered 'I', this is a live album for the fans and the collectors.
Meshuggah 'The Ophidian Trek' is out now via Nuclear Blast.
7/10
With visual footage shot in the U.S. and Europe during 'The Ophidian Trek' tour and festival footage from Wacken Open Air 2013 in Germany, the live audio was processed and edited by MESHUGGAH guitarist Fredrik Thordendal, mixed by Daniel Begstrand (DIMMU BORGIR, BEHEMOTH) and mastered by Mats 'Limpan' Lindfors (ROXETTE, OPETH, MANDO DIAO).
Comments MESHUGGAH drummer Tomas Haake:

"We're really stoked about this new MESHUGGAH live DVD! It's been four years since the release of 'Alive', and with the band celebrating 25 years, we felt that we just had to get another one of these puppies out there! Audio/video was recorded during our European stretch of 'The Ophidian Trek' tour, as well as at the Wacken Open Air festival — and we're super proud of how it came out!

"For this one, we used the extremely talented photographer Anthony Dubois for filming and editing, etc., and he's really done a stunning job with it! Hope you guys dig it, and here's to another 25!! (or maybe just a little less;-) )"
The Ophidian Trek track listing:
Live DVD:
01. Swarmer
02. Swarm
03. Combustion
04. Rational Gaze
05. obZen
06. Lethargica
07. Do Not Look Down
08. The Hurt That Finds You First
09. I Am Colossus
10. Bleed
11. Demiurge
12. New Millennium Cyanide Christ
13. Dancers To A Discordant System
14. Mind's Mirrors / In Death – Is Life / In Death – Is Death
15. The Last Vigil
Live CD 1:
01. Swarmer
02. Swarm
03. Combustion
04. Rational Gaze
05. obZen
06. Lethargica
07. Do Not Look Down
08. The Hurt That Finds You First
09. I Am Colossus
Live CD 2:
01. Bleed
02. Demiurge
03. New Millennium Cyanide Christ
04. Dancers To A Discordant System
05. Mind's Mirrors / In Death – Is Life / In Death – Is Death
06. The Last Vigil