Before we begin, it would be fair to say that the term 'Goth' has taken somewhat of a turn in its meaning in the mainstream media in the modern day, hasn't it? A word that once referred to a sub-culture of those who liked to dress in black and listen to a diverse selection of music ranging from the haunting oddities of Bauhaus, through the weird and wonderful works of Alien Sex Fiend and Nine Inch Nails, on to perhaps the most notorious man of darkness of them all, Marilyn Manson.
Yet somehow, the term has lost its way somewhat? One of the Kardashian family wears a black dress and a slightly darker make up tone than usual? Yaaaaaaas, Goth Queen! The emo-rap tones of Lil Peep (RIP) talking about the 'Goth Boy Clique' without so much as a black t-shirt in sight? What happened to 'Goth'?
Now, to put a little bit of context on this seemingly inane rambling I am now guilty of, when you call your band 'Deathless Legacy' and release an album full of tracks about black magic, dark rituals and all things occult, you've got to delve into the darkest depths of the world of music in order to live up to the name you've already set for yourself.
Luckily, these guys have, to put not to fine a point on it, bloody nailed it!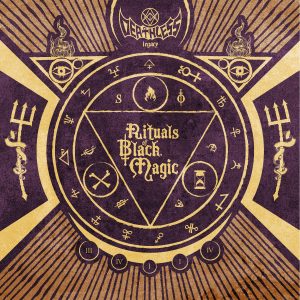 'Rituals of Black Magic' is a spellbinding (pun absolutely and shamelessly intended) collection of ten songs that interweave crushing guitar works, some truly demonic yet tuneful vocal workouts and more spooky synths and creepy organ work than you could shake a crypt at (if it is indeed possible for somebody to shake a crypt without causing themselves serious injury).
Beginning with the frankly nightmare inducing 'Grimoire', it is immediately clear that what lays ahead is going to be some seriously dark shit. We have no idea what the demonic voice is saying throughout it's two and a half minute run time, but we're sure it's not going to be anything good. It would be fair to describe the album as being the closest thing that most of us will experience to a Satanic Cult sermon, not sounding a million miles of difference away from Ghost, both sharing a mysterious, occult flavoured theme.

Stand out moments from the album really do make a rather bombastic assault on those little hairs on the back of your neck. Title track 'Rituals Of Black Magic' and 'Hex' (for me personally) have to take the throne of the best tracks here, each following their own twisted journey through the demented and demonic tinted glasses that Deathless Legacy place upon the listener. It would be very easy for the band's formula to grow stale fast, but as with the aforementioned Ghost, these guys work their sound with poise and flare, ensuring that not a moment feels like filler material. In fact, our only complaint is the fact that the vocal harmonies on show really aren't quite as over the top and pushed forward as they could be, but this in no way affects the quality on offer here. Rather, it just feels as though the (black) cherry on top of the cake could have been just that bit sweeter.