Politely welcomed into the small, dark band room at Sub89, in Reading, we prepare to speak with Josh Todd, front man of hard rock band Buckcherry. The band have just flown over from Japan and are now playing a series of dates in the UK ending in Cardiff.
RAMzine: You released new album Warpaint earlier on this year, with the lead single being 'Radio Song'. It's a great song and the video is beautifully shot in Las Vegas, could you talk us through how the track came together and what it's about?
Josh Todd: Yeah it came out really good! That song, it's crazy, we were deep into the song writing process. I come up with a lot of melodies in the shower, it's weird, I think that a lot of song writers do, I've read over time that a lot of people do, I don't know what it is, stuff comes to me in the shower. The melody of that song came to me; I keep my iPhone right on the counter outside, it's also a good place to record in there because of the reverb and stuff. I recorded it real quick, I was super inspired. I always wanted to write a song about radio and the power of radio. When we were kids it kinda marked our summer times, and we can always look back at the hits that were going on at the time. And that's how we remembered who we were going out with, the party's we were going to, what was going on, I always wanted to write a song that kinda captured that.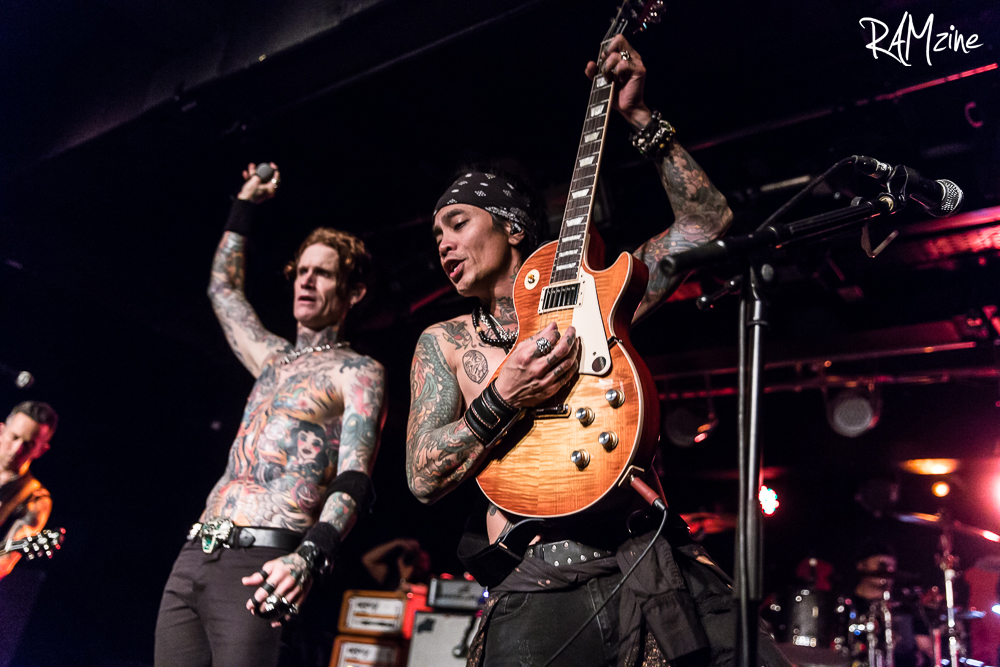 Josh: It's actually kind of a sad song, we were going through a lot professionally and personally and that always makes for good song writing. I personally was going through a lot of reflection and so that's what came out. I wrote the song really fast and then I went to Stevie and I said "I got this song man and I want it to be Buckcherry's 'Purple Rain'", we are both big Prince fans. So we put up a tempo and I sang it acapella. Then I said "put some great music to it" and I gave him some direction and he came up with a great composition and added some bridge music. I finished the lyrics and melodies, it wrote itself really quick.
RAMzine: That's a great meaning behind a song, we have all experienced neural nostalgia. It's interesting how music is almost a timeline of our lives.
Josh: Yeah I think songs are just moods. Sometimes you can be having a tough day, turn of the radio and something comes on which just cheers you up, gets you in a different direction with your head space and that's kinda the whole idea behind it.
RAMzine: The video for the second single 'Right Now' off of the new album, was filmed in a gym? 
Josh: Yeah we teamed up with Affliction and they do a lot of MMA. They have a huge facility at Seal Beach California. They have a stage area, merch area and they have this whole area which is a workout facility for all their professional fighters. It was amazing to be apart of that. We love combat sports, boxing and MMA, so we really have a lot of compassion for all the people that do that, it's a lot of dedication.
RAMzine: What's the concept of the video in relation to the song?
Josh: It's just like taking the moment you know, seizing the moment in anything that you do, anything that you're passionate about. The first idea that I had was 'let's get all the extreme sports and put them together from around the world'. And it was just like well the budget and getting everything signed off would have been crazy so we just focused on one sport. There were about a few different fighters that we showcased, and they were happy to do it, so that's what we stuck to.
RAMzine: That's cool, in recent years there has been more of a relationships between sports and music, for example at Download Festival where you can go and watch the wrestling. 
Josh: Yeah, I really like what Red Bull has done too, they cover some really interesting stuff. I don't know if you follow them on Instagram but it's crazy the stuff people are doing, I really love that.
RAMzine: Listening to Buckcherry's back catalogue, a chunk of the stand-out songs are about women and relationships. What is one thing that you have learnt about relationships through age?
Josh: [Laughs then becomes serious and says] It's very challenging, I've learnt a lot. Being with somebody for a long period of time, I've been married for 16 years, it's taught me a lot about myself. How to have a lot of compassion, a lot of compromise, and forgiveness especially for myself. It takes a lot to stay together for a long time.
RAMzine: Especially when it's long distance as well as long term.
Josh: It's brutal, the road will steal your soul if you're not careful, I've seen it happen to a lot of people. We average close to 200 shows a year and I've done it for 20 years now, it's got its peaks and valleys for sure.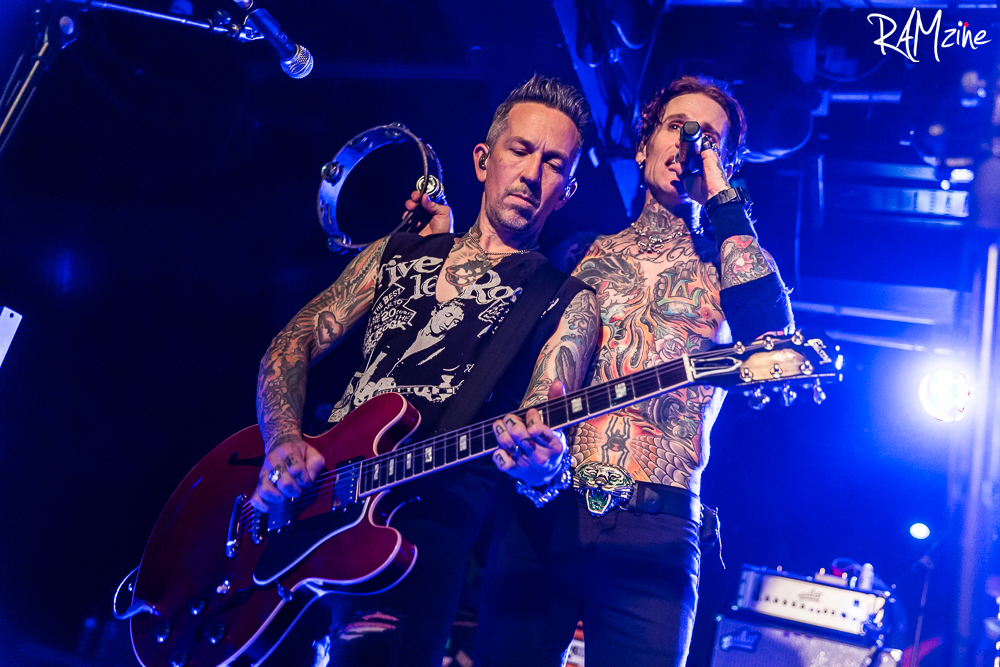 RAMzine: The last time RAMzine spoke with you was earlier this year, with Claudia Mancino, you spoke about Warpaint and you told her the story of your craziest gig (naked people in Indiana) which was hilarious by the way! [Read the interview here!] You and Stevie spoke about some crazy encounters you had experienced recently. I wondered if you had any crazy encounters on this tour, so far?
Josh: No, I've been sober since I was 23 and now I'm 48, so coming up on 25 years. But I met Stevie when I was 19, and we got loaded together you know. He is sober too now for a long time. We had some crazy times but now it's all about keeping your body in good shape. My body is my instrument, if I don't take care of it, there's no singing. It's no fun being a singer, I try and tell people that. You gotta be really disciplined, and get a lot of rest.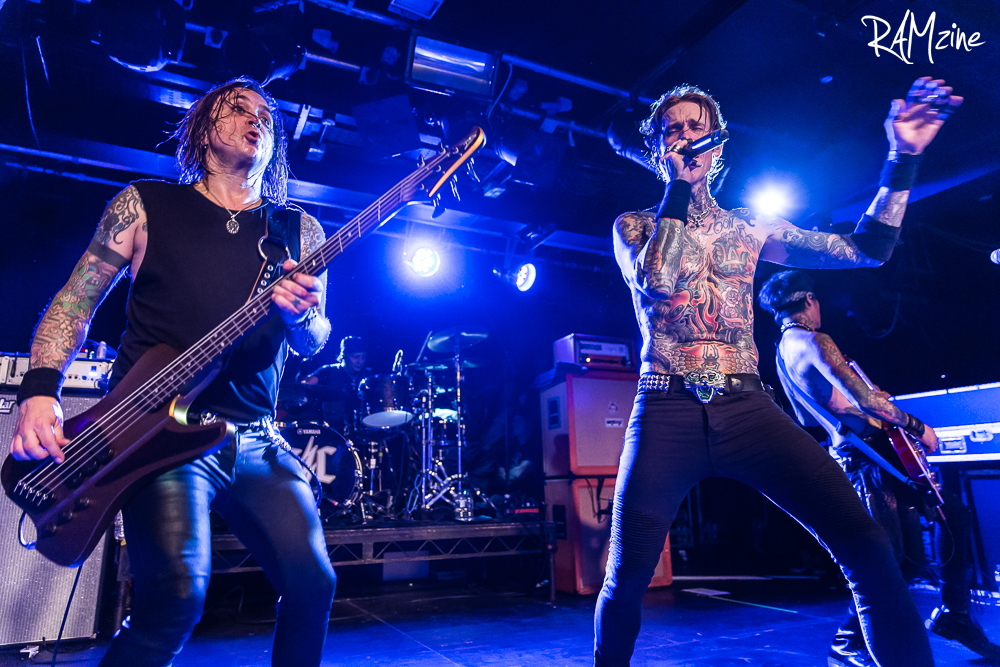 RAMzine: Yeah you guys wouldn't be able to do 200 shows a year, if not. It's good that you stay on top of things. So have you had any crazy encounters from other people?
Josh Todd: Sure we have a lot of crazy encounters as far as our shows go, we have crazy fans, they're wild and it's amazing. Mostly sexual acts during shows which is pretty interesting, like the Indiana situation. We've had a lot of other situations like that. One time we did a show where we were like "Let's do a small show in LA", we did the Viper Room and at one point two people started having sex on top of all the merch boxes, in our merch booth, during the show. That was bizarre and just a lot of stuff like that, craziness.
RAMzine: Haha, we've been to that venue but didn't see something like that. For some people, when they have been drinking and they come to that show it's that feeling of having an invisibility cloak over you, you let loose, let go and have a good time.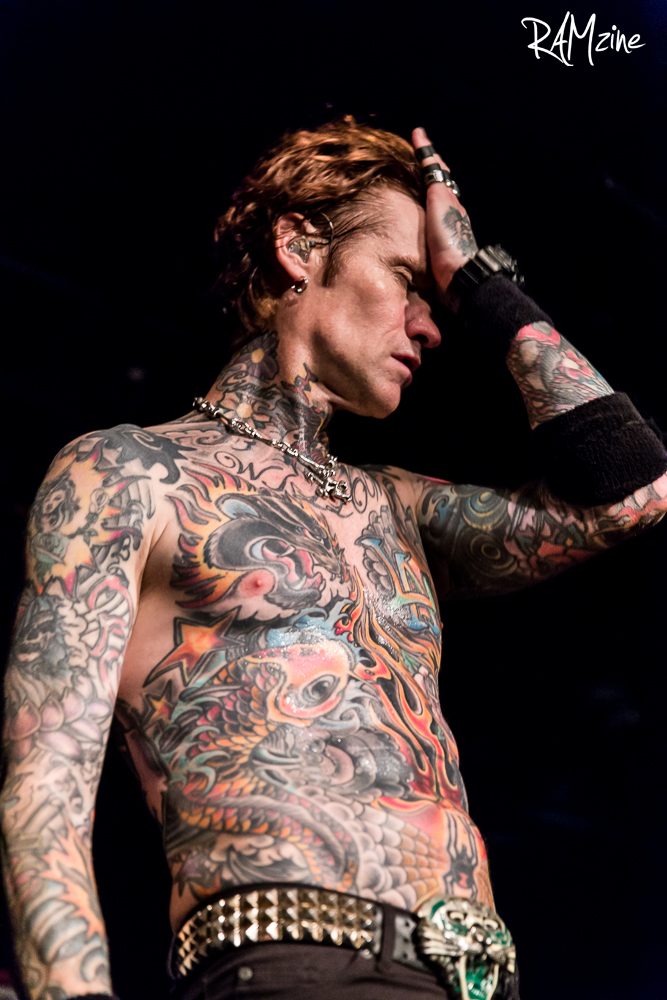 Josh: Yeah and something about this band… we bring out the animal in everybody. I'm sure there's other bands that do that as well. But it seems like two things happen at a Buckcherry show either a fist fight and that's between men and men and sometime women and women. I've seen some brutal girl on girl fights at Buckcherry shows. Or some kind of sexual act going on in the audience, while we are playing.
RAMzine: Well it's a Sunday tonight so I don't think people are going to get too frisky. 
Josh: You never know! Just wait, you say that now!
RAMzine: What's the most ridiculous thing that you have ever read about yourself in the press?
Josh: I don't really read the press, I don't know, have you seen anything?
RAMzine: Just the story about Indiana…
Josh: Haha well that's a true story. Sometimes when I got back to places in the States people will come up to me and say "remember when you were here last time and we were all at the bar and we were doing cocaine" and i'm just listening to this person tell me a story that never happened. I just go along with it and say "yeah it was a fun time".
RAMzine: Some people spread rumour to the point where they are true in their minds. 
Josh: I do think people can convince themselves of things to be real in their head, if they say it enough.
RAMzine: Do you think much about the effect that your music has on people? 
Josh: I don't, but I want to be inspired and I want to inspire someone else. I do the tower of power before the show, we all do, and I get into gratitude too, because I know how very few bands get to have longevity in this business. It's brutal actually, and so I get really grateful because this was it for me as a kid, music was the only thing that made me happy, consistently. So I really am grateful for that.
I also know that the average concert goer gets to go to two shows a year, because of their income or whatever, so I take this all into consideration and I really wanna just for that amount of time, give people what they want, what they are looking for and hopefully that's whats happening. 
RAMzine: The best part about music and going along to concerts is that sense of freedom for a lot of people, and just being able to go dress how they want, even act how they want sometimes, in a space where it's acceptable. 
Josh: Yeah and that's what it was for me when I was a teenager, when I'd go to rock shows I was like "these are my people", I could be whatever I wanted to be and everybody's going to be cool with it. That was important to me.
RAMzine: What are Buckcherry's plans from here on out? 
Josh: We're always working. I don't want to give it away but we just did a new version of 'Crazy Bitch' with a featured artist, it's really cool, we're gonna drop that in 2020. We will be doing some more touring on the Warpaint record and then we will start figuring out a new record and starting to write. The new version of 'Crazy Bitch' is gonna be sick!