Northamptonshire Metallers Krysthla released their new album 'A War Of Souls And Desires' last week! The band had broke into Amazon's Top 20 Metal pre-order chart a few weeks ago alongside the new Iron Maiden and Disturbed albums. Since then Krysthla have been trending in HMV and overall had a great response to their debut album. This is new British Heavy Metal that you can really sink your teeth into!
Krysthla features former dark lords of Gutworm and Deadeye. Founding member & guitarist Neil Hudson says "After we finished with Gutworm in 2010, songs were already slowly being pieced together with a new sound and approach in mind. This also included a new vocalist in Adi Mayes (former frontman of Deadeye and prior to that, Violation). It was really important to get the line up right.  After auditioning other members it soon became clear that only the original Gutworm line up with the addition of Adi could physically deliver what Krysthla required".
 Here it must be mentioned (from our review of the album) –
don't assume that Krysthla are going to start their album off with subdued tones, and maybe keep the volume to a minimum before playing it, or suffer the effects of having your ears blown inside out!
–
Read the full review of 'A War Of Souls And Desires' here.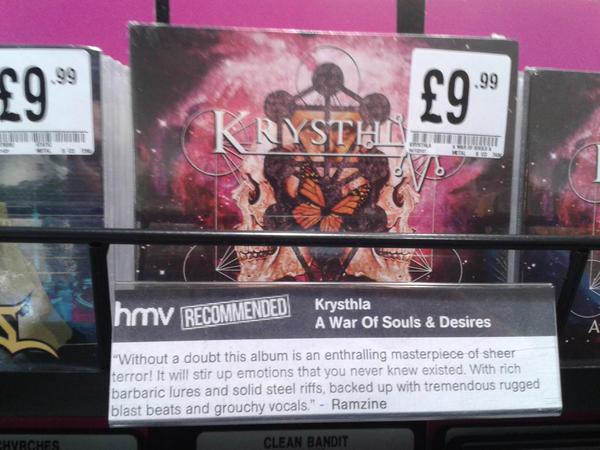 Talking of the meaning behind the music Neil tells us "The material on this record is set in a more grounded yet ethereal realm as it deals with the darkness within life and forces the listener to question their lives, what they know and what they take for granted. Challenging people's perception of their own existence and how they live their lives is a tough thing to approach as everybody feels perversely safe in their own little grief hole. Things don't, and will never change unless you think outside the box and are prepared to live outside it. The world is more squared than you realise…….
The songs themselves focus on world and political events and the ancient rites attached to them that we as a people in a modern age partake in willingly. With such a deep and expansive subject matter the music had to manifest this in a physical form which naturally led us to the hellish blend of unrelenting heaviness but with texture, colour and groove."
'A War Of Souls And Desires' is available now via HMV, iTunes, Amazon and Spotify worldwide.
 The band head out on tour this October, see dates here:
3rd Oct – BRIGHTON – MAMMOTHFEST @ Sticky Mike's Frog Bar w/ Psycroptic
16th Oct – KETTERING – The Prince
17th Oct – BRIGHTON – The Prince Albert w/ Merciless Terror
18th Oct – COVENTRY – The Archers w/ Merciless Terror
24th Oct – CARDIFF – Fuel Rock Club
30th Oct – GLASGOW – Venue TBC
31st Oct – PERTH – The Corinna
1st Nov – HULL – O'Rileys
4th Nov – SHEFFIELD – South Sea Live
6th Nov – LONDON – The Black Heart
8th Nov – LEICESTER – Firebug
13th Nov – COVENTRY – Rosie Malones