Ephyra were born in Como in the year 2005 by an idea of two guitar players, Matteo and Carlo.
The band knows a period of stability during 2006 as a death metal cover band, starting to play on stage in some local live pubs.
In 2009 after a long downtime and several line-up changes, Ephyra started to write their own music, playing melodic death metal with fantasy-medieval influences. During that year their first demo tape arose.
Additional line-up changes delayed the recording of their full-length album until the spring of 2013. Finally their debut album 'Journey' was officially released on 9th November 2013 in digipak edition.
In February 2014, due to personal reasons, Germano Rondena (Bass player) and Simone Imperiale (Keyboard and Synth) left the band. At the same time Alessandra Biundo joined the group as new bass player!
[divider]
It seems that more and more women are taking a punt on joining death metal bands to exact their rebellious lungs on the general public – Ephyra are no exception adding Nadia Casali to this rule and they have gone as far as to recruit Allessandra Biundo on the bass too!
This has a very Celtic feel attached to it along with a medieval twist that conjures up a dark tale from the bygone years.
The second track is a musical rebel rouser with female and male vocal from Francesco and which superbly compliments each other. The guitars intervene and give it a heavier feeling but it doesn't wander too far from its well-oiled roots.
As the third track embarks on its journey you get a feeling that this is distinctly attention grabbing and you wouldn't be wrong for thinking that at all. The fast and jerky rhythms excite and don't be surprised if your feet and head are uncontrollable through-out the track.
Dramatic and startling the next track 'Cruel Day' is executed in cut-throat style. The deep snarls from Francesco and the clean temperance from Nadia's golden vocals melt into a passionate love affair along with wild abandonment from a myriad of rhythms that punish the senses, making this a superb track!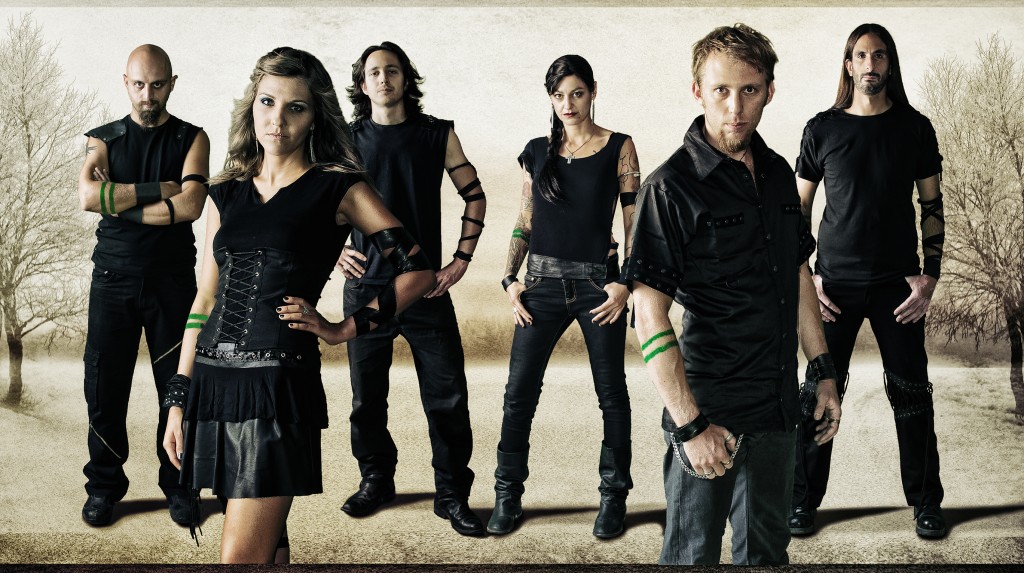 'Flaming Tears' opens with a flexible array of frets that turn into a bombastic surge of forging riffs and with them comes a rasping vocal lure and of course a complimenting vocal tone from Nadia. Drifting from one parallel to another the track takes on a life of its own.
Slowing things down a bit is the track 'Hope' which conjures up another milestone in the forgotten past. It captures the imagination and delivers it to a simple and natural time.
Another startling embrace for a track that carries melodies a plenty with strengthening riffs and solid beats. It has haunting qualities that linger and seduce with a beautiful arrangement.
Ambiance with a hint of medieval this track washes over the senses with equal imagination. Its unusual time signatures pour into a never ending stream of notes that engage, capture and enthral. So catchy you can't ignore this! Again, a very unusual track that ambles with a quickening step thus complementing with alluring appeal.
The final track does not disappoint either with its primal lures and steely riffs draped in medieval madness!
Definitely ones to watch out for!