A few months ago the ever-reliable and awesome Karisma Records (Norway) released a true gem of a record in the shape of In Flight by the Icelandic prog rock outfit named Lucy in Blue. Now, I am not exactly sure how to describe or put into words just how beautiful and moving the aforementioned LP is. You want drama and climax? You got it. What about dynamics and sweeping melodies that range from uplifting and inspiring to hauntingly sad and heartbreaking? Well, there is plenty of that too. The fact that is that Lucy in Blue's eclectic approach to warm and organic prog rock with psychedelic undertones to it transcends genre definitions and conventional songwriting, and we should all be pretty fucking grateful for that. Also, their debut offering is quite stellar too, but why waste anymore time listening to me rambling on about how marvelous this ensemble is? Immerse yourself in the interview and then make sure you check their In Flight record out as soon as humanly possible – you will not regret it!
Greetings, thanks for taking the time to answer these questions of mine – much appreciated! First of all, I have to tell you that I absolutely love and cherish In Flight. I was completely blown away by the atmospheric and deeply moving content of said album, to say the least. What is the atmosphere within the Lucy in Blue camp like these days now that you have that fantastic release out and currently touring Europe with the legendary Sleep? That's a great and eclectic combo of bands, by the way.
L.I.B: Thank you very much, it's always encouraging to hear that our music moves people out in the wide (and wild) world out there. We are pretty chill as it is, writing songs and progressing in WOW Classic. But at the same time, we've barely been able to keep our pants on since we got the tour offer from Sleep. We've been fans for a long while and we've dreamed of going on tour since we started the band. It's been almost six years since, and of course, when it happens, it's without any real PR work effort on our part. So I guess we'll just start dreaming bigger!

How did it come about that Karisma Records released the aforementioned album and how has your cooperation with them turned out so far? Did they approach you or the other way around?
L.I.B: Well, we got in touch with them through Walter Hoijemakers, the main man at Roadburn Festival, whom our friends in Auðn introduced to us. They've been delightful to work with, very down to earth and considerate in every way.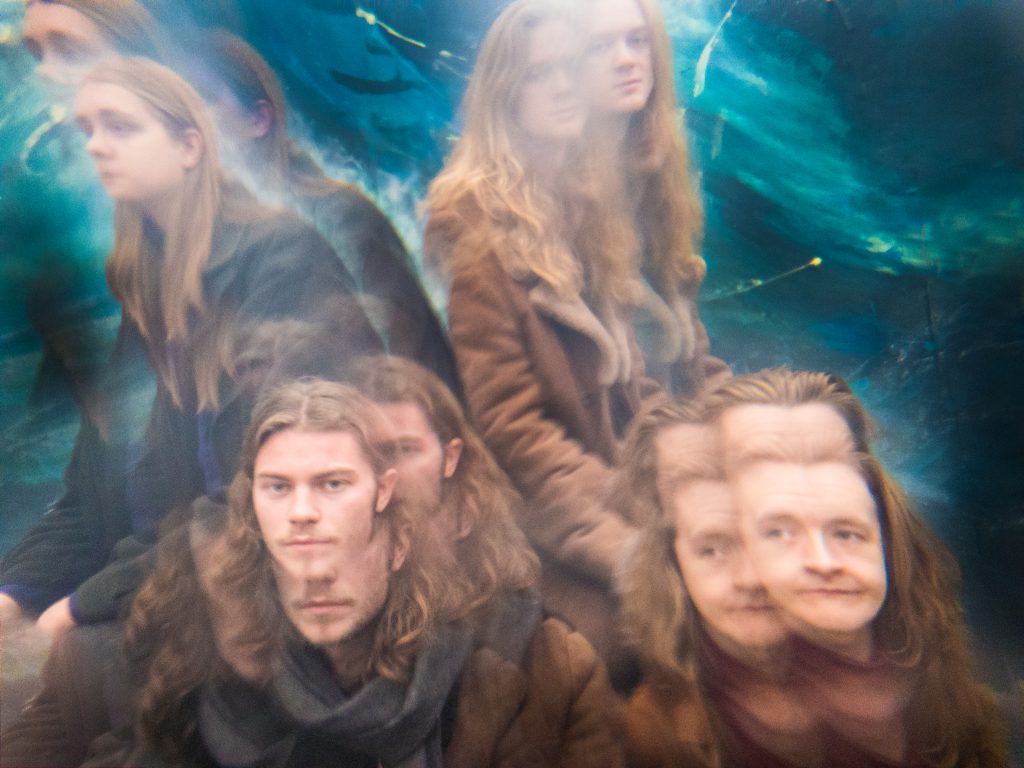 Sadly, I missed your performance at the Close to Rain festival in Bergen as I was still at work by the time you guys went on stage, but what was that gig like for you and did you enjoy your stay here in Bergen? Did you catch any of the other marvelous bands on the bill that weekend? Soft Machine were out of this world!
L.I.B: Our gig in Bergen was a lot of fun. We can't say how it was for the audience, but the staff at the festival was eager to meet our needs at every turn. Our stay in Bergen was delightful, soft rains gently caressing our eager spirits, wound up relatively tight by the arduous paths of air travel. And yeah, Soft Machine were a staggering act to behold, we met with them after the show and they shared many a tale of their wide-ranging musical endeavors. Leprous were ridiculously tight, as expected, also, Guranfoe were a nice surprise, good vibes, and proper musicianship.

As I said earlier on, I am deeply moved by the In Flight LP and consider it something of a prog rock gem. The compositions are chillingly beautiful and steeped in passion and emotional intensity. Take the title track for instance; that one is so goddamn haunting and heartfelt that it hurts – both musically and lyrically, I might add. For some reason, that one reminds me slightly of King Crimson's 'Epitaph', but that has to do with the way in which it makes me feel and not necessarily because the two pieces are alike. In Flight is anything but a predictable entity, which is partly why it is so captivating and fantastic to immerse oneself in. As a listener, you are never really sure what to expect. Was there a desire to experiment and continually push the envelope present from the very beginning with respect to Lucy in Blue? The reason I ask is that it is quite difficult to pigeonhole your sound and one gets the impression that you guys are inspired by everything from 60s rock to 70s prog rock and further on to Radiohead. Did it take you a while to establish a sound and musical identity of your own or did that come about almost instantaneously?
L.I.B: Having a song of ours being emotionally comparative to 'Epitaph' by King Crimson is the highest praise we can imagine, thank you. When we were puzzling over the songs that ended up on In Flight, we just knew we had something worthwhile so we labored over it to push it to its full potential. From our beginnings, we've had a very retro sound, but just continue to sculpt it, always aiming to take the best of the music of the past that we cherish, while making it our own as much as we can.
How do you guys go about writing and composing songs for Lucy in Blue? Individually or collectively?
L.I.B: Everyone contributes, even on the rare occasion when one of us brings a song that said composer claims is fully baked (the song, not the composer), the rest of the family bickers at rehearsal and before long the bread rises even further to completion, beyond everyone's expectations.
Could you elaborate a bit on the lyrics of 'Respire' and 'On Ground'? The song titles are all poetic in my opinion and you have a certain way with words that stirs something within the listener on an emotional level. To a certain degree, they are rather abstract too. Would you agree?
L.I.B: 'Respire' is one that deals with the black torrents of emotional adversity and depression that everyone comes to know at some point, though some on a more chronic and acute level, with a subtly optimistic approach. It has to do with a sense of helplessness when the "torrent of dread and woe" floods over your being and leaves you "void and marooned" on an unfamiliar and desolate coast. But as the poet said; "If Winter comes, can Spring be far behind?".
'On Ground' is really just a landing point for the otherworldly experience the narrator has in the previous song, 'In Flight'. It is a sort of calling back to earth from "pale blue skies" of transcendence while bringing the enlightening messages and values from the experience to everyday reality. "Feel the earth beneath your feet and all the weight it bears" comes from an experience of feeling the connection between all of humankind and their shared anxiety with the troubling fact of the impermanence of all things. "See the tide rise and fall and know it always will" alludes to the constant ebb and flow which characterizes our temporal existence, novelty and habit, love and loss, joy and sadness. You can figure out the last line yourselves.
They are abstract in the sense that they draw up images that might need some interpretation, but all lyrics are abstract, really. Words themselves are just abstractions, no individual feeling can be summed up in a word, only abstracted for partial understanding, only direct experience evades abstraction.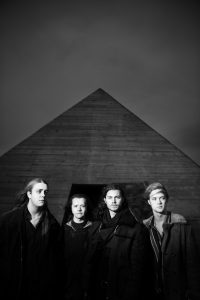 I often feel a sense of longing when I listen to your latest offering and dwell on the lyrics. That comes down to how I feel when I listen to your music and my interpretation of it. Does it make sense to you if I tie a word such as "longing" to In Flight? Is there an element of that present somewhere in your music from your personal perspective?
L.I.B: It's been a while since we wrote it, so it's hard to say with certainty, but some futile grasping for transcendence probably molded a lot of the lyrics. But the music itself just comes from what we are feeling, which words can only try to pin down, then performed with something equating to our sexual drive.

Does Icelandic nature and the scenery surrounding you serve as an inspiration? Some of the rather bleak and melancholy aspects of your latest record as well as the evocative cover artwork certainly suggest that landscapes and such inspire you, but perhaps I am wrong in that assertion?
L.I.B: The barren and awesome nature of Iceland has been a part of us since infancy and has taken on many meanings and moods in our lives. It certainly has cultivated a certain appreciation for the inherent darkness of the human experience, so it is probably a driving factor in some of our musical tendencies.
What things inspire you guys in general with respect to writing and composing material for Lucy in Blue?
L.I.B: Love and loss and all those things that make life the ride that it is, and also quite a few things that wouldn't be good for publicity…
Some musicians never listen to their own stuff once they are done recording an album or once the album has been released. Are you one of those who are haunted by your own sense of perfection?
L.I.B: We enjoy the recording process immensely, but afterwards, the fruits of our labor usually don't entice us with their sweetness for long. Mostly just because we move on quickly to material we consider superior, even before releasing the final product.
I was wondering whether or not the band name signifies or connotes anything specific or if it means something special to you. Is there a deeper meaning behind the phrase "Lucy in Blue"?
L.I.B: There is a much deeper meaning. It originally ties back to the series of conflicts over territorial waters between Iceland and Britain in the years 1958-1961, 1972-1973 and 1975-1976, known as the Cod wars, but we won't go into that here, it's a long story.
Do you remember how, why, and where you stumbled on psychedelic and progressive music the first time around? Was it love at first sight?
L.I.B: We were all exposed to the Beatles and Pink Floyd a while before we started the band but our journey into the world of prog-rock was a collective one. When we discovered Tarkus (by ELP), for example, in our first winter together, we were totally blown away. We'd never heard such intricately composed rock music, so skillfully performed, yet driven by sincere emotion and poetic lyricism. We needed to acquire a taste for some of the prog-rock the seventies had to offer, but mostly we were just completely enchanted and obsessed for a long time.
Just out of curiosity; what are some of your favorite records and releases of all time? Could you name-drop a few of them?
L.I.B: In the Court of the Crimson King, Tarkus, Ride the Lightning, …Lifun, The Power and the Glory (as well as most of Gentle Giant's releases), Selling England by the Pound, Odd Elegy, Apostrophe (') and Pink Floyd's discography (except for the post-Wall period) to name a few. But those are just our shared influences, our individual tastes go from Debussy to Cannibal Corpse and lots of places in between.
Thank you so much for taking the time to conduct this interview for RAMzine. Any final words or comments to our awesome readers out there?
L.I.B: Create your own values, trust yourself and listen to your conscience every step of the way.
Links:
https://lucyinblue.bandcamp.com/