In this day and age, we've all heard it on the radio, read it in a magazine or online, that Rock and Roll is dead in some way or another. How idiotic a statement it is though! Music traverses through ages and develops as it goes, sometimes for good, sometimes for bad. Monday and Tuesday night in London was proof that real Rock and Roll is anything but dead, and considering the Electric Ballroom had sold out, that is a good few thousand that will back that statement up!
Already kicking-off the final night of the UK tour as most of the crowds were arriving, was Palace of the King, I knew nothing of the band before the gig, and can be quite honest with the fact I am almost angry about not knowing of these! Straight up classic Rock and Roll with a hint of psychedelic and bluesy tones to really get you in the mood. The only disappointment I found was the lack of a full crowd to check them out, the subtle swagger of the band fits well, and a perfect starting act for the show. Joining fellow countrymen Airbourne was really a damn good idea, and despite their early start and short-lived set, they still found time to smash out a great drum solo. A band I'm gutted I probably won't be seeing for a while considering where home is, but a band I seriously will be making an effort for the next time they cross to our shores, I suggest you do the same.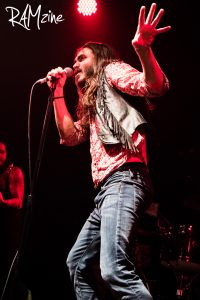 Next out the block were a band I am familiar with, February last year I caught them supporting Black Label Society, and they blew me away then. 21 months later, a new album out Welcome to Fat City, and I am ready for the show. What wasn't expected was just how much they had improved in that time. A far larger crowd being easily moved by the funky blues-infused Rock and Roll of Pennsylvanian rockers, Crobot. The funk is strong with these guys, and they nail a rapport with the crowd many headliners sometimes struggle with. Frontman Brandon Yeagley throws more moves together than any birth child of Mick Jagger and Steven Tyler could hope for (a cracking frontman of a band – you need to see!), while the rest of the band lay down the tightest of sounds with no effort at all. They are so good that you could go home content on these two bands alone, but they build the crowd up constantly and really get the engine purring for the main event that has really brought everyone together.
Being slightly late to the stage just seem to get the crowd more excited than impatient, as the stage flows with smoke. Airbourne smash out of the starting blocks like a bat out of hell. Spinal Tap nailed the best way to describe them when Nigel Tufnel spoke about his amp stating "These go to 11", it really is the perfect statement for everything about Airbourne! It feels like little time is wasted with all the energy in the room, as they rip through track after track. Before us photographers know it, our three songs are up and we all start to move out of the pit, only for Joel O'Keeffe to shout out to us all and tell us "Fuck the rules, this is a rock and roll concert! You guys can come in here and shoot all night!" Nothing beats a band letting us do that, to let us capture the show as it really gets going as well as the reactions of the fans as the show goes on is a treat, what a hero!
Obligatory can smashes and the shoulder carries into the crowd are ever present followed with a special solo to make it a true night to remember for those in the disabled viewing area, if ever there was a 'fans band', it's Airbourne. With a fitting tribute to the Rock God Lemmy, and a short but to the point story of how thanks to them taking Airbourne on the road, they probably would be still doing the pub circuit back home. Joel really gives it all when performing, I can't even begin to imagine the high he must get from the reactions of the crowd. The frontman is only part of the show though, with brother Ryan hidden away behind the kit somewhere in a mass of lights, guitarist David and bassist Justin make full use of the stage with perfectly timed 'Status Quo-esque' moves. A solid band if ever there was one, despite how energetic and mad the frontman may be.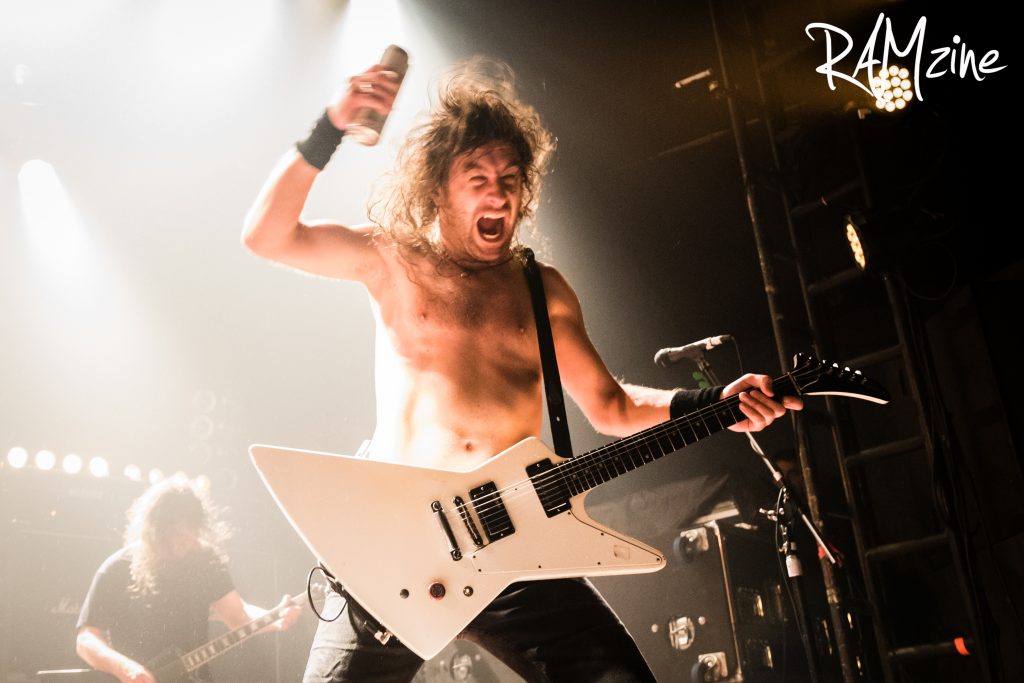 It's a night I wish I could relive, and often. There are many gigs I've been to this year, some of my all time favourite bands and heroes too, but everything about this show was just perfect. Airbourne really are the living embodiment of what Rock and Roll is all about, and it is a real pleasure to have been able to go along for the ride!