Fish is still an imposing man. He stands so high that he can reach the ceiling with his hands (of which, more in a moment). Yet he moves fluidly. Graceful. He slinks on stage like an eel. Synchronized, he swishes and swirls back and forth. Using all the stage-space available at the excellent concert venue at Sub89 in Reading. And, of course, he is wearing his (now trademark) prayer shawl on those broad shoulders. With silver rimmed glasses sliding down his nose, graying salt 'n' pepper beard beard, bald wide brow … Well, he looks like a cross between Shylock and lanky Heisenberg. And while he never strains that tender larynx of his (this moveable feast tour has, uh, moved some feast-dates … due to illness) Fish still reaches those incredible highs. While also demonstrating grit and Celtic gravitas when the mood takes him. The 200 plus crowd at Sub89 were fascinated by the hypnotic movements and his incredible voice right from the start.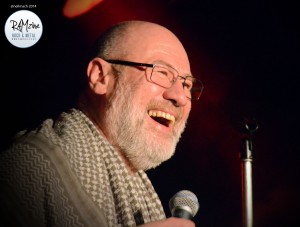 First song – 'A Feast of Consequences' – spoke softly to begin with. A gurgle of keys (John Beck) gathered around some finely strummed guitar (Robin Boult.) It was when when the bass ( from Steve Vantsis) swooped in moodily and those drums (Gavin Griffiths) kicked and punched angrily – that Fish began to describe the cracks in a relationship and admitted he had begun "Running out of reasons to stay…"
'High Wood' was also appreciated. This song should certainly be on the play-list for any 'Game of Thrones' fans. This  rendition smelt of leather, fine-honed steel and blood. And it stirred feelings about the true consequences of war. This song was about the idiocy and the tragedy of paying 'The Iron Price'. 'The Gathering' was a battle song of jubilation and mobilization. And so it perfectly counter-balanced the sobriety of 'High Wood'. While 'Thistle Aley' had shadows of darkness. Those vocals bowed low and steep. The poetic words almost piled up into the pockets of the arrangement. This song was built like an earthwork redoubt. Lumps of claggy-iron guitar moulded with peat-sod synths. Creating protective layers for the fortress of sounds. And it may have seemed ramshackle at first –  but this song soon built up into an impressive structure. The numbers were plentiful and all wonderfully created by the talented band. And were interspersed with friendly chats along the way. It was as if Fish had invited some of his best friends over for beers and song.
After pulling down some battered 'icicles' (Xmas decorations) from the ceiling (few artists would find them a distraction – but Derek is 6 feet 5 inches tall in his socks) – Fish then went on to explain to the crowd that he had visited the local 'Authentic' German Christmas market in the afternoon. There, the band drank "Glühwein" at the price of five quid a cup. "But only cost € 2 when we were in Germany." Authentic, eh?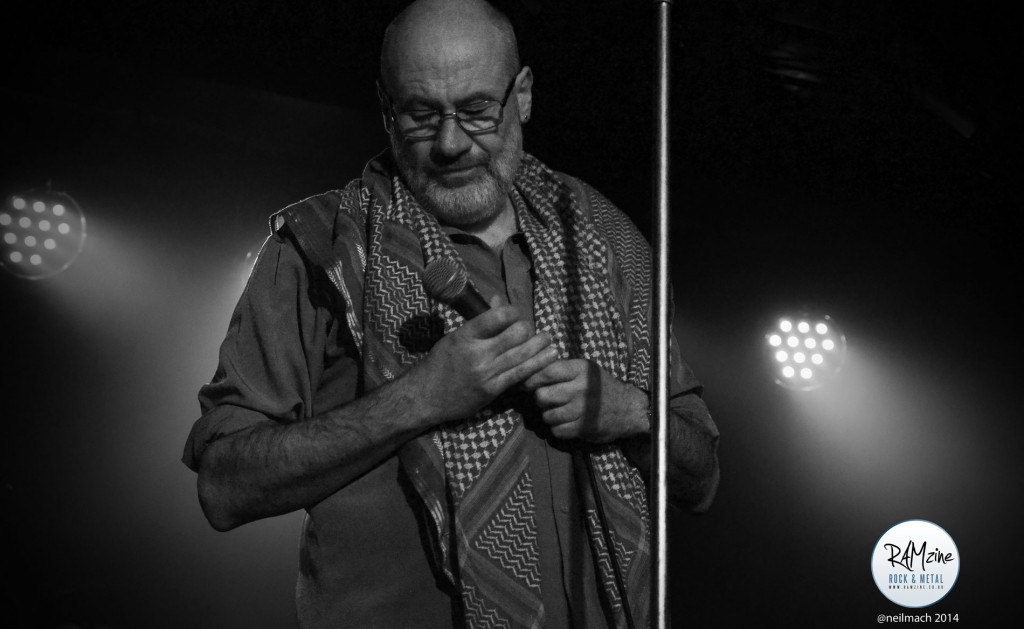 And that is the strength of this artist. He builds rapport with his audience. He kids and ribs. Like an old pal. And  he invests time with us. Because he knows that if he is to be understood, he needs to win our confidence and our informality. Once he has established that kind of trust – and we are all paying attention – then he lets us into his world.  And it is a private and chaotic place. With threats, menaces and contradictions a-plenty. But it is also stuffed with grace and majesty. Fish is still the most generous musician around.
'Blind to The Beautiful' is a sad song that first sounds like it is about losing the beauty of innocence. It speaks to us all. As we get older our eyes cannot see the freshness of hope and the vitality of desire. But then the lyrics canker and twist like a gnarled branch … and we realize that the song is actually about the exploitation of our natural world. The ultimate price for our unsatisfied, unquenchable, quest for profit and greed will be everything that really mattered to us. Our innocence. Our natural lives. And our blue planet.
"I stopped believing in miracles a long, long time ago …" says Fish. That says it all.