Review by Paul Birch, photos by Martin Tierney
I've seen Ali Clinton live a number of times, in various bands, and usually fronting rock trios. A talented youth, the influences of Rory Gallagher and to a lesser degree Jimmy Page were always evident in his fiery blues rock playing. Tonight he's covering broader terrain, travelling in pastures trod by Virgil & The Accelerators and since that band's just announced an early retirement there's an opening to move up the ladder. His band are tight, and he keeps his own soling to a curious minimum tonight, but what's noticeable is an improvement in his voice – Previously in tune but generally bland, a couple of years down the line it's now more ragged, manly even. He puts on a good performance tonight and no one's disappointed.
Walking on stage to The Who's 'Won't Get Fooled Again' suggests that you're either already jaded by life or have got a lot of hutzpah, being willing to play your own music after such an almighty rock classic's been heard. Let's go for the latter because Inglorious work their backsides off tonight, yet are rarely seen without a smile on their collective faces.
They open with a bang, flashing lights flooding out over what's now become a sizeable audience as they race round stage with the exception of Swedish guitarist Andreas Eriksson who opts for a cool foot-on-monitor pose to one side of Nathan James who strides centre stage, a big guy with an even more sizeable vocal range giving it large singing 'Until I Die'. As on their debut album they follow it with the Deep Purple-drenched 'Breakaway', Ericksson's solo kept brief but making every note count and James letting out a whoop and holler that brings the song to an end.
They're six men strong tonight, but the name of their new keyboard player eludes me. His playing adds a more chorale quality to the band's overall sound but it's strange that the familiar piano refrain of Rainbow hit 'I Surrender' isn't so prevalent when only third number in they play it as a cover version. Rather what we get is a hard 'n dry rock take on the number. The audience are receptive regardless. What's apparent though, is success has caught Inglorious unawares, and they seem genuinely appreciative.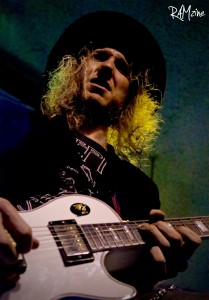 While they're hardly shrinking violets and no doubt have a game plan in mind, that they've been championed on radio by Planet Rock and gone from supporting The Winery Dogs to headlining themselves within a few short months, means they're further ahead than where they expected to be and probably haven't even considered writing new songs for a sophomore album when their debut's still brand new.  Thus we get three covers rounding the set out.
Aside from 'I Surrender' we'll get another much underplayed Blackmore number  in Deep Purple's 'Lay Down, Stay Down' – one that James says Glenn Hughes has given them the okay to play live on his home turf here in The Black Country – it's a fabulously elasticised version too, the contrasts between its main riff and smug musical asides given full measure while James demonstrates his vocal comfort zone is pretty much anywhere he pleases shifting from Hughes' high to vintage Coverdale's low register with ease. Earlier in the set we'll witness one of the first of several songs where the full band commit themselves to harmony vocals and it's like watching Uriah Heep at their most classic as they each man a microphone stage front. It's on a Toto number called 'Goodbye Girl' I'm not familiar with and as with everything else it's aggravatingly hard for the critic in me to find fault with.
The song itself may well be the choice of second guitarist Wil Taylor, who's noted Steve Lukather among his own personal influences. His role shouldn't be underplayed; his slicked back hair dishevelled after only a few numbers and covering his face as he rocks and bounces back and forth pouring out riffs, the odd solo and crunching down chords over Eriksson's more elegant, slick solos. Meanwhile, bass player Colin Parkinson and drummer Phil Beaver bring their weight to bear on tracks like 'High Flying Gypsy' and get the stage to themselves during a rhythmic workout on an extended version of 'Girl Got a Gun'.
Tonight's song highlights include 'Holy Water' that goes from subtle blues to a raging full-on rock'n'roll monster while they all stand there calmly singing harmonies into those microphones and 'You're Mine' where James' face turns red as his voice hits helium-filled notes, yet doesn't fluff a single one. He really is phenomenal. But the fact that he's got such a strong, fluid band around him is what makes it all work so well. Sure you can tell there is an awful of choreographed movement going on from all of them, but they're in the entertainment business so they're giving you their money's worth and when they play the heavy metal for belly-dancers tour de force that is  'Inglorious' itself I'm gobsmacked.
Encoring with new single 'Unaware' Inglorious will leave the stage one final time triumphant, a band whose audience will continue to grow if the cards continue to fall right. I've no idea who's managing them but I hope they treat them right, and don't push them too far, too fast; causing burnout and a dip in quality. Much rather they maintain these glorious high standards we have been privy to tonight.