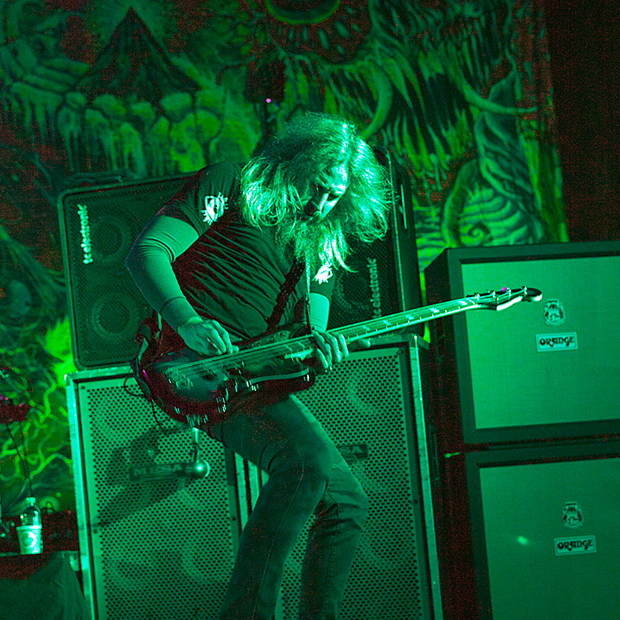 With Mastodon well into the second half of their 'Once More 'round The Sun' tour, promoting the new album of the same name, they were being supported in tonight's melange of metal mayhem by UK band Krokodil, relative newcomers to the circuit as a band, but with buckets of experience and pedigree as individual members, with main support coming from LA rockers Big Business.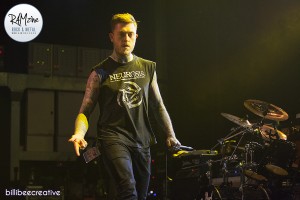 Being a six piece, boasting three guitars in the line-up, Krokodil threatened much noise and a busy stage. Would one less guitar seriously compromise the heavy hitting riffages that abound in their music? Possibly not, but if three works for Krokodil, then I guess we have our answer. That said, there is some pretty good melodic stuff mixing well with the edgier, more hard-core stuff – 'Sun Riders' in particular jumped out at me. From a personal point of view it would be nice to hear cleaner vocals put to more use as vocalist Simon Wright is capable of delivering them as well as his trademark growlings. Although not normally my type of music, I think that a couple more listens to these guys might just win me over. A short set for sure, but one that had the crowd up and at it and wanting more.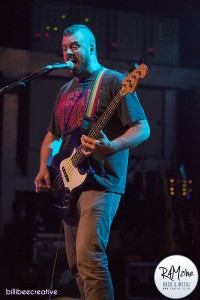 With guitarist Scott Martin absent due to recent back surgery (get well soon Scott from us all at RAMzine), US metal men Big Business were appearing as a two piece, as was there original incarnation. That meant we were in for a set-long bass and drums attack on our auditory organs, which would be different and interesting! The two guys from L.A. impressed me with the way they threw themselves into the task of being three with drummer Coady Willis particularly animated in the way he extracted the maximum from the skins and metal in front of him. If drum kits could bleed then this one would have required a post gig transfusion. Vocalist Jared Warren was effectively a two in one axe-man in Scott's absence. His bass playing was dextrously skilful and with his hands sometimes a frenetic blur he just about delivered the desired effect. Although opening number 'Chimp Chance' went down really well, I got the impression that, as the set progressed, the crowd became more polite rather than raucous in their appreciation. I heard say that a backing track with guitars was being used, but from where I was situated that wasn't too evident in the sound mix. Having listened to Big Business recordings since this gig, good stuff it is too, I have to say that Jared and Coady did a good job, but Scott's presence may just have turned that "good" into an "excellent".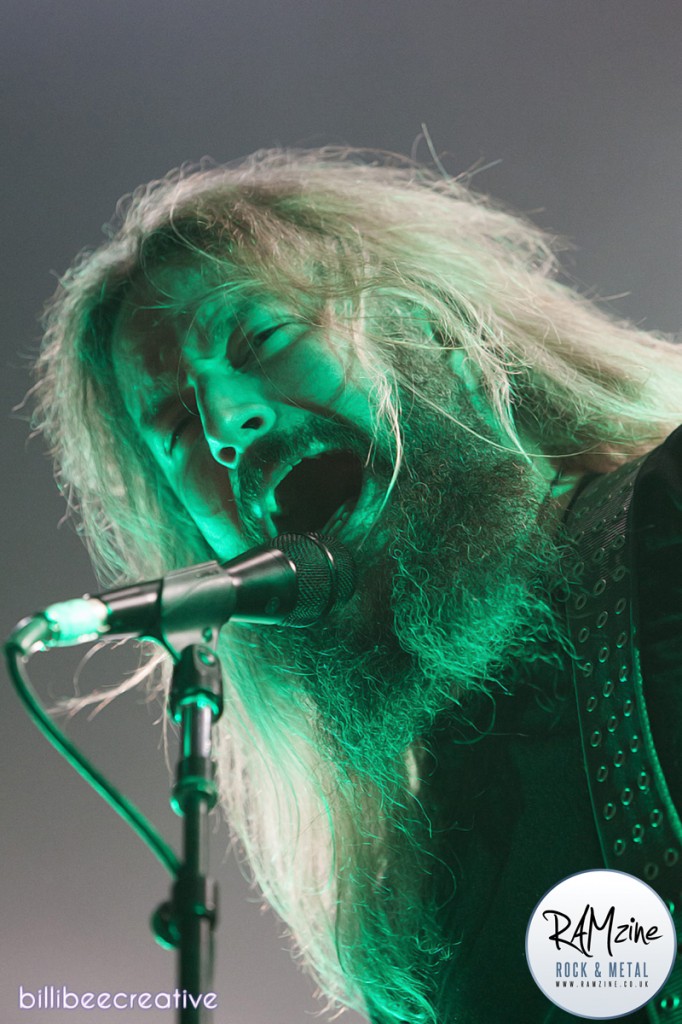 Whilst not full to capacity there wasn't much open space left in the o2 by the time the house lights dimmed heralding the impending arrival of four guys from Atlanta, Georgia, the awesome Mastodon. Purveyors of a blend of metal genres and with this current tour fast approaching its final dates Mastodon have been proving that the occasional trip into the more progressive corners of musical creativity has not diminished their trademark intense underlying sounds. In fact, the calibre of the band is set by the ability they have to integrate so many sounds, be they rock and roll, prog, punk, heavy rock, thrash etc, etc, into their music and as such has projected them into the upper echelons of modern day metal acts. Although perhaps slightly lacking in fan interaction it seems that it wouldn't have added much to the highly charged atmosphere that the band was generating, so intoxicated was the crowd by the performance of four musicians on top of their games and intending to stay there. It was difficult to single out any frontman, given that the singing duties are shared around with rhythm guitarist Bill Kelliher being the only one not to exercise is vocal chords. Bassist Troy Sanders, drummer Brann Dailor and lead axe-man Brent Hinds are fine vocalists individually and collectively as displayed by the fine, distinctive harmonies. Nice! The first few tracks demonstrate perfectly what Mastodon is about. Going straight for the jugular with opener 'Tread Lightly', the set was an a la carte aural desert which crossed many musical genres, but brought them all together as best friends. Metal, rock or prog, whatever your leaning, Mastodon deliver! Brann Dailor is without doubt one of the finest drummers currently plying his trade and is a major driving force within the band, not that they need much driving. I liked this band a lot and hope they continue to trail-blaze and never lose the faith.
Set List
Tread Lightly, Once More 'Round the Sun, Blasteroid, Oblivion, The Motherload, Chimes At Night, High Road, Aqua Dementia, Ole Nessie, Halloween, Aunt Lisa, Divinations, Bladecatcher, Black Tongue, Ember City, Megalodon, Crystal Skull, Blood and Thunder