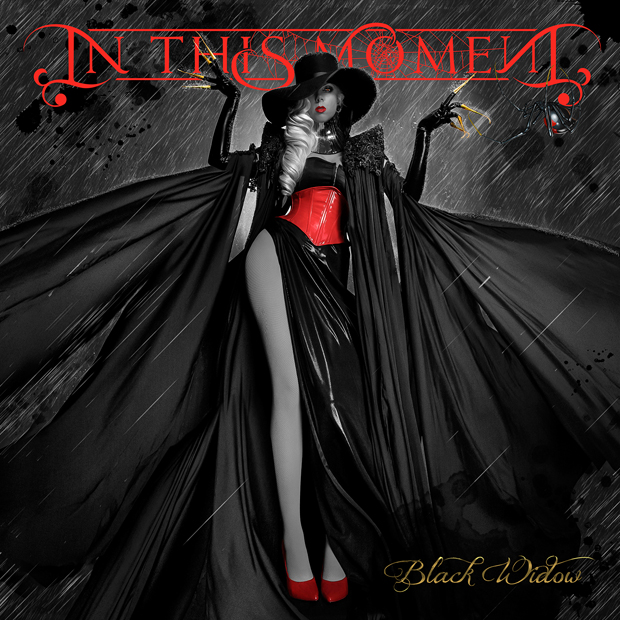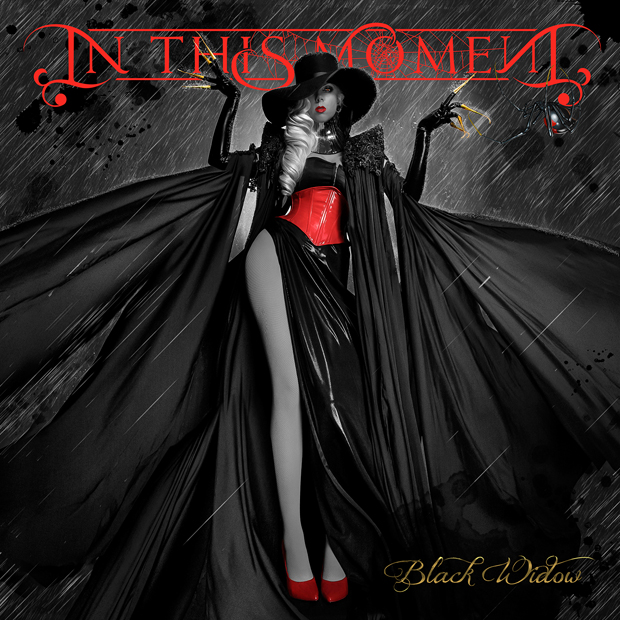 Black widow spiders are known for the females' unique appearance and tendency to eat their mates. They are considered the most venomous spiders and their bite can be fatal to humans. In all cases the females are the most distinctive, with shiny black bodies and a red hourglass-shaped marking. 'Black Widow' is a very fitting tittle for this new album. If you had to describe lead vocalist Maria Brink as a creature, the Black Widow fits her style very well.
Los Angeles five-piece In This Moment, have been around for a while now, having released four albums via Century Media Records. Now releasing their fifth album 'Black Widow' on Atlantic Records, Maria tells us "We are very excited to be releasing this album through Atlantic Records, who have put out some of the greatest and most revered albums of all time. I think people will embrace its diversity and hearing different sides of us that they haven't experienced yet".
The intro to the album 'The Infection' begins to add suspense and dramatise what is to follow. The way the introduction builds up you know you are about the hear a dance party. 'Sex, Metal Barbie' is a track that grew on me. This definitely would have been my cup of tea a few years back when I loved post-hardcore. But, I must admit after having listened to this album all week, this track has grown on me, and I don't mind it. Don't be put off by your first listen if you are an adamant metalhead.
Maria speaks of 'Sex, Metal Barbie': "People can be so cruel on the Internet," she sighs. "I actually don't read anything negative about me or the band anymore. I don't let myself get sucked into that. In the end, music comes down to someone's personal perception of what they love. It's not meant for everyone. I wanted to empower myself with that online negativity somehow. I literally went on these sites and read mean things and rumors about me. I wrote them down and transformed them into lyrics for the song. I turned it all around."
"That was the second song we did," the guitarist recalls. "It came from Maria saying, 'What about building a metal song around a cool hip-hop beat?' Everything was constructed piece by piece, and it was very experimental. Once we finished the song, we felt like we had something special. It was a catalyst for more music."
'Big Bad Wolf' is next, keeping in line with the dramatic theme, Maria displays her darker-dark side through the vocals and lyrics. The production on this track, and throughout the albums is something extraordinary. Produced by multiple GRAMMY® Award nominee Kevin Churko, who has also worked on albums by Ozzy Osbourne, Slash, and Five Finger Death Punch!
There is something in the baking vocals of 'Dirty Pretty' that reminds me of Marlin Manson. This song whilst still extremely bleak (in a good way), keeps making me think of Lady GaGa (if she was a dark lordess). I think this album will, if given the chance, appeal to a much bigger crowd then just Rock / Metal fans. It reminds me of when I was 16 and started listening to Evernersence, I just got it. I hope that lot's of fans will have the same understanding with this album.
Tittle track 'Black Widow' again with the genre mixing, but these styles mean that In This Moment know who they are. They have a sound that belongs to them, and is not particularly what anyone else is doing.
The band joint forces with Shinedown's Brent Smith for a compelling duet on 'Sexual Hallucination'. This track is well-polished, it embraces the darkness in a sensual sense. "We love Brent and Shinedown," says Chris. He continues, "We didn't think we'd have a shot at getting him, but he instantly said yes. The song is a little different for him, and he jumped at the chance to do it".
My favourite track of the album is 'Sick Like Me' – it starts with the powerful drums, before heading towards some flawless guitar distortion, and maria'a unique vocals. In this video you see Maria on her spider web, as the Black Widow. If you like a good break-down, you gotta check this one out!
Maria talks about the meaning behind 'Sick Like Me': "It's about when somebody loves you for everything you are," she states. "They love you even for what you consider flaws. It's that vision of people who are super eccentric and twisted, but they're perfect like that because that's who they are. They're meant to be."
'Bloody Creature, Poster Girl' starts with a more pop-infused vibe, but then crawls back into the darkness during the chorus. 'The Fighter' reminds me of Christina Aguilera, as she has a song of a similar name and Maria could certainly challenge Christina on vocal range. This track is beautiful,passionate, emotional.
'Bones' begins with a deranged tone, and perhaps the lyrics are a bit demented. Or perhaps they are quite beautiful, this is a love song. Moving on to 'Natural born Sinner' which starts with spoken words, this adds a theatrical horror film sense to the album. This track is vigorous, robust, and dominant.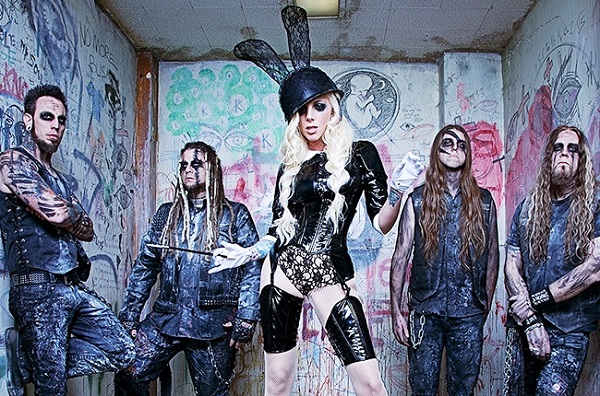 'Into the Darkness' is a powerful spoken word piece. It's at this point that I start thinking about the meaning and the story behind the album. "Black Widow is a metaphor for this innocent young girl who gets infected with life, traumas, experiences, and the balance of light and darkness," explains Maria. "She becomes this poised and powerful creature. That's the album."
"We went into this with the title Black Widow," says lead guitarist Chris Howorth. "It fits the image of Maria as this powerful heroine. If you think of the boys in the audience watching our stage show, she's like the black widow pulling them all in."
The album concludes with 'Out of Hell', the slower of all tracks. Brining a hushed, emotional ending. This is an album that I do believe many will be able to connect with.
The vey first time I listened to 'Black Widow' I did judge 'Sex, Metal Barbie' because it had too much synth for my Meatlhead brain. But as I said, that track has now grown on me. I have been converted. Do give it a listen, try something new!
Through listening to the whole album a few times and really getting to know it, I have realised a few things. I really respect In This Moment, and Maria for giving the message that you could be a blonde barbie b*tch, and still like metal, you could even like death metal, and you might also like rap music. Whatever people like, don't judge a book by it's cover. Surly we can all relate to that?
I am really excited to see this band on their first ever UK headline tour, in March 2015. They have the potential to put on a completely mind-blowing show. Let's hope we also see them at some UK festivals!
'Black Widow' is out now via Atlantic Records, and available on an array of distinctive formats, including a very special vinyl.
"'Black Widow' is definitely the darker part of me," says Maria. "This album is about finding the weakness inside and turning it into strength. It's about being reborn, setting yourself free and realizing the balance in everything – the dark and the light."
"Here we go again," comments guitarist Chris Howorth. "This was by far the most challenging, exciting and rewarding experience we've ever had making a record. We threw out the rulebook and tried to create something fearless, constantly pushing ourselves to make an album unlike anyone has heard before. Fans, get ready for this ride – everything is going to the next level."