Whilst waiting in a corridor at the Academy Of Contemporary Music (ACM) for a Guitar Master Class with Olly Steele of Monuments, we met up with one of the bands on campus. Lost In Venice came together whilst studying at the academy and they have had a brilliant few months.
Firstly, the band were selected to be dressed by John Varvatos, a Rock 'N' Roll brand that dresses stars such as Alice Cooper, Paul Weller, Kiss, Damian Marley, Ringo Starr, and Iggy Pop. They then got to perform in their flagship store and to sign a worldwide record deal after a competition run by Feels and John Varvatos.

The band have also recently been featured on the front cover of Music Week, and in April the band got to record their new single at the world renowned Metropolis Studios in London.
Being at such a musical academy certainly helps in terms of finding band mates. Rico Sisinni (vocals) tells us "Jake and I were in the same class, and then James [drums] and I started jamming together as we all like similar bands. Then our bassist, Rob, came along – he had heard we were looking for a bassist."
When asked what it's like to study at ACM the band said, "it's really cool; it is fun. We have lots of rehearsal space; the tutors are world class, so we can experience the real world, rather than us looking at answers down on paper. They have been there and done it, so they can talk to us from experience."
Some of the band's tutors include Ace (Skunk Anaise) who produced their single, Colin Doran (Hundred Reasons), Pat Hughes (East of Java & The Filthy Six), Arya Goggin (Skindred), and many more.
Lost in Venice drummer, James Exley, tells us "Pete Riley [Republica, Phil Hilborne & Guthrie Govan] is a big one for me. I was looking at his lessons in Rhythm Magazine years before I came to ACM – the same with John Duff."
James continues; "the best part about being here at ACM is that everyone wants to be in a band, everyone is a band, everyone wants to gig and get contacts. The connections here are awesome! And the good thing is everyone is mates, it's like one big happy family."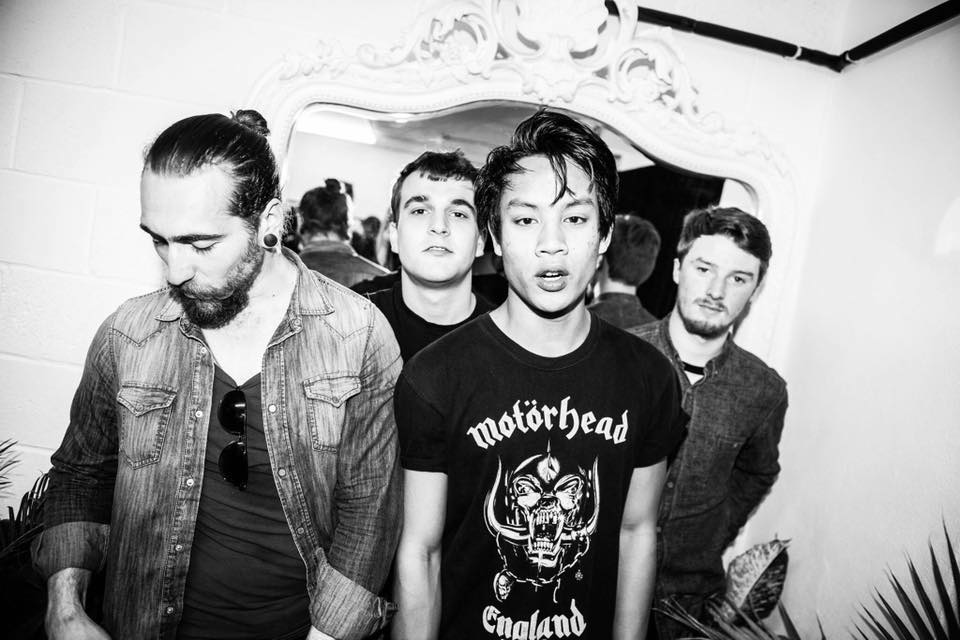 Previously we had listened to Lost in Venice's single, 
'Games',
available on Soundcloud. There is a great groove to this track, which makes it very dance worthy, however, the band told us that this version is merely a demo version; "w
hen we first recorded it," they said, "it sounded a bit polished. What happened was we recorded the demo before we had done any gigs, and when we started playing live, the song changed a bit; since the live shows are a lot more intense, the recorded performance has a lot more energy!" 
 The thought of a band being able to make a track even more fun, by brining an element of the live performance is truly exciting.
They continue: "Ace (ACM Tutor & Guitarist / songwriter of Skunk Anansie) really helped us with the song sound wise, he became a fifth member for the sake of the recording. Seeing how the song has evolved has been great, and how different it is just because we played it live, we haven't arranged it differently, it's just changed naturally with the way that we play it." There is a good lesson in that for new bands: always make sure you play your tracks live, so that you know how they truly sound. There is an excitement in tracks that bring an atmosphere; many of the records from the seventies and eighties were recorded live. Modern music can sometimes sound a bit too processed, and a bit polished; people want to listen to a band live and them sound the same on CD. "For us it's all about playing live, as we really want that connection with the audience," Rico tells us.
Talking of where his passion for music comes from, Rico tells us, "it's a way that you can express yourself, especially for me as I come from a small town in Italy; there was no music scene. I had so many frustrations in my head and started writing songs; it's kind of like therapy, and playing them live is the best feeling in the world." Jake Woodhams (Guitar) continues, "it's also great to hear music that has a meaning; I'm sick and tired of music that is just there to make money. That's not music to me." Rico agrees: "we want to write music that people can relate to, it's great when you have a big chorus that everyone can sing along to."
The band are keen to get their music out there, and see how far it can go, and most importantly they want to have fun doing so. They have a good balance between fun and taking the band seriously. It seems that the band are in an excellent position being at ACM, it will be interesting to see how far they go.
Lost
In
Venice
are set to release of their first single
'Games'
soon.