Shepherd's Bush Empire is filled with a sense of anticipation, two outstanding bands are about to rock this venue. Michael Monroe, the Finnish multi-instrumentalist who stole the glam punk scene with Hanoi Rocks and later kept on doing so with his own band, and of course MC5, American punk legends who are celebrating the fifty year anniversary of their first album with a whole tour dedicated to this significant event.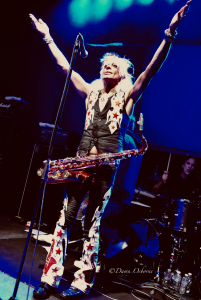 This is not the first time I've seen Michael Monroe performing live, he and his band are a force of nature. Their performance is more than powerful and often shocking, I have witnessed Michael climbing and jumping on stage amps or barriers on several occasions, he's definitely a pro at what he does. Their delivery is always flawless but also unconventional and that's what fans like the most. The band walks on stage to the notes of 'Ballad Of The Lower East Side'. One song in and they already manage to give life to their audience. Their chemistry is equal to none, that's exactly why Monroe keeps repeating that this is not 'his solo project', instead, he prefers to call it a band. Tonight we have Steve Conte and Rich Jones on guitars, Karl Rockfist on drums and the unmissable Sami Yaffa on bass – their technique are as good as the passion they put into their performance with Michael leading and bringing the show to the next level.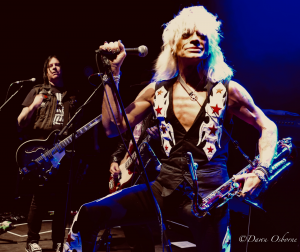 Unfortunately earlier on today Michael had to cancel all interviews as he wasn't feeling well, in fact although he still manages to put on a great show tonight, you can tell that the usual 'wow' factor is missing. It's probably also due to the fact that I've always seen him performing at his very best. This is a man that has been highly influential for many generations over the years and a glam legend who throughout his career has never compromised his music vision nor his cool way of dressing. In fact, particularly during track 
'78'
we have to agree that time might have stopped for this quirky frontman as he still sounds, acts and looks like he did thirty years ago. He also plays a cover from Alice Cooper
'Long Way To Go'
and another from Nazareth
'Not Fakin' It'
, which I found it to be the highlight of the show. It's admirable how the energy level of this superb performance doesn't decrease for a second, on the contrary it seems to get better and better. These guys are just the right combo of craziness and talent and it all comes across as genuinely credible. Finishing with the volcanic
'Dead, Jail Or Rock 'N Roll'
the guys get everyone involved in the fun, not one person in the audience is standing still. This band certainly shows major traits that are not easy to find in the music business nowadays.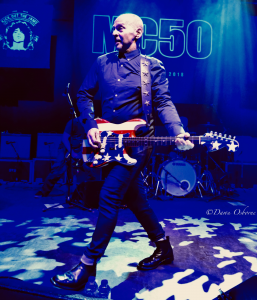 Fifty years ago MC5 recorded the live version of the album Kick Out The Jams and tonight they are ready to get on stage to celebrate this milestone. Their tour is in fact called MC50 in order to honour the fifty years of their career although the line up is not the same as 1969. Apart from Kramer who stays on guitar duties, the new members come from different bands that have influenced MC5 sound over the years, therefore their skills and personalities blend perfectly with what was the MC5 spirit and authenticity in the late 60's. On this new chapter Wayne is joined by an outstanding frontman Marcus Durrant of Zen Guerilla, Faith No More's Billy Gould on bass, Soundgarden's Kim Thayil on guitar and Brendan Canty of Fugazi on drums. Let's not forget that MC5 are famous for being pioneers of the punk movement in the USA – they were eccentric, loud and definitely not afraid to display their leftist political views through their lyrics. It's probably not a case that their return to the scene seem to coincide with the unstable and chaotic age we are living in. Kramer, now 70, brings joy and smiles on stage, together with the same energy he had in 1969. They start tonight with a recording of 'Rambin'Rose', which was the intro of the album 'Kick Out The Jams', where we see Kramer taking over on vocal duties. Their sound on stage tonight is much tighter and far less loose compared to MC5's early days. The band is no longer unorganised, in fact they are very well in control of what they are doing, someone might think they have lost their punk attitude but that raw verve is still all there. Kramer has certainly put together some talented musicians who have the right skills and characters to carry on his band's legacy. Durant in particular, who also physically reminds us of Rob Tyner, manages to fully capture the core and the passion of the MC5. A wild combination of garage-rock, blues rock and free jazz is now filling the venue with their psychedelic melody and the audience is loving it.
'Kick Out The Jams'
is obviously the crowd favourite judging from their reaction. The rest of the show consists of quite a lot of material from this very album, as we all expected and hoped for – '
Come Together'
,
'Motor City Is Burning'
and
'I Want You Right N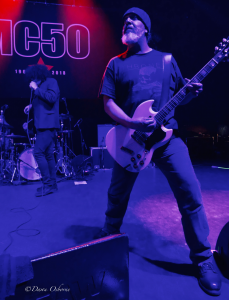 ow'
plus 1966 single, a cover of Them's
'I Can Only Give You Everything'.
Kramer appears healthier than ever, especially after battling his drug addiction, although his high energy and constant bouncing tonight leads us to think that he actually never needed those substances' effect in order to be this exuberant. The night closes with a brilliant encore which includes
'Sister Anne'
,
'Let Me Try'
and
'Looking At You'
with the return of Micheal Monroe on stage, this time to play the saxophone. This band really knows how to deliver, and not just because of their technical expertise.
Tonight's gig was truly a celebration of rebellion, energy and raw rock n' roll. Not bad for a Monday night.