Motionless In White were back ashore the UK on the final leg of their tour and they kicked it off on a Sunday night in Manchester. Bringing along with them Bangkok alternative metal band Defying Decay and Swedish industrial metal band Skold.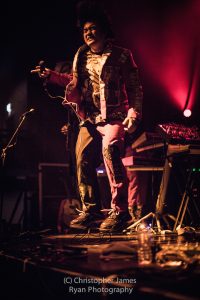 Defying Decay… holy shit! I instantly fell in love with these nutters. I can honestly say this band scales on both ends of the charts, tracks that are heavy to tracks that are slow and make you want to wept a tear. We were also spoilt with some intense guitar solo's which of course got the pits pumping!
For a band that has broken its UK tour virginity tonight in Manchester where the crowds were more than happy to headbang out; they set a very positive steak for whats to come. Heavy screams are produced by Jay Euarchukiati, who jumps around the stage to then being on his knees; you can see his drive as he delivers us some banging vocals! To put the cherry on the cake they covered Linkin park's 'Faint' and we were all blown away! If you love Deftones, Bullet For My Valentine / Linkin Park / Betraying The Martyrs then oh boy you are in a treat!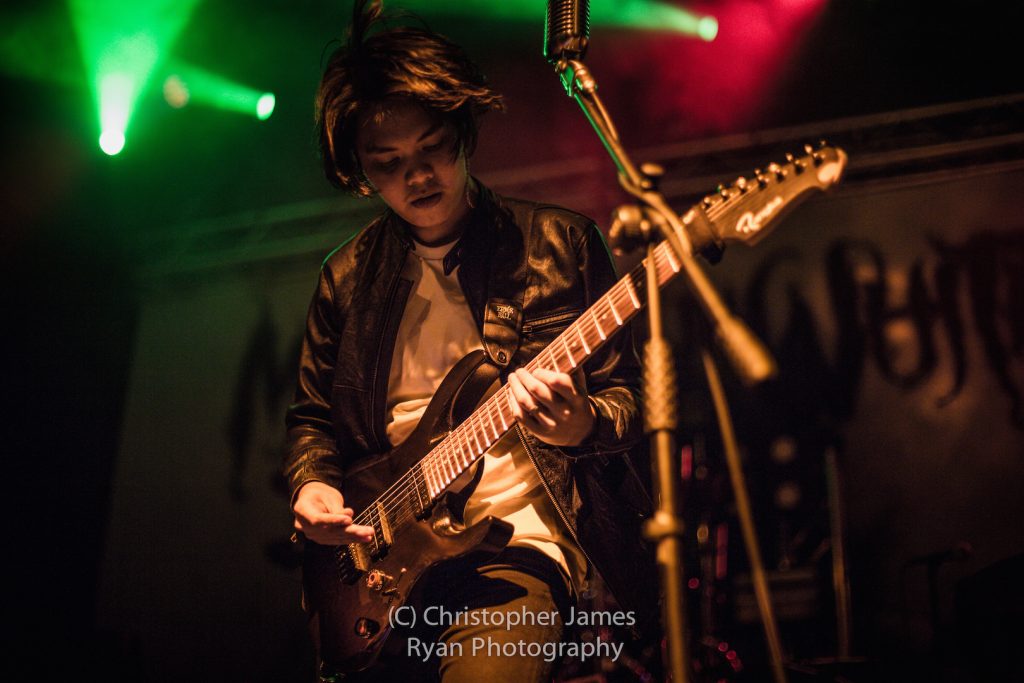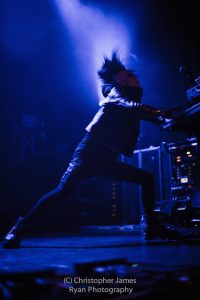 Following the energy of Defying Decay you'd expect Skold to keep the pace, especially as Tim has collaborated with legends KMFDM and Marilyn Manson but unfortunately tonight that's not the case. Despite whacking out the industrial metal beats and asserting dominance, Tim Skold is rather stationary and emotionless. Keyboardist Nero Bellum however was not. It seemed more like a performance hitting each note dancing about, stamping to each beat while throwing the keyboard about like its some form of doll. Despite the heavy beats it wasn't enough for the crowd as the majority just stood and watched, not moving. Could this be Tim's master plan, to look like he has an army awaiting orders? Who knows.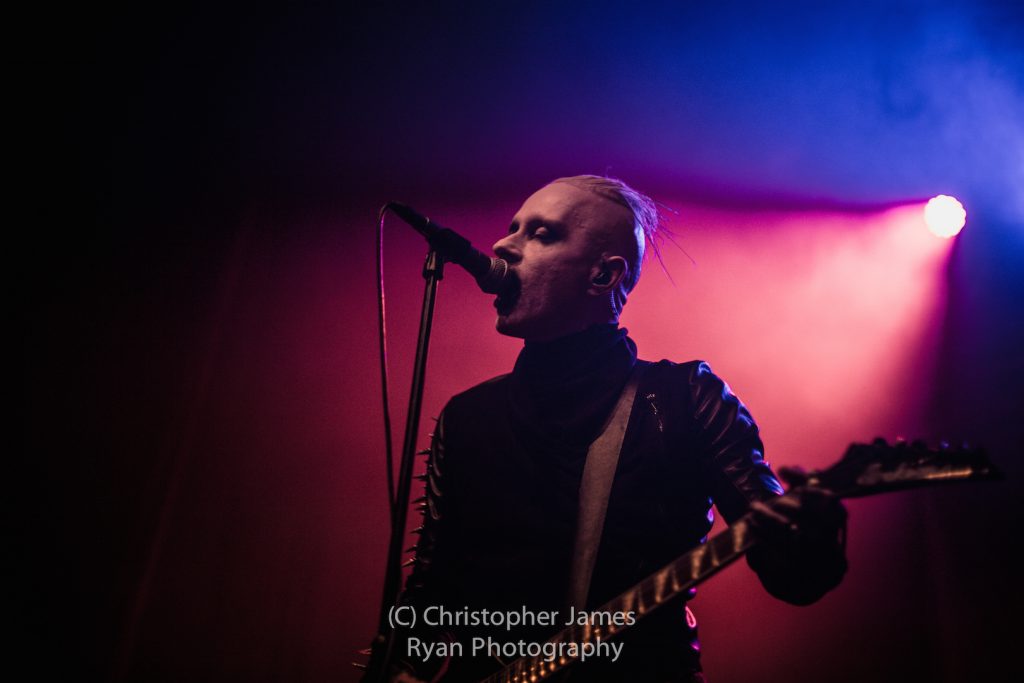 Everyone's favorite goth band, Motionless In White, is here and wow it went from zombies to shake the whole building in five seconds! They open up with new and heavy single 'Undead Ahead 2: The Tale of the Midnight Ride' from recently album Disguise. The whole floor was bouncing, the fans were screaming and the goth gods were hitting banger after banger, with  the necessary evil and soft.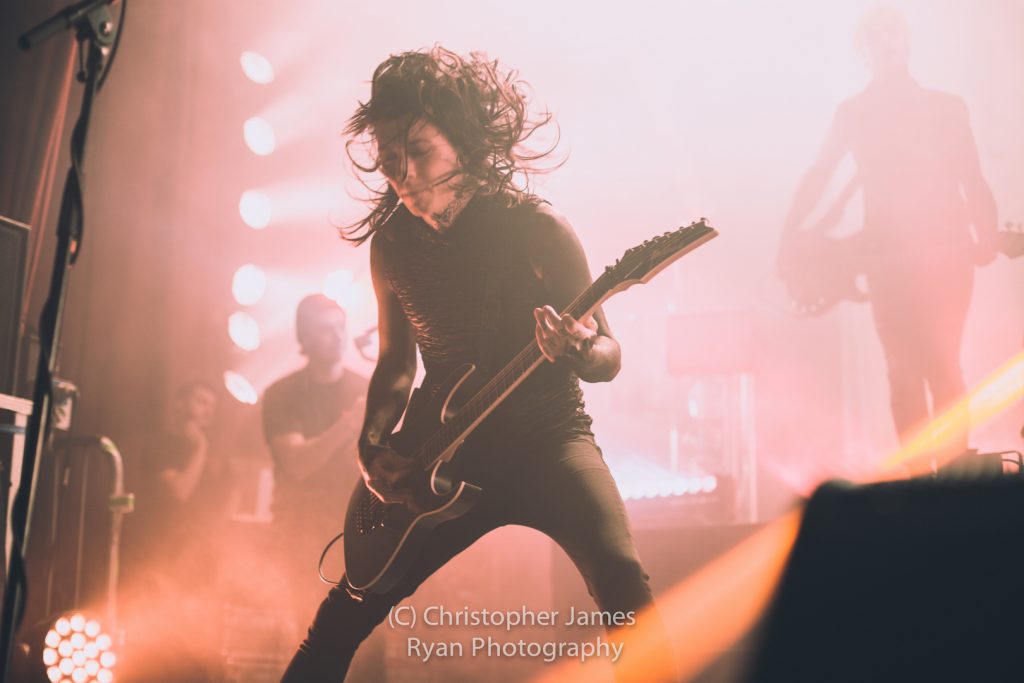 During 'Rats' the show had to stop for roughly twenty minutes as there was a medical emergency with one of the crowd members. Thankfully Chris stopped the show and the crowd did what they can to help work with the staff and the medical team. Chris then praised the fans for being patient while its dealt with.
Now before the show went on something truly bizarre happened… the whole crowd sang 'Smash Mouth' by All Star, it was so surreal but in a good way. Chris joked about their name saying "oh where was I". Then boom back onto 'Rats' like nothing happened. There was a huge pit right in the middle, now that's how to kick it up a notch!
Unfortunately due to this some of their songs had to be cut, but Chris assured that they will play as much as they can. They did right up to 11pm, not stopping to talk much, just to cracking on with the music and to deliver the goods! The show was dominated with the new album and with a chunk from Graveyard Shift. Tracks like 'Brand New Numb', 'Voices', 'Code' were played. Now this next bit is sweet, Chris talks about the track 'Catharsis' saying that we do what we can to help others despite being strangers, the song is about unifying as one. MIW's music has evolved over the decade speaking and reaching out about personal matters, but singing it as a work of sheer poetry but with all the metal and drama – this is what we LOVE about them!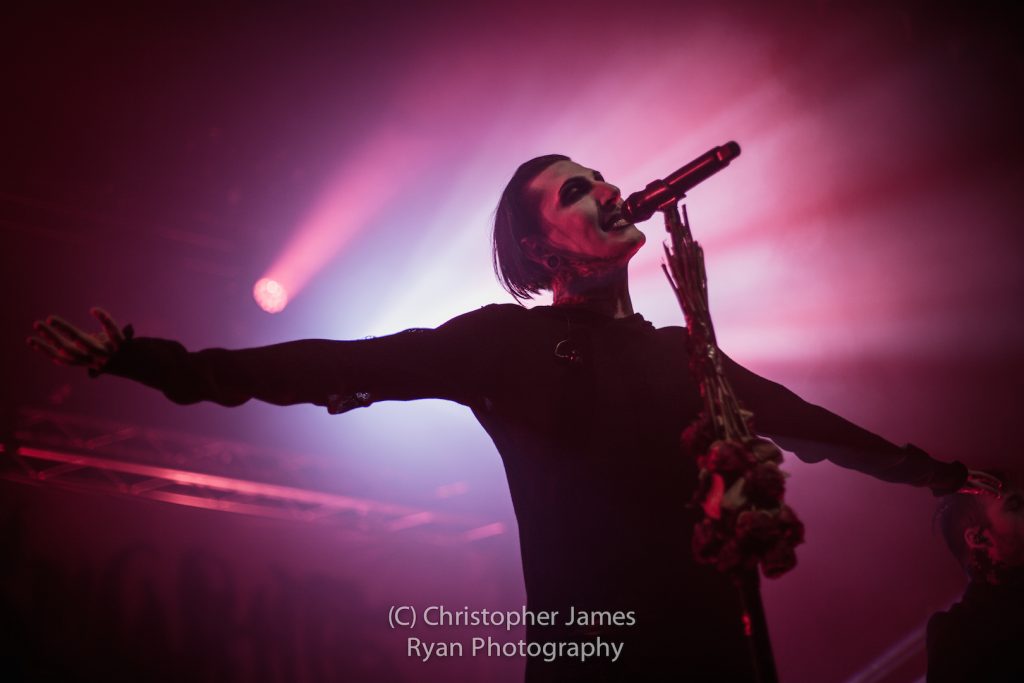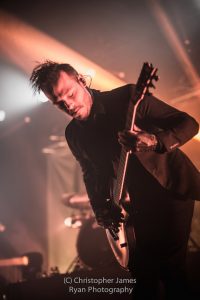 Chris said that Manchester is the loudest crowd on the whole tour so far, which is a huge thing to say, but of course we did proud! Ending the night with a huge confetti cannon and encoring with 'Eternally Yours' which is quite fitting as its been a decade for MIW and we all have a piece of Chris's heart and soul. Chris hands out roses to random fans signalling the end of the show.
As the new album Disguise is a more personal touch and expressed about mental health and issues surrounding Chris we can say with pride that we cannot wait to see what 2020 brings, hopefully a tease for a new single for a future album in 2021 along with another huge tour?
One can only hope!