As time goes by American rockers New Years Day are evolving and growing their fan base exponentially. They will soon hit the road with Falling In Reverse and then Halestorm later this year. However, the biggest news is that their fourth studio album is scheduled to be released on April 26th and after the big success of their first three singles 'Skeletons', 'Shut Up' and 'Come For Me' there's certainly a lot of anticipation towards this brand new record which is called Unbreakable. We caught up with vocalist Ash Costello and lead guitarist Nikki Misery at Sony Headquarters to talk about their new work, their approach to the web and all their future plans.
RAMzine: Hi guys and welcome to London. How's your relationship with the UK capital?
Ash: I think they like us. I think it's going well.
Nikki: I have to agree.
Ash: Yeah I think they really like us.
RAMzine: Why do you think that?
Ash: Everyone's so nice and so welcoming. Here they are very accepting of our music and the way we look. We haven't really run in too many problems.
Nikki: They haven't kicked us out yet so we are good (laughs).
RAMzine: What about your UK fan base?
Ash: I love them, they are so awesome, and nice, and very polite. 
RAMzine: Cool! Musically speaking, what is the main difference between the UK and America nowadays?
Nikki: Well, because we don't get to tour out here that often they seem to be hungry to see American bands and when we play here it's always great. We feel very appreciated. We get to tour US constantly, so coming over here it's a real treat.
RAMzine: And what about America?
Nikki: Depends which state you go to. 
Ash: Every state reacts differently.
Nikki: If you're in LA everyone's gonna stand in the back and be too cool to join in.
RAMzine: O really?
Ash: If you're in Kentucky they are gonna start punching each other in the face. So it's very different.
RAMzine: I see. So what is the best place to perform to in America?
Ash: New Mexico.
Nikki: New Mexico, Denver goes off, New York goes off.
Ash: Texas. New Orleans (laughs). Actually our shows never go that well in New Orleans but we like going there.
RAMzine: O no, why's that?
Ash: They like more southern music, like classic rock. Our music is okay but there's not a big scene.
RAMzine: Let's talk about your brand new album Unbreakable which is coming out on April 26th. What can we expect from it?
Ash: It's definitely heavier, after all the songs we've released it gets much heavier as the album goes on. I think it's the strongest album we've ever done.
RAMzine: Why do you have this feeling?
Ash: Because it's the most us we've ever been. We didn't have someone telling us what to do, we got to be free and be ourselves for the first time. Not that we've never been ourselves before, this is just the most ourselves we were ever allowed to be.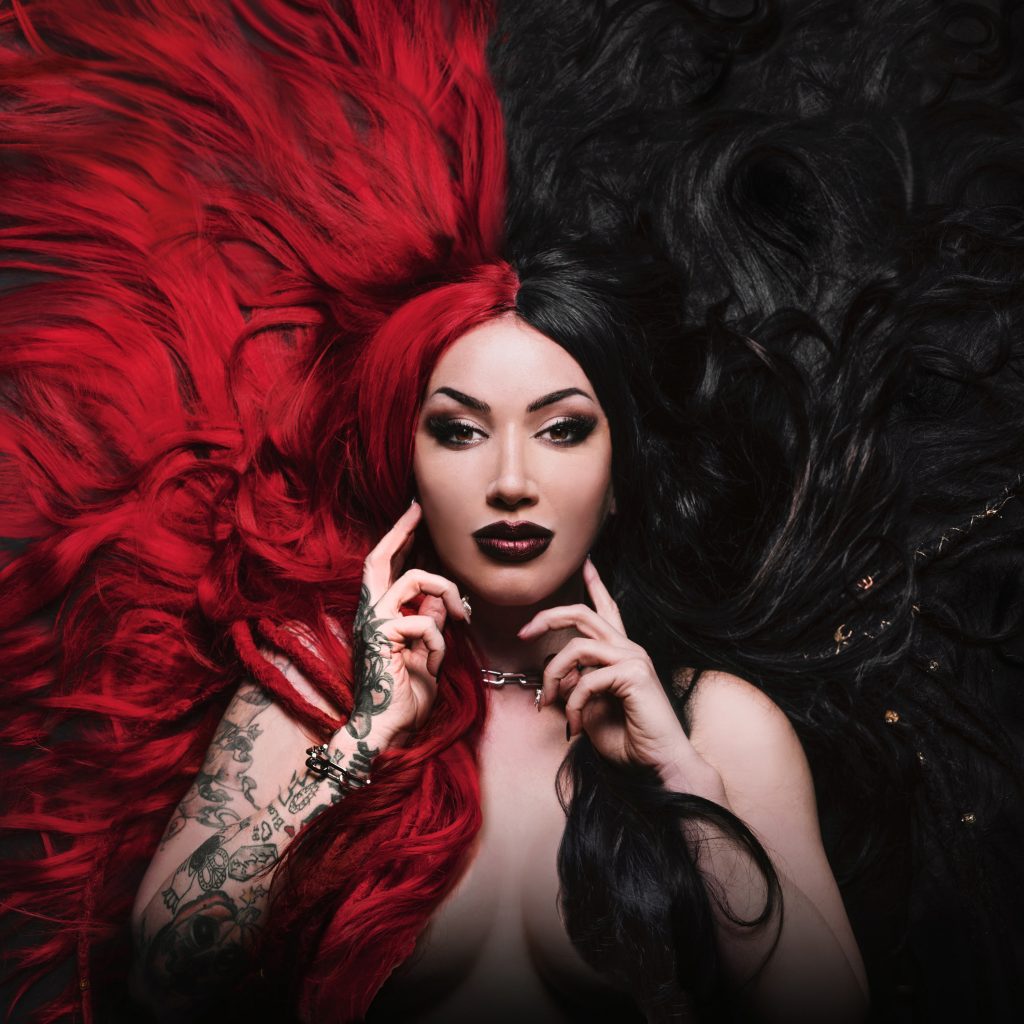 RAMzine: What's the main difference between this album and your previous ones?
Ash: Lyrically there's a big difference. I decided I didn't want to use metaphors anymore in lyrics and that was a little bit scarier because you are more vulnerable. You are saying exactly what you are meaning instead of using metaphors to kinda hide behind. So everything is just more straight forward, more honest, more simple. 
RAMzine: How was the writing process this time around?
Ash: So the way we used to write records in the past was you have thirty days between tours and that's it. Whatever you write that is the record. It was kinda like the first twelve songs you write are what you get. For this album instead, we had the time to discard what we didn't like and go for better songs. That's way better, way less pressure. So this time it was a very different process, much better.
RAMzine: Sounds great! 'Come For Me' just came out, why did you call it your fight song?
Ash: 'Come For Me' in America means 'come fight me' even though there's a dirty innuendo there. You don't get it? (turns to Nikki).
Nikki: Uh (laughs).
RAMzine: But that innuendo has nothing to do with the song, right?
Ash: Yeah, nothing to do with the song. The song means if you have a problem come fight me, come for me. I feel like we all need a fight song and New Years Day fans gotta fight along with us. They are the outcasts, the kids that are different, they like the unusual, they like the weird. They do get picked on and that's why I feel like we all need a song like this one.
RAMzine: True. Do you think the digital era helps artists or creates even more negativity?
Ash: I think it's a double edged sword. Back in the day when we were younger and in bands, there was no internet and we had to pass out flyers in front of shows. But even passing out flyers you are only advertising to the people that live in that town. With social media we were allowed to expand the audience of our band easily from our house. This is definitely positive but at the same time it opens up to more people to have opinions about you so it can be negative. There's pros and cons.
RAMzine: How do you take negative comments?
Ash: You just kinda have to know that not everyone is gonna like you. There's a saying I really like – you can be the most perfect, juiciest, flavourful peach and there's still gonna be someone out there who doesn't like peaches. You can't please everybody, that doesn't bother us. I mean they're wrong and we hate them. 
(Everybody laughs).
RAMzine: That's a great way of thinking, especially because nowadays there are so many teenagers who get very much affected by negative comments on the web. What would your advice be to them? 
Nikki: Get off the internet, go live in the real world. That shit doesn't matter, who cares what somebody says. 
Ash: No one needs to cry over a stranger's opinion. Does the lion cry over the opinion of a sheep? No, he eats the fucking sheep.
RAMzine: I love this saying. Are you looking forward to touring with Falling In Reverse and then Halestorm?
Ash: Yeah, we toured with Falling In Reverse the first and only time in 2007 at Warped Tour. So we are very excited to get to do it again over ten years later. Also we are friends with both bands, it's gonna be a lot of fun.
RAMzine: What can the fans expect from the shows?
Ash: New songs.
Nikki: Wild energy.
RAMzine: Are you excited to play the new songs? To see the fans' reaction?
Ash: Of course. Our new songs are like new shiny toys. We don't wanna play with the old ones, we are bored. We wanna play with these new toys. The reaction has been crazy so far. 'Come For Me' has broken records for New Years Day which is awesome. Same goes for 'Skeletons' and 'Shut Up', we are very happy.
Nikki: I really liked how we put out 'Shut Up' and everybody thought we are a pop band now.
Ash: Everyone's jumping to conclusions..
Nikki: And then we got 'Come For Me' coming out and everyone was like 'Oh!'.
Ash: Yeah, oh shit, alright. New Years Day is not fucking around. I told you, when would we ever let you down.
RAMzine: Right on. Ash you seem to be very good friend with Lzzy, how's being a woman in rock music? Is there any competition among female artists?
Ash: You know if there's competition I don't see it, I just squash that shit. I love those girls a lot, I've learned so much from them and we help each other's out. It's like a little sisterhood. Being a woman in this industry used to be a lot different before. Ten years ago it was a different time, I was so young and I didn't really have my powerful voice yet, I didn't know how to carry myself with more confidence so it was a rough go at the start. Now if someone disrespects me I ruin them, so no one fucks with me anymore which is nice.
Nikki: It's been very interesting to see the evolution of Ash since I first joined the band. We had a lot of obstacles as no one wanted to sign us because they said they already had a girl singing in their roster even if we didn't sound anything like those other bands. 
Ash: That wouldn't happen to a guy, but thankfully that doesn't happen anymore. Our management is so supportive of women, we are really grateful.
Nikki: It's good to see that out more. We need to see more women in rock.
RAMzine: I agree. So what's next for the band?
Ash: A lot of touring. I hope we do what we've always done which is moving higher and higher and getting better and better. 
RAMzine: What's your biggest desire for this year?
Ash: I never really think about that, I just do what I do. I never really had goals. I just go along with the ride and do my best and see what happens.
Nikki: The fact that we get to wake up and do this it's pretty much living the dream as it is.
RAMzine: Great! Anything else you'd like to add?
Ash: Come and see us in November when we'll play with Halestorm! That's gonna be an awesome show!