In 2018, the hugely skilled Mark Stanway (ex-Magnum, ex-Grand Slam) assembled an amazing cast of musicians primarily from past line-ups and eras of the renowned outfit Magnum in order to celebrate that band's rich and timeless catalogue of songs from the celebrated 1978-1994 period. Boasting a marvelous line-up consisting of Micky Barker, Mo Birch, Richard Bailey, Chris Ousey, Brian Badhams, and the aforementioned Stanway, it should come as no surprise that Kingdom of Madness have gone a down a storm whenever and wherever they have played and performed so far, which includes such prestigious festivals as Winter's End and A New Day among others. We simply had to have a chat with Stanway in order to hear and learn more about the ensemble itself as well as its past and future activities. Make sure you catch these guys live on the road somewhere this year – you will not regret it if epic, strong, and melodically delicious hard rock appeals to you.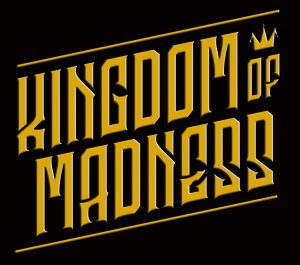 Greetings Marks. I want to start out by saying thank you for taking the time out of your hectic schedule to answer these questions of mine – I really appreciate that. How are things over there in the UK and how are you doing?
Mark: Hi Jens, always a pleasure to talk with you, my friend. I'm doing well thank you and really looking forward to playing live again with KoM in 2020.
When did the idea for Kingdom of Madness present itself to you? Was it something that you had been thinking of doing for a while or did it come about through a discussion or a casual conversation with one or more of your fellow musicians in the band? Did it come about intuitively or on the spur of the moment?
Mark: After my sad departure from Magnum in December 2016, the absolute last thing ever to cross my mind was to form a new band with a view to playing the Magnum classics. I did however during 2017 arrange a series of UK solo appearances called 'An Intimate Evening with', which involved me talking about my vast history with Magnum along with other musical projects I have been involved with over the years.
I fortunately had good friend and UK radio Broadcaster Roger Fauske join me on stage as a compere, which helped me no end, as at this stage I had never personally addressed an audience before. Most importantly, I also had my wife Mo Birch get up and sing a few Magnum songs including songs like 'Les Morts Dansant', which Mo incidentally sang backing vocals for on the original Storyteller's Night album. I also had a few close friends/special guests appear and perform at several of these shows. Laurence Archer on guitar, Richard Bailey who played some flute and also reminisced upon his time with Magnum, also my close friend and Quireboys' main man/vocalist 'Spike' who sang a Frankie Miller song/duet with Mo. This coupled with a slide/video show of some unseen Magnum footage and rare photos made for a most successful and enjoyable string of shows and I would dearly like to do some more of these at some stage in 2020.
It wasn't until the early part of 2018, whilst having a social coffee with original Magnum keyboard player Richard Bailey, that the idea first got 'very loosely' discussed. After pondering on the idea for quite a while, I decided that my first call was to ex-Magnum drummer Micky Barker (as in my opinion and many others also) was the best drummer Magnum ever had and I actually instigated Micky to join Magnum back in 1985. He obviously said yes in principal and so I went on to make more calls until I had (on paper at least) a band of great friends and musicians.
The idea was to try and play one track at least from every Magnum album from the first one Kingdom of Madness through to Rock Art – the last album recorded in 1994 by the 'classic line up' (and arguably the best ever and most successful line up), so we only strictly play tracks from 1978-1995. The name of the new band was an obvious choice.
Speaking of fellow musicians, the Kingdom of Madness line-up is utterly impressive and all of you are seasoned pros whose musical resumes speak for themselves. One only has to check some of those amazing live clips on YouTube out in order to see that KoM mean business, and the fans and critics absolutely love your show. What can you tell us about your experiences on the road with these guys and what is the atmosphere within the KoM camp like when you are touring the UK?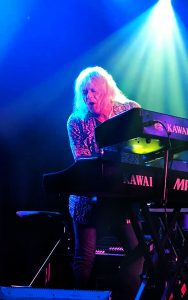 Mark: I never imagined in my wildest dreams that I would ever play any of these songs again let alone enjoy playing them again so much and with such great musicians. After 36 years and some 19 albums under my belt with Magnum, the happiest and proudest moments were from the time I joined the band in the spring of 1980 to the band split up in 1995. However, it was never my intention to try to emulate Bob Catley as there will only ever be one Bob Catley, and if we did try and do this, it would arguably leave us looking like just another 'tribute band' although Micky did amusingly (and in direct response to a disappointing and typically underhanded, scathing comment by Tony Clarkin in an interview saying we were nothing other than a tribute band with only a couple of decent players!) state that "he was playing tribute to his own drumming and arrangements", and Richard and myself were all playing tribute to our own playing etc. Being on the road and performing live with KoM is like the old days for me, being with genuine friends again, exceptionally talented musicians again and decent people again, with no hidden agendas or egos again. I love every minute I am with them all, even rehearsals are for the first time in a long time a pleasure again.
2019 was an eventful year for Kingdom of Madness in terms of gigs and festival appearances and whatnot. Can you at this point in time reveal anything regarding your plans for 2020? I know that you are all busy and involved in other musical bands and projects apart from KoM, but would a short European tour be possible at some point in time? Perhaps a string of festival dates this year?
Mark: As we are still a new band trying to make ourselves better known, it is not easy to put a tour or string of dates together as we are, as a band, an unknown quantity to most promoters. That also means that the availability of certain musicians in the band is not always convenient as we all have to earn a living in between. For this reason there have been some personnel changes and may very well be more changes in the future, but rest assured that myself, Micky Barker, Richard Bailey and Mo Birch (who all share a legacy with Magnum) will remain the all-important, underpinning nucleus that is Kingdom of Madness.
Would you ever consider re-recording or perhaps reinterpreting any of the Magnum classic under the Kingdom of Madness moniker and putting an album out?
Mark: Good question and one I have been asked many times. To just release a live album of Magnum songs does not sit right with me as I believe these originally recorded songs should perhaps remain sacred, time-captured memories and arguably therefore could not really be bettered. However, we have commenced writing original material and once we have what we consider to be a strong album together, we will release it accordingly. Who knows, maybe this first album may include a give-away CD of selected live material too.
If not an actual studio album, then surely a live DVD or a live LP would be a possibility? I think the reason I am so keen on the idea of a live release is that the Kingdom of Madness live experience needs to be properly documented in my opinion. From my perspective, KoM is a marvelous and beautiful celebration of the Magnum discography. It would be brilliant if the whole thing could be captured for posterity. Would you agree?
Mark: Yes, I totally agree that a live DVD would be an excellent idea. Obviously, budget is a major factor in doing such a thing as we would only want to release top quality footage, sound and performance. So, I think that there will be a DVD sooner or later.
I love the fact that you have chosen to air some rarely heard Magnum cuts and added those to the set list, which makes for a truly interesting experience for all those die-hard fans of the band out there who have never experienced certain tracks in a live setting ever. What was it like to revisit those overlooked gems and is it difficult to re-learn compositions that are years and even decades old?
Mark: The purpose of KoM was to perform some of those wonderful classics that may never have been heard again. When I was still in the band, I continually pushed to try and get certain songs back in the show and for one reason or another it never happened. Having said that, the last rehearsals I ever did with Magnum we did actually attempt to play one of my favorites, namely 'Tall Ships', but it didn't feel right and I personally feel that the rhythm section (bass and drums) were not up to it! However, KoM just happen to have that wonderful rhythm section and this song was one of the first songs to be put firmly in our set. Magnum (certainly since the reformation in 2000) rely heavily upon the use of backing tracks/sequencers when performing live, which (also in my opinion) can stifle human feel, but with the luxury of 2 keyboard players and 6 capable singers in KoM, we can actually perform these classic songs live without the need for trickery. It was not personally difficult to re-learn most of these songs, bearing in mind I have actually played 'Kingdom of Madness' (amongst others) live over 1000 times! So, you never really forget, and I think the same pretty much applies to Micky, but like all great songs/arrangements for someone who has never played them before, it is not a task to be taken lightly.
When you find yourself on stage and immersed in the Magnum catalogue of songs, does it make you slightly nostalgic and sentimental? I can imagine that performing those timeless compositions nowadays tends to bring back a lot of fond and precious memories for you. But does playing these tunes ever get old to you? Do you still find them as exciting and inspiring as you did years ago?
Mark: I am totally immersed in nostalgia when playing these songs with KoM live especially with such wonderful audiences showing such genuine warmth and appreciation for what we are trying to do. I do look at Micky Barker sometimes whilst on stage and almost have to pinch myself as it's an almost surreal feeling. Playing these classics with KoM has given me a totally revived enthusiasm, genuine happiness and musical passion, and therefore the songs never feel old.
Previous to the formation of Grand Slam in 1984, you toured Sweden with the legendary Phil Lynott, right? Would it be fair to say that the Lynott touring line-up of 1983 essentially evolved into Grand Slam?
Mark: That tour of Sweden with Phil Lynott, Brian Downey, John Sykes, Doishe Nagle etc. was and will always be a precious memory, a fantastic couple of weeks during that summer of 83 in Sweden playing great music with great players to great audiences and having great fun and lots of laughter with such great guys. Yes, this was without doubt the creation of what was to become Grand Slam.
I have always wanted to ask you what the UK hard rock scene in the 1970s was like and whether there was a lot of camaraderie going on back then? When I read music (auto)biographies by musicians who turned professional in the 70s, many of them recall those days fondly and one gets the impression that a lot of bands and artists were friendly towards one another and supporting each other's musical endeavors. What are some of your recollections of that period in time?
Mark: I became a professional musician towards the end of the 70's but did cut my teeth in bands like Rainmaker (where I first met KoM bassist Brian Badhams) and Little Acre (where I met KoM vocalist and wife Mo Birch) continually going up and down the motorways in a transit van with all the gear and invariably doing gigs for nothing, not getting home until the early hours etc.. It was important that you all got on as you would be cooped up all together for hours on end. The same when I joined Magnum actually, we were still a support band at that time remember and they still hold some great and fond memories of some of the situations we would find ourselves in and some of the outrageous things that happened (my book Close to the Mark tells several of such stories and events). Generally, it was a more friendly time.
One band that I sadly never managed to watch in a live setting was M3 Classic Whitesnake. Was that a good experience and did you enjoy performing the Whitesnake classics? You guys did pretty well in Europe with that project, did you not? The various line-ups of M3 were interesting too, I think.
Mark: M3 was a fantastic experience for me playing with the likes of Bernie Marsden, Micky Moody and friend of old and KoM's first bass player Neil Murray. These legendary players coupled with fantastic drummer now sadly late, but great Jimmy Copley and vocalists Stefan Berggren and Tony Martin. I always loved the early Whitesnake material when Coverdale (IMO) was singing at his best. So, having to learn Jon Lord's incredible keyboard parts (especially the Hammond organ) was a great and eye-opening experience. I had never really played rock organ before and who better to learn from than the best rock organist of all, i.e. Jon Lord, whom I did proudly have the pleasure of meeting several times (there are also many stories of this time with photos etc. also in my book).