Progressively getting bigger and bigger each year, Redfest was back this year with an diverse range of rock music. Taking place in Surrey, the festival is just 20 minutes from London, and was very cheap! Only £36 for a day ticket or £65 for the weekend!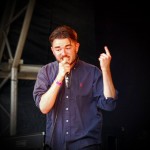 The weekend was blessed with lovely weather, with just a few much needed refreshing showers during the weekend. We arrived just in time for Max Raptor on the Blackstar Stage, this is a band that have a very passionate stage presence. In this raw gritty punk-rock sound I can hear clear influences from Billy Talent and Rise Against. The band played a mix of their tracks including 'The King is Dead', 'Patron Saint (Of Nothing)' and their new single 'Breakers'.
Next we see Random Impulse the first song is about when you are in your overdraft, called 'Put it on my card'. Lead singer Jovel Walker brings a fresh approach to rock music, mixing rock with hip-hop, and grime . They do a cover of White Strips 'Feel In Love With A Girl', Jovel makes the song his own, by rapping the lyrics.
Andrew Groves (Guitar and Vocals) of Arcane Roots makes a statment by dressing in a very stylish paisley shirt. He has very good vocals, nice range, all in all a beautiful voice. Arcane Roots give an energetic performance. They remind me of Karnivool at times, they have that new world, experimental sound. This music is deep, full of expression. It might be a small crowd, but with every note that they play and every world that is sung, I get the impression that Arcane Roots love what they are producing. This in turn makes the crowd feel happy and free to have a good time.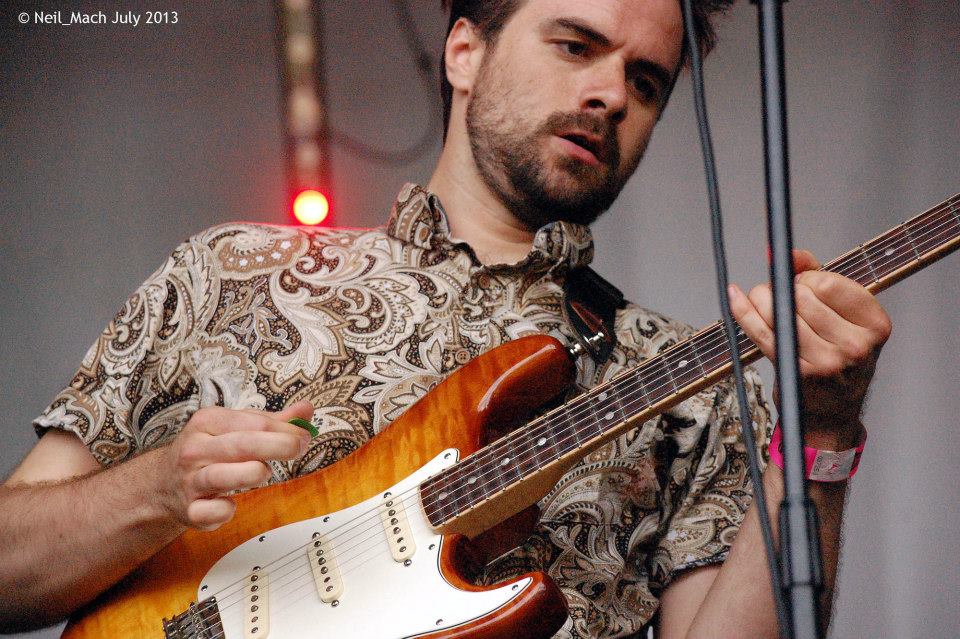 For the fourth time Subsorce play Redfest. Stu on the electric double bass says: "Alright Redfest lets see you bouncing now". This dub, hip-hop, rock band played a remix of Slipknots 'Duality'. The crowd went absolutely crazy to this remix, the result of the craziness was a much loved wall of death (this happened a lot at Redfest). Subsorce could most certainly be the next The Prodigy, with their dub meets rock attitude. Check out their remix of Slipknot below:

Next up on The Blackstar stage is Brother and Bones. Looking around I can see that this band has had quite an impact on people. When people can loose themselves in music, to the point where they turn to a friend and passionately sing the lyrics, as if their life depended on them looking like they truly mean the words that they sing. With track 'Man In Need' the whole crowd sing "oohohhohhh I'm down on my knees". This band have such power with the crowd, great energy, this is passionate music, open and raw. The crowd clap their hands, I feel like this is a real reflecting band, the type of band you can have a real deep think about life whilst listening to them. Life changing decisions get made whilst listening to this band. Things get a little slower when Rich Thomas plays a beautiful acoustic solo called 'Gold and Silver'. The rest of their set gets a bit heavier, its like their attitude has changed slightly, and this rock and roll alter ego takes presence on the stage.
"Its Friday night, are you up for it" – says Rich Thomas.
Brother and Bones could play stadiums, far away castles, pirate ships, and one day headline Glastonbury. The band are due to release their debut album this year.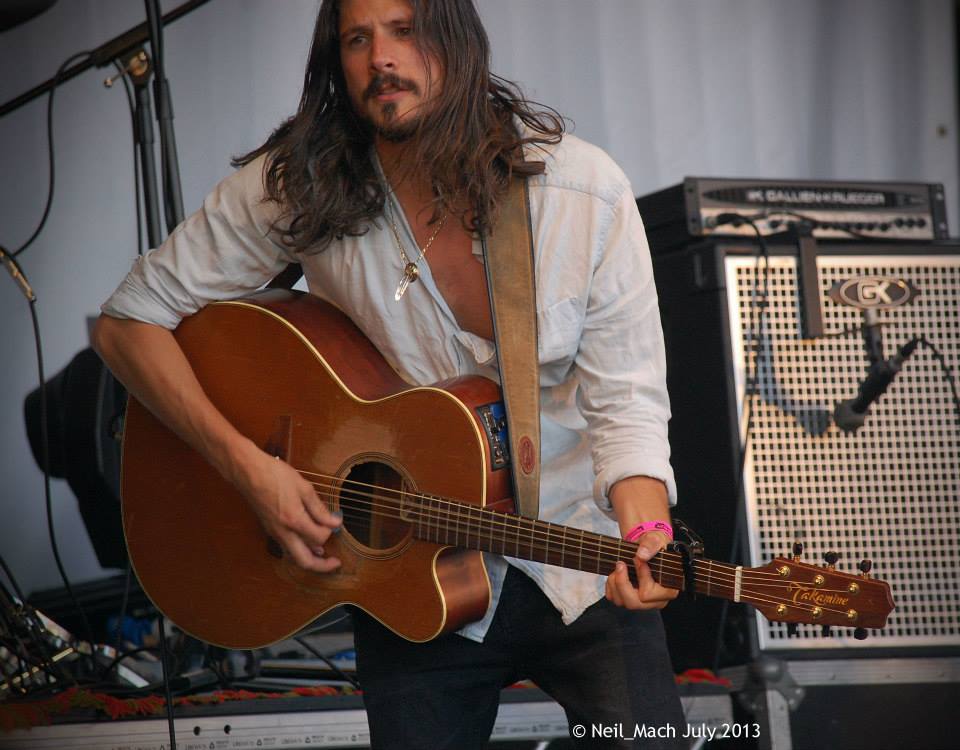 We made our way to the Silent disco, which played host to two different channels of music, which is great as if you don't like a song, you can just switch over.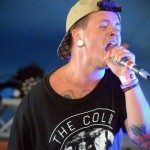 The ballads were getting played a lot, and the headphones kind of gave people license to sing really loudly, as its funny to hear your mates awful drunk singing voice. After the excellent nighttime activity that took place Friday night, its safe to say I saw a few people looking a bit worse for wear on Saturday morning. Even if you were feeling a little low on the Saturday morning, things soon looked up. The first band we see on Saturday morning is A Room Swept White, on The Hype Stage. They were a great start to the day, with their cheerful, positive, post-hardcore making us feel better.
The Valiant had an explosive start on The Hype Stage, lead singer Ben Bryne says "Lets make some f*cking noise" the crowd were hyped, breaking out in a mini circle pit. This small crowd doesn't take away from the band giving it all they got. "Everyone come down to the front," says Ben. This makes it more intimate.
"Who knows how to do a circle pit?" Says Ben.
He makes sure everyone in attendance is having a good time with him and his band. Pure entertainment.
The talented Legend in Japan were up next on the Hype Stage. I must say they remind me very much of The Runaways. They have that punk attitude, and are prominently a female band.  Lead singer Shabby is very confident, very theatrical. Probably one of the most energetic front woman I have seen. Shabby is not afraid to speak her mind openly talking about drugs, alcohol, and even mentioning her vagina at one point. Shabby jumps down into the crowd, and stays there for a few songs, comically saying "Its better over here those guys are a bunch of dicks" referring to her fellow band mates.
After that powerful performance we see Zico Chain. There is something very Vince Neil about lead singer Chris Glithero. I start to think that there is a definite 80s influence in this band. I write in my notes 'Possible Maiden Influence' a few tracks later, and the band only go and reveal that they are to play support to Iron Maiden next week! Very impressive. During the set Chris said:
"If there is anybody here that wants to lose their sh*t, then please do".
Giving the audience the okay to go mental.
Headlining the Hype Stage was Scottish metallers Bleed From Within. These guys have a fantastic powerful energetic stage presence. Dave and Craige circling their exceptionally long hair around on stage in sync, it the most metal thing we saw happen all weekend. They mentioned that this was their last gig, in a long line if 10 festival dates. The set went really quickly, and before I know it they were playing 'Uprising' and they were off. You can catch Bleed From Within this year at this years Butserfest, or on their November tour dates.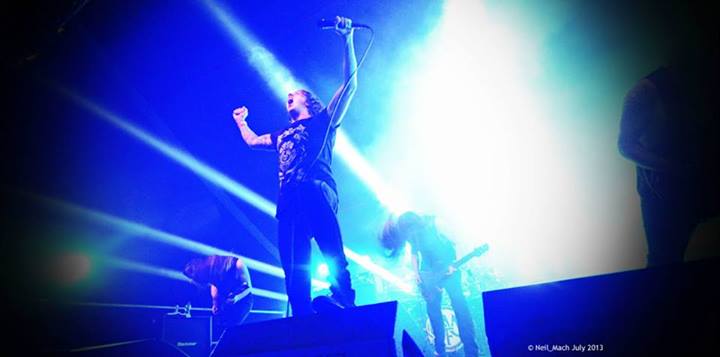 The newly famous Bastille headlined the Blackstar Stage. Lead singer Dan Smith says "Its crazy that we are headlining anything, let alone such and awesome festival as Redfest". The band played classics 'Pompeii' and 'Things We Lost in the Fire'.
Redfest was an excellent weekend, whilst the festival is small, there is something nice about this. Its a bit more intimate, a very friendly festival. If you like any type of rock music we would recommend you check out next years Redfest.
www.redfest.co.uk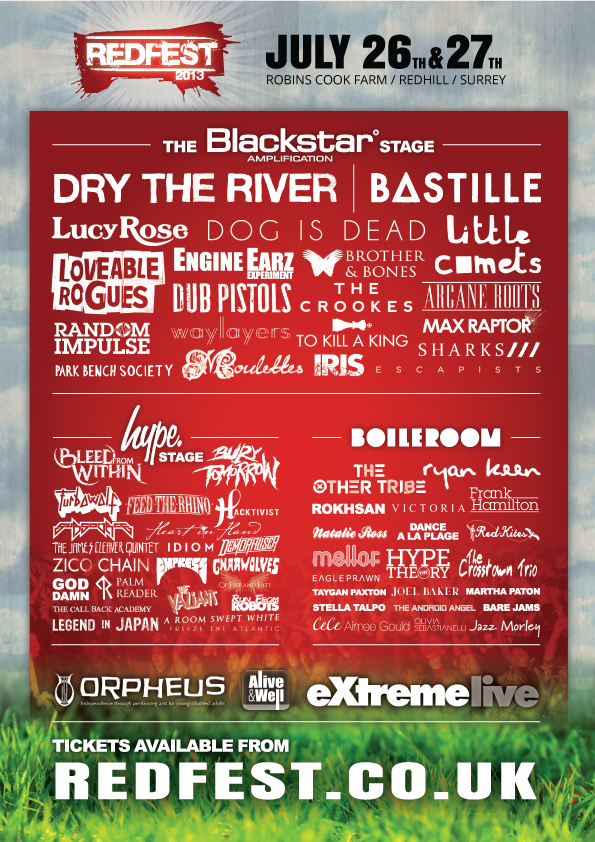 Photographs by Neil Mach.