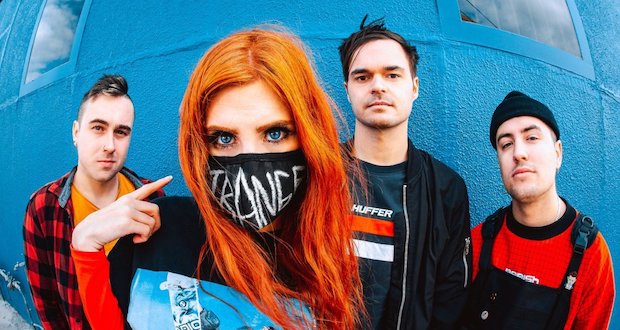 What do you think of when you think of Australian bands? Maybe an AC/DC-esque classic rock band? A new alt/indie band? Sometimes, yeah. What if I were to tell you RedHook is an alt-metal, some may say nu-metal throwback, with a kick-ass female vocalist? Well, they are. We were lucky enough to catch up with vocalist Emmy Mack to talk about the current pandemic, their music, videos, and women in the rock genre.
How are you finding the quarantine and how is it in Australia?
Emmy Mack (Vocals): It's definitely a scary time. We're obviously gutted about all our big 2020 touring plans getting whacked by the COVID-19 wrecking ball but we're doing our best to stay positive and make the most of the downtime to write and create. I'm lucky I've still got a day job that gets me out of the house every day so I'm personally still somehow as busy as ever – but I'm also super worried about all my mates in the industry who've just had their livelihoods completely wiped out by this shutdown. I think the hardest thing is the limbo of not knowing when it's all going to end. The expert predictions have been ranging from this September all the way through 'til next September. That's a lot of uncertainty!
Do you feel this may change the way people are releasing and consuming music in the next few weeks?
I know a lot of releases are getting pushed back because artists' touring plans have been totally derailed, which is understandable. But I do hope that bands will keep releasing music throughout the pandemic because we really do need it now more than ever – everyone's mental health is suffering due to the social isolation, financial stress, and the general vibe of fear and uncertainty. I also hope fans will start streaming more music to support their favourite artists and compensate for the live music void in all of our lives!
Let's take you back: How did RedHook come about in the first place?
RedHook was an idea that sparked from the ashes of my old 80's inspired metal band, and then quietly evolved over a lot of time and musical experimentation. But it didn't really exist outside of my head until I linked up with Craig, we formed a unified vision for the project and then released our first song upon the world in mid-2018.
Where does the name RedHook come from?
Our original drummer was a bit of a horror buff and was reading an H.P. Lovecraft short story entitled 'The Horror At Red Hook' at the time when we were in the market for a band name. We pretty much just thought it sounded badass and shortened it to RedHook. Noted, we didn't realise it was also the name of an ale brewery, a Brooklyn neighborhood or an FBI surveillance tool at the time. It's also got some pretty interesting definitions on Urban Dictionary.
You just released the track, and video for 'Dead Walk', what's it all about?
'Dead Walk' is a song about trying to bury dark secrets, only to have them come back to bit you in the ass later!
Is this a taster for an upcoming album?
We definitely have a longer release simmering. Watch this space!
Even from this one, your videos seem to reflect the type of band you are. Do you have much input in the videos?
Yeah absolutely, I'm a massive film freak so I always have a big hand in our music videos. I came up with the concept and treatment for the 'Dead Walk' clip and also co-directed it.
Do you feel a strong online presence is important to bands these days?
Oh absolutely, more than ever right now that the live scene is completely non-existent! If you didn't have an online presence right now you'd essentially cease to exist as an artist.
It's no secret you are influenced by the 'nu-metal' era of bands, do you feel that style is making a big comeback?
I love nu-metal! Bizkit, Korn, Linkin Park, SOAD, RATM – that was all my jam growing up. I've definitely noticed a lot more bands incorporating that sort of rap style vocal with heavy guitars, but I think it's less about the genre itself making a comeback and more about new bands borrowing some of the elements that made it cool and then mixing them with other, more modern stuff – at least, the bands who are doing it well are doing that! I'm not one for any music that sounds like it was ripped straight from another era, there's gotta be something fresh added into the mix that makes it new and interesting. I was a huge fan of Sylar's last record 'Help!' and here in Australia, Ocean Grove's new LP 'Flip Phone Fantasy' is an epic jam, really boundary-pushing shit!
How did it feel to play Download Festival in the UK last year? Do you find British audiences are different from Australian?
Oh man, we just had the best time, seriously, it was such an incredible experience! We were looking at getting back this year until all of this corona BS happened, but fingers crossed we can make it happen as soon as the travel restrictions are lifted again. The Donnington crowd were absolute legends and made us feel so welcome, not a massive difference compared to festival punters here in Aus except maybe they deal with their hangovers a bit better? If they were dusty from the night before they definitely didn't show it!
What is the rock/metal scene like in Australia?
Until the Coronapocalypse happened it was pretty damn healthy! In the space of a few years, we've gone from having next to no heavy music festivals to a selection of some absolute world-class ragers at the national level and then a bunch of awesome club nights and mini-festivals at the grassroots. The community is really close-knit and supportive as well. Two things I'd like to see a change though:
1. more inclusivity of rock/metal acts at mainstream festivals, and 
2. more grassroots all ages tours and events – the scene is basically non-existent for those aged under 18 and as someone who grew up living at all ages shows that's just so crazy to me!  
Gear change here … do you feel the rock scene overall has changed for female musicians? 
Yeah for sure. There's been an absolute explosion of female talent in the scene over the past few years especially, which is super inspiring. In Australia alone, bands like our mates in Stand Atlantic and Yours Truly are at the very top of the whole damn game. I think there's still a long way to go to get to a place where festival lineups have more balanced representation overall – the heavy scene, in particular, does lag behind a lot of more mainstream genres in that respect – but on the whole, I think we're on the right track. It's been a good few years since I've been mistaken for a groupie during load-in too, so that's a win! 
What is your goal as a band?
Obviously we want to build a career out of creating and playing music because that's what we love to do! But deeper than that, I guess we owe music a life debt that we want to repay. Our favourite bands' music helped us survive some of the hardest points in our lives, and we want our music to do the same for the next generation of awkward misfits.
What's next for RedHook when this whole thing is over?
Releasing a tonne of new music and hopefully touring the crap out of everywhere!