There are more tribute bands than ever these days. If you can think of a successful band,for example Slipknot, you will probably be able to find hundreds of tribute bands following them (one example being SlipNowt). The whole idea is to emulate the original band live for those who can't get to the  original band's shows. Nevertheless Hayseed Dixie aren't just any old tribute band, despite their 2001 debut album being 'A Hillbilly Tribute To AC/DC' they re-work well-known rock tracks in to folk-y ,banjo-fuelled bluegrass ho-downs (or 'Rockgrass' as they call it) with a few original tracks in the mix.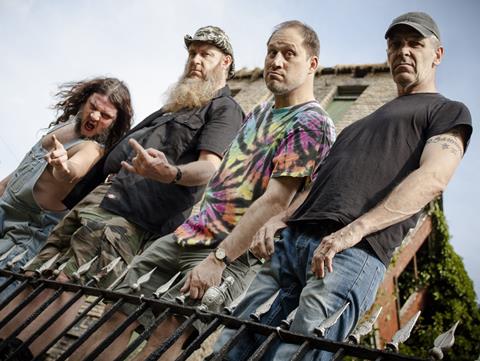 You may be thinking why is a band whose main instruments are banjo, mandolin and fiddle being covered on RAMzine – a rock and metal site? Simple answer: they really do rock. The US combo can play these songs live in a more exciting way than some of the original artists do. What they play doesn't matter – it's how they play it.
Claiming to hail from Deer Lick Holler, the four-piece are back with album number 13 'Hair Down To My Grass', taking on classic rock and power ballads such as the opening track: 'Don't Stop Believin' (originally by Journey). Although this 80s classic has been covered to death in recent years by the likes of Glee and Jo McElderry, Hayseed Dixie reclaim the song's credibility with the power of acoustic string instruments. This also applies to now clichéd  tracks like Bryan Adams 'Summer of 69′ which is probably the album's most mainstream cover, which is also the least impressive transformation.
'The Final Countdown' and 'Eye Of The Tiger' are songs you will have heard a million times before now feel totally fresh thanks to John Wheeler aka Barley Scotch's signature country vocal. More bizarre tributes to Twisted Sister 'We're Not Gonna Take It' and Def Leppard 'Pour Some Sugar On Me' also work as new interpretations, as well as being suitable for the next barn dance.
In all this collection of covers is great fun and definitely interesting to hear alternative versions of rock classics, after a couple of listens this album will lose it's novelty value and would of benefited from some original tracks. Hayseed Dixie remain a great live act and know their way around a fiddle but this album may be lost in a sea of other 'novelty cover' artists such as Richard Cheese or The Baseballs. Give a few tracks you  a listen but otherwise 'Hair Down To My Grass' is a one-listen-wonder. Having said that I would love to see what these guys do next. Maybe turn it up a notch and try all metal tracks?
Hayseed Dixie 'Hair Down To My Grass' is out now!

The Hayseed Dixie 2015 Hair Down To My GrassTour 
January 15 – Thursday – Reading, England – Sub 89
January 16 –  Friday – Northampton, England – Roadmender
January 17 – Saturday – Cambridge, England – The Junction
January 18 – Sunday – Norwich, England – The Waterfront
January 20 – Tuesday – Warwick, England – The Copper Rooms
January 21 – Wednesday – Brighton, England – Concorde 2
January 22 – Thursday – Bristol, England – The Fleece
January 23 – Friday – Port Talbot, Wales – Princess Royal Theatre
January 24 – Saturday – Poole, England – Mister Kyps
January 25 – Sunday – Totnes, England – Totnes Arts Centre
January 27 – Tuesday – Derby, England – The Flowerpot
January 28 – Wednesday – Liverpool, England – Academy
January 29 – Thursday – Stockton, England – ARC
January 30 – Friday – Glasgow, Scotland – ABC
January 31 – Saturday – Newcastle Upon Tyne, England – Academy
February 1 – Sunday – Uppermill, England – Civic Hall
February 2 – Monday – Sheffield, England – The Leadmill
February 3 – Tuesday – Blackburn, England – King George's Hall
February 5 – Thursday – Stroud, England – Subscription Rooms
February 6 – Friday – London, England – Brooklyn Bowl at the O2
February 7 – Saturday – Wolverhampton, England – Slade Rooms