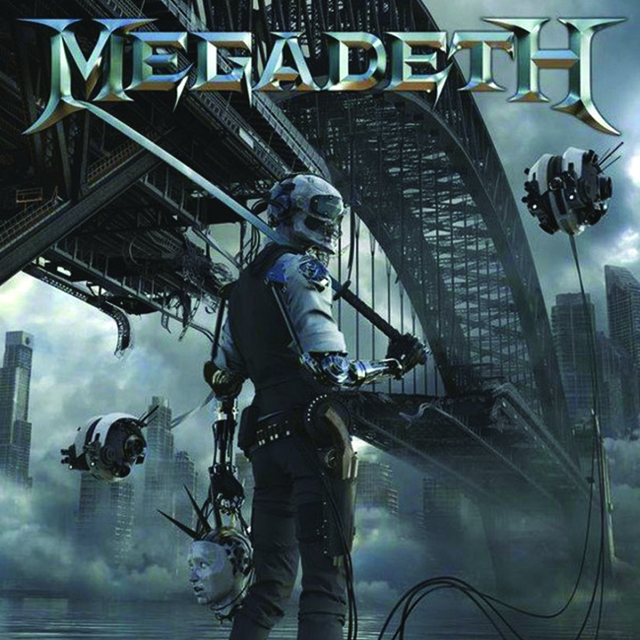 Another album, another line up change, at least that's par for the course for Mustaine & Co these days. Joining Megadave and bassist Ellefson this time around is guitarist Kiko Loureiro from Brazilian band Angra & Lamb of God drummer Chris Adler. Now in their 34th year and on their 15th album, one does wonder how much life is left in the Megadeth music tank.
When reviewing the new album of a band that has been going for so long there's a certain safety in knowing what to expect. With an average time of 4 and a quarter minutes per track, Dystopia is technically astute without becoming boring or pretentious. Album opener and current single 'The Threat Is Real' cements this opinion with the title track going in several different directions reminiscent to Rust in Peace classic 'Hanger 18' which was one of the band's finest ever moments. Although instead of just retreading old ground though Dystopia does sound like an individual record in it's own right.

Loureiro's power-metal background certainly sounds like it has been given a chance to show itself contributing to the arrangements within the first half of the album where in comparison Adler is perfectly competent behind the drum kit without providing any unnecessary thrills. 'Bullet To The Brain' is the first of several acoustic openings on this album before the full back kicks into action. Where continuity does remain is within the bands lyrical and inspiration. Themes about world history, war, authority, government, and the establishment all play a part here – even the Church of Scientology sounds like it could have made a cameo influence on 'Fatal Illusion'.

'Post-American World' turns the feeling of Dystopia into a brooding affair with 'Poisonous Shadows' following suit but sounding more like the soundtrack to a fairytale having gone completely dark side. The most mellow moment in the album comes courtesy of the first 77 seconds of 'Conquer or Die!' with the rest built around a chugging riff guaranteed to remind you of Metallica's 'The Call of Ktulu' which Mustaine had a hand in writing himself back in 1982. After this, the pace is picked straight back up with 'Lying In State' followed by the punk driven 'The Emperor' and harks about simpler times and wouldn't sound out of place on either Gladiator or 300. This nicely leads on to the final song of the album, a cover of LA hardcore punksters Fear with 'Foreign Policy', given the Metal treatment to finish off the running order, which runs just shy of 47 minutes.

Overall Dystopia is a solid record pulls no punches and no surprises. If you're a fan of Megadeth & classic metal then you'll really like it. And if your not, you probably won't.