Available in a deluxe version and with a DVD courtesy of Frontiers Records the latest live offering from the Whitesnake franchise digs deep, taking us back to what is in hindsight a transitory period. The photos capture five men who've had their first proper haircut since they left school, all decked out in black leather. It doesn't look right, and it wasn't, the snake would need to shed its skin again to find global success.
Whitesnake grew out of singer David Coverdale's solo album excursions, following the demise of Deep Purple Mark VI. In fact Mark II's Roger Glover produced both White Snake and North Winds but they went nowhere sales wise, even though Rod Stewart was reported to be considering recording 'Hole in the Sky' as a single. Low key British soul funk, barroom blues, a few good rockers, a poignant ballad on each, and 'Blind Man' in there as a potential live replacement for Purple's 'Mistreated' was too diverse for most palettes. Personally, they remain my favourite albums featuring the singer. What they did achieve was to cement a working relationship with guitarist and co-songwriter Mick Moody, and that gravitated towards forming a full band. Looking to emulate The Allman Brothers it has since been claimed, they also brought in Bernie Marsden. Both guitarists had done the rounds, playing in assorted bands that never topped the bill, but once Neil Murray joined them his complex walking bass lines inevitably stirred their bluesy guitars towards a musical approach akin to Free (Moody having played with Paul Rogers prior to that band forming, and Coverdale having got the Purple gig when Rogers declined in preference of forming Bad Company). With Dave Dowle on drums and Peter Solley on keyboards they collectively delivered the Snakebite EP, issued on white vinyl, wherein four tracks of bottleneck boogie, taught rocking and a heart-pounding slow-burning cover proved a credible blueprint. They were supposed to tour supporting UFO (who Marsden had briefly played for) but that never happened, instead later doing their own low key tour while bringing Jon Lord in as permanent keyboard player for the recording of their first full length album, Trouble. Too much filler or derivative material for my tastes, as would be subsequent albums, wherein Ian Paice sat behind the drum kit; you'd get a stirring tune that would make the singles' charts and a couple more tasty tunes that would go into the live set which is where Whitesnake solidified their reputation. This culminated in their first live album Live In The Heart Of The City, but then began a series of line-up changes: first Marsden went to Alaska then solo being replaced by former Trapeze guitarist Mel Galley, Murray was in and out temporarily replaced by Colin Hodgkinson, then in quick succession Paice was replaced by Cozy Powell and Moody by Thin Lizzy's John Sykes.
On paper it read like a dream team: Galley was a songwriter who had taken lead vocals on two Trapeze albums so potentially could fulfil the commercial aspect Marsden had supplied them, Sykes was a hotshot young gunslinger who could prove a focal wingman and an entry point for the American arena market while Powell's reputation with Rainbow had solidified him as the premier drummer of the time. However, the reality was, unbeknown to fans of the time, that the session players' act that has dogged Whitesnake since had begun to take process: exceptional talents, but rarely a band.
Galley's studio recording with the band wasn't exceptional, but on Live in '84/Back To The Bone his backing vocals truly add to the sound and atmosphere of the band; alas when goofing around Sykes fell and caused Galley's hand to be injured, putting an end to further involvement. Sykes would later rise to the occasion co-writing most of the mega-selling Whitesnake 1987 but personality conflicts with the head snake meant he took the money and ran. Powell was a phenomenal drummer you can hear it on these recordings, he was also completely wrong for the band – the fact that he smoothers Murray's bass playing makes it hard to fathom how this became the foundation for their subsequent rhythm partnership in bands as diverse as Black Sabbath and Peter Green's Splinter Group.
Regardless, these are an important musical document of the times as you can hear the conflict going on as musicians accommodate the blues rocking numbers the crowds want to hear against the metal scene then in vogue and second guessing the advent of AOR MTV dominance. The results are generally much better than they should be.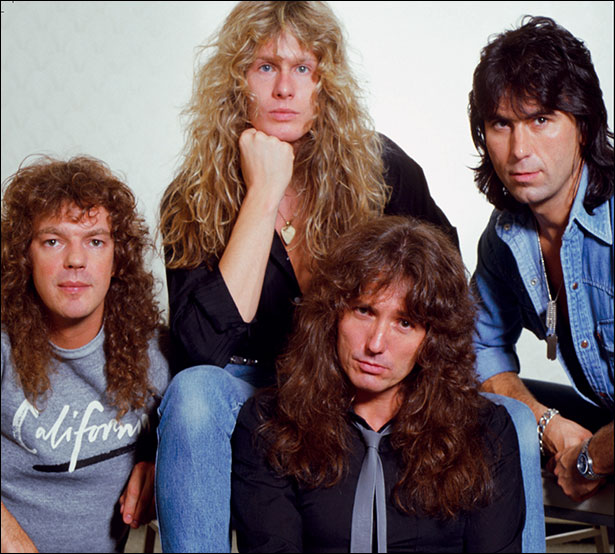 Cozy Powell hits out loud and clear, busking merrily without any concern for subtlety or sharp looks from a man in black as 'Gambler' opens the set in heavy boogie mode, any traces of melody being due to the effective backing vocals and Coverdale out front showing he could deliver the goods back then, on what's pretty much an average song, though there's a brief interesting instrumental intersection. 'Guilty of Love' then cruises in on a Thin Lizzy harmony guitar melody and some lovely bluesy vocals from Coverdale (oddly I've always considered Brian Robertson the perfect foil for Coverdale, not only musically but that both looked visually similar back in the day) that Powell's drumming is constantly in conflict with until the metal guitar solo that follows the crowd's sing-along section.
There's plenty of politically incorrect Carry On film sexual innuendo from Coverdale that the crowd lap up, with female voices notably sounding like they wished he was being serious about where he slid it in. The absence of Glenn Hughes as a live foil was probably the true making of dearest David as he became sole front man of his own band, learning to become an entertainer not just a singer and work the crowds. Regardless, it's with 'Love Ain't No Stranger' where he really begins to cajole his larynx into action and give his tongue a good lashing. Murray's bass is also heard clearly for the first time during the opening before they veer towards bludgeoning boogie before settling for loud AOR with a lyrical guitar solo, possibly by Galley, allowed entry. Next up, 'Slow An' Easy' is announced as the current single, and being shown on MTV, though it never scaled the charts, unlike Coverdale's expressive extemporising with some tuneful wails and howls thrown in on the extended slow opening here before they hit the boogie train with a good clean live sound and backing vocals.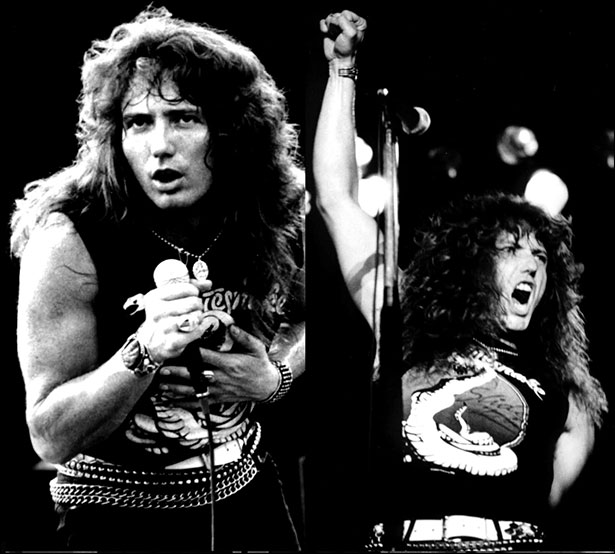 Come one of Whitesnake's major live tracks the late Cozy Powell drumming annoys me profusely as he propels 'Walking in the Shadow of the Blues' forward; forcing the exclamatory guitar notes that highlight the song's lyrics to jar and barely get chance to hold their required sustain. There's a also a touch of feedback present, but I find that endearing for proving the record's live and reminding me it's a testament of one night in a band's life. When the guitars and bass lock into the unremitting groove of 'Ready An' Willing' they keep their drummer in check and there's a very pleasant dash of keyboards from Lord before the guitars go blasting off.
Lord is again layering in effective notes under the credited 'Guitar Solo' from Sykes that is of the slow metal blues style Gary Moore would apply back then, both mere students when taken in comparison with a Jeff Beck master class. When the drums come in for a hard blues rock take on 'Crying in the Rain' Coverdale's voice is in particularly fine fettle. It relies heavily on organ as if Sykes is unsure how his guitar can interpret the song and the solo that does take place sounds different so could be Galley. This is in fact an epic length piece interpolating other sections including a verse and a bit of 'Soldier of Fortune' where the keyboards evoke the Last Concert in Japan version (despite the Stormbringer Side 2 vinyl version of Deep Purple, with Blackmore on acoustic remaining the classic) and it's a sincere snippet before they go back into conclude 'Crying in the Rain' with Coverdale screaming out over the guitars. I always had problems with 'Love Ain't Stranger' as it never seemed to know what kind of song it wanted to be, but they surprise me here by delivering a heavy AOR quality with more profound chord changes (that kind of thing used to Galley's speciality back in Trapeze), a more effective stirring organ and strong backing vocals.
That main set over, the final clutch of tracks comes from elsewhere. The version of 'Ready An' Willing' is live in Tokyo (at Super-Rock, Japan's first rock festival held at Seibu Stadium) with less upfront guitars and different drumming patterns making you wonder if it's the same line-up (albeit theoretically the only change should be the loss of Galley to this version of the band) or changing their set to accommodate different territories, it's also not as together or a lot more free-formed in its arrangement but features a welcomed synthesiser solo from Lord. 'Slow An' Easy' is less of a boogie stomp with more atmospheric guitars and while Coverdale swears off the screaming and is less expressive on these tracks his voice still hits it in the pocket. The final grouping of numbers 'Gambler/Guilty of Love/Love Ain't No Stranger' again sound different, recorded in Las Vegas no less you can feel MTV waiting in the wings.
It's an honest testament of the times, shows the good, the bad; that Cozy Powell was a great drummer in the wrong band, that Coverdale was in his prime vocally but suffering a lack of direction. The DVD version features video footage of Jon Lord's final live appearance with the band in Sweden, and now he, Powell and Galley are no longer with us, so this documents their collective time together, even if they were not the greatest contributions they would each make to the world of music.