'Of Root and Flesh' is Northern Oak's third studio album. Northern Oak are something of a unique band within metal combining black metal with both medieval chamber music and folk to create the progressive folk metal sound.
Before I talk about the music I must mention the rather stunning piece of artwork that adorns the front cover of the album. The green man is so well detailed that you can make out all the small details that contrast against the sky that is lit with stars. I think this would be something that I would display.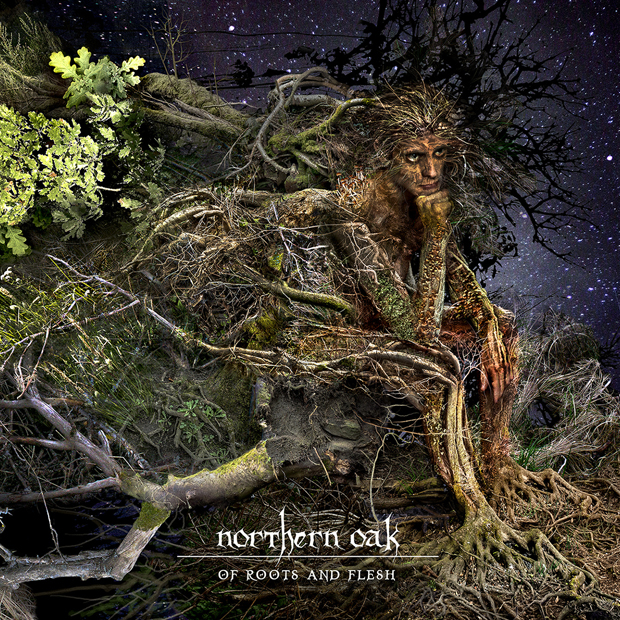 The dark of mid summer opens to the sounds of an English woodlands after dark and the rumble of bass guitar like a power growing from the wood itself. Once the track kicks in you become more aware of the medieval influences with flautist Catie William taking lead where most other bands would use a guitar.
'Marston Moor' gives far more insight into Northern Oaks black metal side painting the picture of a green but desolate landscape shrouded in mist and old magic. James Harris's vocals growl at you thought the speakers like a bear adding to the sound scape.
'Isle of the Mists' change the direction of the album, with the acoustic guitar taking the lead from the flute. This puts your mind into a different perspective of what is possible within the wider genre of metal.
'Requiestant In Pace' is the shortest track of the album giving a ritual like feel, before 'The Gallows Tree' swings into the bands more metal side once again. 'Bloom' not to be confused with the Nirvana Song brings some pace to push the album towards its end, with the electric guitar and keyboards give you the sensation of the seasons passing by with in a blink of an eye.
Northern Oak have proved that it is still possible to blend many different styles of music both old and relatively new to create not just a new sub-genre but also something truly progressive for the entire metal genre. The album also carries the message that we are losing our touch with nature and how much we need to keep that link alive.
Northern Oak have definitely won themselves a new fan in myself. I hope that me writing this article will give them some more needed coverage. I would like to hear more sung vocals from the band, as it is something that both folk, medieval music and black metal do have in common.
I'm going to give 'Of Roots and Flesh' a 4/5 just because I want to see the band build on this album. I have to say that I will definitely listen to this when I want to listen to metal and relax.