This year I have already had the pleasure of seeing this band playing live several times, but that didn't stop me from attending one more gig tonight. This time, LA Guns are playing at the O2 Academy in Islington, supported by the mighty Jared James Nichols.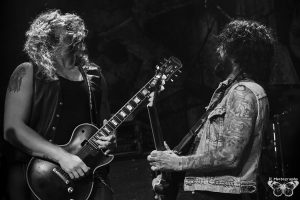 Due to an early start, unfortunately, when Jared got on stage around 7.15 pm there were not many people in the audience. It was the first time that I had the chance to see him live and I have to say… he absolutely blew me away. His humble personality mixed with his guitar and vocal expertise has certainly got everyone's eyes on him during the show. The power trio opens with a hefty performance of '
Last Chance'
and the way Jared leads the band is quite extraordinary. He manages to catch both old and new fans' attention during his set, making us sing-along and scream during the choruses. There's also another side of Jared that I truly appreciated – in between songs, he never makes it about himself, instead, he keeps thanking his band members and headliners LA Guns while getting the public pumped before their arrival. His Southern rock magic and distorted guitar sounds blended together are a perfect showcase of how skilled and confident he is in mixing different music genres in the most flawless way. A powerful act and a man that sings from the heart, if you haven't heard of him before by the end of the show he's certainly going to make you want to dig his music.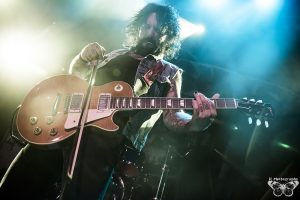 Half an hour later, after a quick change over,
LA Guns
hit the stage performing
'The Devil Made Me Do It'
from their 2017 album
The Missing Peace
, which celebrates the reunion of Phil Lewis and Tracii Guns after a fifteen years hiatus. The full house welcomes them with open arms. Even if they keep coming to London quite often these days, the enthusiasm of their fans is definitely not fading away. I guess the main reason is that old school fans tend to stay loyal to their favourite bands, which is positive to see. From the very start, it's clear that these rockers have never slowed down – the moves, the riffs, the choruses and the energy is still all there, which is rare to see in the bands from the Sunset Strip era nowadays. The second song on is
'Electric Gypsy'
, followed by
'No Mercy'
,
'Over The Edge'
and
'Kiss My Love Goodbye'
, the latter being dedicated to "all the women who left me", as Lewis says. Tonight the band is sounding better than ever, with a new addiction on the guitar, in fact, Adam Hamilton has recently replaced Michael Grant which I think has been a great move for the West Hollywood rockers as in a way they got back the essence of LA Guns' roots. Don't get me wrong, I have always appreciated Grant's charisma but he did tend to steal a lot of the spotlight from the original members and I can only suppose that such a strong personality didn't sit well with the whole spirit of reunion and celebration of such an influential band in the rock 'n roll history. The sleaze veterans continue their set with the popular
'Sex Action'
and "one dedicated to a special girl out there I don't know yet" jokes Phil before introducing
'I Wanna Be Your Man'
. He is without any doubt, still a great frontman – he's funny, engaging and keeps showing off those cheeky moves from the old days. Soon after performing
'One More Reason'
he introduces Hamilton to the crowd and the rock show follows with '
Hellraisers Ball'
,
'Malaria'
and one of my all-time favourites
'Never Enough'
which sounded absolutely on point tonight.
At this point, it's Tracii's time to over shine, thanks to his well-executed solo and incredible jam with Jared James who gets called back on stage for one more breathtaking performance. The encore includes absolute hits like 'The Ballad Of Jayne' and 'Rip And Tear'. Both leave their fans euphoric and entirely satisfied not only with the whole set and choice of songs but more importantly because these guys never disappoint. There wasn't a single dull moment at the O2 Academy tonight, their competence and cool attitude made us re-live the 80's heyday with joy and nostalgia.