Some months ago I came across a wonderfully eclectic and captivating album by the Brazilian prog rock entity named Caravela Escarlate. As much as I liked their self-titled record the first few times I spun the disc, it was not until I recently returned to it that it dawned on me just how amazing it truly is. Caravela Escarlate's brand of prog is playful and full of surprises, and it has a strong undercurrent of melodrama and the carnivalesque to it, but more importantly, it is an uplifting and otherworldly listening experience. RAMzine simply had to have a chat with these guys and so we caught up with the band's keyboard-wizard, Ronaldo Rodrigues. Read on, folks, and do not forget to check Caravela Escarlate out afterwards if you are into 70s-inspired prog music.
Greetings Ronaldo, how are you? I figured that since some of our readers may not be familiar with the eclectic musical force that is Caravela Escarlate, perhaps you could outline your band history for us and touch a bit on your releases so far, namely the exciting and inspired self-titled record?
Ronaldo: Hi Jens, I'm fine! Thanks for the opportunity to talk to you and RAMzine. The band started in 2011; David (Paiva, bassist, guitarist and vocalist) founded the band in the 90's but didn't manage to establish a stable line-up in the years that followed. We first came into contact in late 2010 through a common friend who knew that both me and him wanted to form a band to play prog rock or something similar. We started our musical partnership in 2011. David already had a lot of songs and ideas, and so we starting working our way through those. As recent as 2016, we found a good drummer who helped us reach the musical level that we are now. Some weeks before Elcio (Cáfaro) started working with us, David and I recorded the first album as a duo (an entirely instrumental one) and it was a very good initial experience. The following year we recorded and released our second album, which was re-released by Karisma Records in 2019.
Where did you record Caravela Escarlate? Is there a specific theme or concept of sorts to the album, or are the songs loosely based on random thoughts of yours, or perhaps even everyday encounters and experiences?
Ronaldo: We recorded the Caravela Escarlate album at Estudio Mata, a very good studio in the metropolitan area of Rio de Janeiro. There is not a specific theme to it as such, but the songs involve some scientific fiction and various concerns about society and the environment. David's lyrics always contain a positive message of hope.
What was the initial motivation for launching Caravela Escarlate? Was there a specific purpose or an agenda of sorts or did it strictly have to do with your profound love for all things progressive rock and your need to channel that into something creative?
Ronaldo: Considering all the difficulties we had with respect to establishing our work and a stable line-up for the band (and the long time it took us to eventually get there), the release of our second album was a personal triumph for us, something that we did for ourselves. All the songs on our second album had been rehearsed and played since 2011 and they were recorded at least three times with different drummers in different studios. Months and months of work were discarded. In 2017 (and after a lot of hard work), we found ourselves in good enough shape to record the entire thing properly. Our very best efforts as well as our love and passion for this kind music were present every step of the way with respect to the album production. It was a band strategy of sorts to not have a considerable gap of time between the release of the album and us starting to compose new material. Fortunately, David and I are always full of ideas to experiment with and eager to produce new songs.
Do you remember how, why, and when you became addicted to (prog) rock music? Was it one or more specific releases that changed your perspective on music, or was it something else entirely?
Ronaldo: My parents are not fans of music, so my interest in music started in the Catholic church where I first encountered classical music. Coming across Led Zeppelin II (1969) turned me into a total rock fan when I was 15 years old. When I joined the university, I already appreciated Jimi Hendrix, Deep Purple, Black Sabbath, The Doors, the Beatles, and 60's and 70's rock in general. I had a brief encounter with bands such as Pink Floyd and Jethro TuIl during this time too, but their sound didn't really capture me the first time around. I knew Genesis only as pop band, because I was a frequent listener of FM radio. I joined a band with guys older than me during this period and they introduced me to progressive rock properly. Three albums and two videos in particular blew my mind: Fragile (Yes), Dark Side of the Moon (Pink Floyd), and ELP's first album, and then the videos for Yessongs by Yes and Live at Pompeii by Pink Floyd. Following that introduction, I was converted entirely to prog rock.
In terms of writing and arranging songs for Caravela Escarlate, who does what? Are you intuitive and spontaneous when it comes to composing songs and coming up with ideas and so on, or is it the other way around?
Ronaldo: When I met David, he showed me a huge pile of songs (entire songs and fragments). He is a prolific composer, and not only for prog-style music, mind you. I have several compositions too. Both of us contribute songs to Caravela Escarlate, but most of the songs that we have played and recorded up until now were composed by David. There are also some songs written by both David and I. I contribute quite a bit to the arrangements and the sonority of the whole band; I like drums a lot and I'm always suggesting something or other to Elcio despite the fact that he has an amazing amount of experience as professional drummer and is a very creative musician. Elcio comes up with ideas and suggestions for the song arrangements too. I also deal with some of the business questions ala communication, marketing, contracts, and so on and so forth. In general, David showed me his ideas as in-house records and we then started sharing ideas until the songs felt complete and mature. When the song in question reaches an initial form, we start rehearsing it with Elcio in order to finalize the arrangements.
Do you experiment and improvise a lot both when in the studio as well as when playing live?
Ronaldo: We love to experiment and improvise, but the thing is that we don't have as much time to rehearse and play together as we would like. Our personal agendas are very busy and we are rehearsing, we focus and aim to reach a specific goal. Another difficulty is that we are not neighbors – we live in different parts of Rio. The same goes for the composing of new songs. Retaining some of the fidelity with respect to the content recorded for the album is a good thing in our opinion, but we understand the importance of offering "something else" to the audience when we play live. Some parts of the songs are entirely improvised when we are on stage together and sometimes we extend certain songs depending on the context and situation.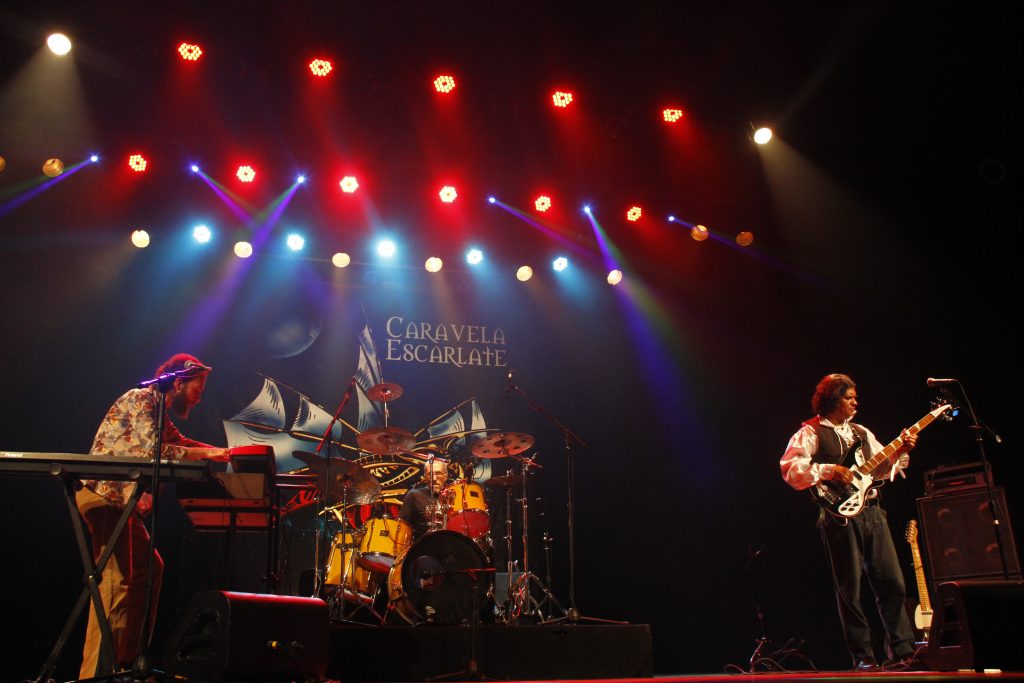 Could you list some of the bands and that have inspired you the most in relation to composing songs for Caravela Escarlate? I am listening to the vinyl release of the album as I am writing this and I absolutely love the playfulness, enthusiasm, and joy that course through your music and the whole vibe of the LP. It sounds as if you are genuinely having fun churning out these songs of yours and some of those playful passages that I mentioned before remind me slightly of ELP. Were that legendary outfit and their approach to prog rock an influence on you with respect to composing and arranging songs of your own?
Ronaldo: Thanks for your kind words! We certainly had lot of fun recording this because we are friends, not merely members of the same band. We are hugely influenced by the classic prog rock bands such as Yes, Genesis, ELP, Pink Floyd, Focus, Caravan, and Gentle Giant. But we always mention and acknowledge the strong influence of both Italian prog and Brazilian prog/folk in our sound; PFM, Le Orme, Osanna, Maxophone, The Trip, Arti & Mestieri, Rovescio della Medaglia, Banco del Mutuo Soccorso, Goblin, and then the Brazilian bands O Terço, Som Nosso de Cada Dia, Terreno Baldio, Mutantes, Veludo, Moto Perpétuo, A Barca do Sol, and Milton Nascimento. Elcio has been a fan of prog rock since 1977. David and I are record collectors and we listen to and appreciate prog from all over the world. Despite our line-up being similar and the sense that we are also a trio and the influence of their music on us, we do not consider our sound to be that similar to ELP – they were much bigger musical virtuosos than we can ever hope to be (laugh).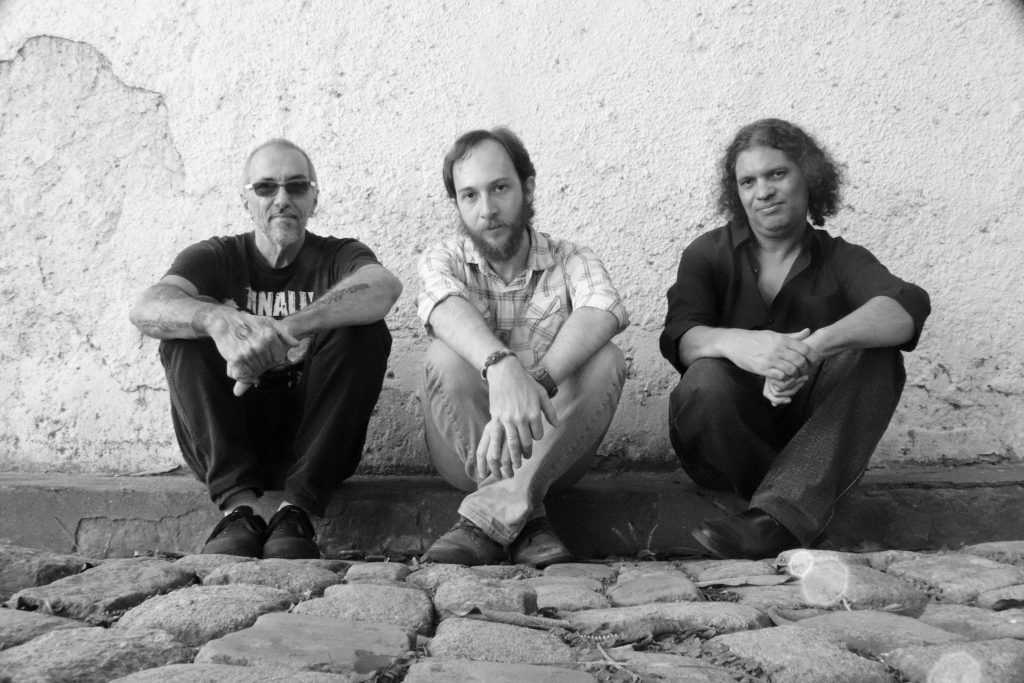 Was it a conscious decision to write and sing lyrics in your native language or did that more or less come about by chance? Do you find it easier to express yourself using your own language?
Ronaldo: Definitely, that was a conscious decision on our part – our native language gives us the possibility to express our ideas as they are. Singing in Portuguese helps us to emphasize and make the influences of Brazilian native music in our songs much more evident. Fortunately, more people from other countries are coming into contact with our music, but we consider prog rock an "open language" where it is possible to obtain some recognition even though one is singing in languages other than English.
Do other art forms besides music inspire you to write songs and lyrics?
Ronaldo: Certainly. We read a lot, visit art expositions, and so on. My wife is a graphic designer and I like to see various art and design references with her when she is at work. David likes a lot of comics and history books and those are definitely a source of inspiration with respect to his lyrics.
I love the colorful and vibrant Caravela Escarlate album cover art and its striking image and design. It fits the music perfectly, I think. Who came up with the idea for that and is it meant to signify something specific?
Ronaldo: The idea came from David, because he developed the concept of Caravela Escarlate and its saga as something along the lines of a character from a science fiction novel. We told a friend of mine named Fabio Gracia about the concept (he played guitar with me in another band). He is also a designer and a bit of a specialist when it comes to comic books. He perfectly understood the whole thing and drew that nice album artwork art for us.
The distribution of music has changed drastically over the past 10-15 years and many bands and artists are no longer affiliated with any labels, managers, or anything like that. Nowadays, you can release your own material digitally in a matter of seconds, but it can be extremely difficult to actually get people to notice your music because they are flooded with options and alternatives. What are some of your thoughts on this?
Ronaldo: Well, that is a difficult question to answer. Despite some negative aspects regarding the phonographic industry practices, the majors in the past invested money, time, and efforts in certain bands and artists in order to promote their music. It was legitimate that they earned tons of money, because they invested money and knew what to do to promote a song/album. After some decades, they began to be more and more aggressive and force the bands to produce "easy music" in no time at all and then expected higher and higher paybacks. But there was one impressive thing that they managed to do: they made the music known to people on a very large scale. Today, musicians (especially the good and talented musicians) don't have the possibility to reach the same level or structure of music distribution, because the MP3 and some other market aspects destroyed the chain distribution of music as it existed. The musician today should play and also be his or her own promoter, competing with an infinite number of other musicians doing the exact same thing, which is a totally unfavorable position to be in when you think about it. There are many people playing music trying to get known more or less the same way (without an effective and large-scale structure of distribution) and with very little interest in discovering or coming up with new things in music. The Internet was a "lie" to a certain degree with respect to being an effective tool for a band get known. You must have high quality music to begin with and and plenty of luck along the way in order to attain something positive. However, I'm positive and I think that the situation will be not the same in the future. Fortunately, some guys still believe in physical formats and right now we are experiencing the many positive aspects of our fine partnership with Karisma Records who support and handle the promotion of our latest album.
What are you guys currently up to in terms of band activities? Are you by any chance composing and writing new material these days? Will Karisma Records be involved in the release of your next LP? Speaking of which, are you happy with your cooperation with Karisma so far?
Ronaldo: We have a concert booked next month, more specifically a great local prog rock festival here in Brazil, and on top of that, we are writing new songs. Two new songs will be presented at the aforementioned concert and we are working on others at the moment too. Our plan is to record the next album in the first semester of 2020. That one will also be released by Karisma Records.
Are there any talks of coming over to Scandinavia and the rest of mainland Europe to tour at some point? I think your particular brand of fiery and vibrant prog rock would blow people away over here in Norway 😊
Ronaldo: Nothing concrete until now, but we would love to come to Europe soon and do some gigs and appearances over there. It will be a dream come true for us and certainly a pleasure to present our music to another audience.
Thanks once again for taking the time to answer this interview – much appreciated. Any final words to our faithful and devoted readers out there?
Ronaldo: Thanks for the opportunity to talk to RAMzine. You do a great job for music. I recommend that your readers follow our Facebook page and also check out our albums on the different streaming services out there in today's digital market.