It's only a month to go until we are back on the hallowed ground of Castle Donnington after 3 years without a full-scale festival, yet 2022 may still be some folks' first Download Festival… or festival in general. So we asked the experts – the seasoned veterans of Download, the Monsters Of Rock if you will (get it?) for this, we asked what their best tip for a newcomer is and which bands they recommend seeing. We asked members of Singles Of Download, Download Festival, and TPD TV's Sanpellysquad Facebook groups for their wisdom. Below are the hand-picked hacks that will help you on your first visit to Download Festival or your 101st visit. Names of contributors are below the quoted answer.
…
"Label your clear plastic bottles of alcohol, because nothing is worse than waking up and taking a big swig of what you think is water and its vodka and who I'm looking forward to seeing is Skynd their set will be amazing".
Conner
"As a pale Irish person, I always bring a mini suncream now, I do not want to get sunburnt on day 1 (also baby wipes are dead handy). I'm most looking forward to seeing Bury Tomorrow and Baroness".
Ruth
"The best tip for a newcomer. Everyone at download is there for the same reason. The music. We are a Download family, there is no judging, and everyone will help everyone if they are having an issue. Everyone I've met anyway".
Jack
"For the festival virgin: Toilet wipes, wet wipes, bin bags, and hand sanitiser are your best friends at a festival!"
Dawn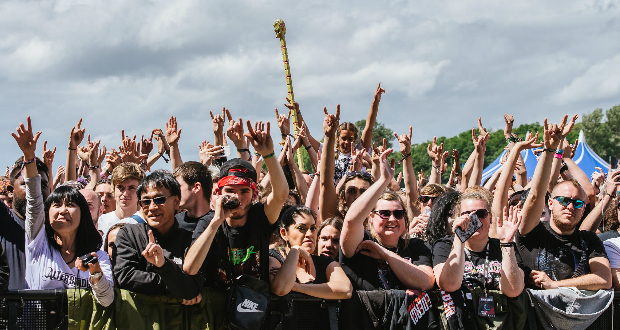 "Wellies, lots of socks, gaffa tape, waterproofs and rain ponchos! A seat covered with a rain poncho! Antibac wipes for the toilet, small packs of tissues instead of toilet roll easy to put in a bum bag with ya wet wipes and anti-bac wipes, and a great portable phone charger or a couple! Self-inflating camp mat for ya tent! They are light and don't need a pump! Also, vacuum bag your clothes and sleeping bag and extra blanket… 2 reasons 1. you get more in your rucksack and 2. it's waterproof for travel and in your tent in case of leaks if you individually zip lock all the day's outfits and then vacuum bag you just have to take Dailey items out!!! The large wet wipes for a wipe over before you get into bed, make you less smelly – and help relax you!! Roll-on deodorant! And a small body spray! Tent with a foyer for your boots, you need space to keep your fold-down camping trolley! Also, 2 extra taupes one for on the floor inside ya tent so the condensation runs under it if you put tissues where it runs you stop it wetting everything! 1 handing light concertina type for tent use. A bum-bag to keep with you always with ya phone, wallet/ purse valuables(if required) in and use in the arena my list goes on …. Spare soft shoes at the tent ( if not muddy) ya feet need a rest out of the wellies if only for an hour a day!! Warm body warmer with pockets! First aid kit with blisters plaster, wound cleaning wipes antibacterial cream (Savlon) pegs to hang a towel or wet hoody! No TINS! Just take packets that are rehydrated and add water, and tuna in foil packets! Pre-cook some pizza, sausage, pies and fresh cheese all keep if you use the store-bought cool bags and put two together! It was cheap! Frozen yoghurt will keep the bag cold for a while but put it in a bag inside the bag to stop the water from defrosting causing damage haha! Also snacks cereal bars out of boxes etc!! Getting a light tent anything over 5kg is like carrying a sack of potatoes with you for a Mile and over!"
Sharon
"Sack the wellies off in place of rigger boots, much more comfortable if you are in them for 5 days and far warmer if wet and a quick flick off if it's dry. Get a trolly, and arrive at the car park early on Wednesday 6-7 am. Only take what you need to set up the first trip, wellies, gazebo and some beers. Trolly with Bungie cords and shrink wrap from the packing isle from B&Q to secure your Trolly. And remember to have fun soaking it all in, speaking of soaking in, put your clothes in a black bin liner THEN into your backpack, if it's raining in the queue every item of clothing will get soaked especially if you have it on the floor. A nice sheet of plastic between your bag and clothes never fails. Best of luck, see you in the (hopefully) dust bowl".
Thomas
"Top tip – take a decent trolley, download is massive and there can be some serious walking involved. Band [to see] – Biffy Clyro on the main stage will be something else".
Sam
"For festival virgins, I'd suggest bringing baby wipes, and a lot of them. perfect for a festival, use them to wash, wipe your arse, wash your hands, clean your shoes, etc. unfortunately this year, I won't be able to attend download, but I reckon Bush will be incredible, so will Biffy, Skindred and Black Label Society".
James
"Loo roll is for fools, moist loo wipes are the way forward!!! Also, I'm super psyched to see Malevolence as they are fully of the chugga chugga chonky ROOOAAARRR… Factor".
Emz
"Warm clothes for nighttime!! if you can get a hoodie or something similar they are a godsend for sitting at camp at night!"
Ellie
"Don't cheap out on the tent, get a decent one that has a good waterproof rating! Nothing worse than coming back to a wet tent. Can't make it this year sadly, but Tremonti and Alestorm will be great."
Ashley
Just a general festival tip, buy a collapsible water jug from Amazon or somewhere. You can get a 15-litre one which will be tiny in your bag but then can be filled and expanded and give you enough water for the weekend
Samuel
Ear defenders unless you want to be woken up at 6 AM.
Ian
No matter how hot it is in the daytime, it's going to be sodding freezing in your tent at night, take an extra blanket.
Freddy
"Biffy CLYRO!"
Rob
Thank you to all contributors and group members who I have quoted in this piece. I hope you all have a wonderful time at Download Festival.
Download Festival 2022 takes place on June 10-12 at Donington Park, Leicestershire. Headliners are KISS, Iron Maiden and Biffy Clyro. The line-up also includes Deftones, Korn, Spiritbox, and many more.