Underrated and underappreciated, Skid Row are one of those bands that everyone just enjoys listening to. Their first album yielded such legendary songs as "Youth Gone Wild", "18 and Life" and "I Remember You". However, singer Sebastian Bach promised to sing "notes only dogs could hear" on the follow up album, which debuted at #1 on the Billboard 200. This album is the subject of this week's RAMzine Classic, "Slave to the Grind."
The album is simply a tour de force of attitude and musical variety from start to finish. Opening track "Monkey Business" has a smooth, funky opening, which then delves into some serious sleazy rock and roll. The sheer opposite effect of this is just wonderful. Bach's stunning vocal range is used through this song, low octaves combined with high falsettos and aggression. His voice is one of the most varied in metal, and gave Skid Row that extra dimension in the 90s.
Following on is the title track "Slave to the Grind", which is essentially sleazy speed metal. The sheer pace of the song is astounding. Rob Affuso's drumming is just brilliant and his consistency keeps the band going at a rapid rate. Dave Sabo and Scotti Hill's guitars are in sync perfectly and provide the perfect platform for Bach's voice to rise above. A true highlight of the album, and a staple of both Skid Row and Bach's solo live shows to this day.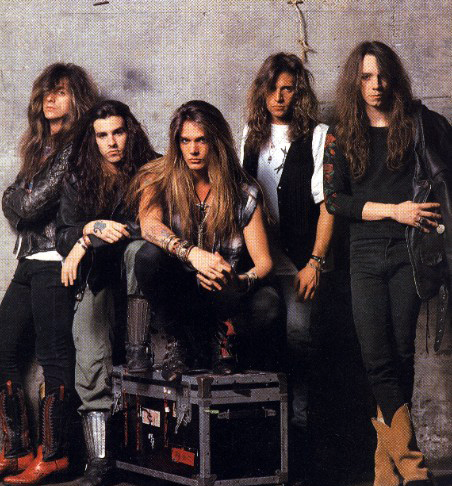 Next up is "The Threat", a song which seems to pride itself on chords, pinched harmonics and groove. This song is very lyrically aggressive, with Bach spitting the lyrics with venom. However, the chorus is a true sing-a-long, which belies the tone of the rest of the song. Skid Row write amazing songs, all of which are deep and detailed, so it is no surprise that this song in particular has a lot about it. A real unexpected highlight.
Next is "Quicksand Jesus", which is very much acoustically led. The band have a real affinity for quiet acoustic vibes to songs, "I Remember You" being a key example. The mix of the acoustic guitars and distorted chords from the electric guitar is a wonderful combination and creates a fantastic palate of sound. Again, Bach really shows the versatility of his voice, with the pure tone on show here. For all the aggressive singing he does, he really has one of the best voices in metal on this album.
Up next is "Psycho Love", which is possessed of an incredibly funky riff and bassline. It gets the listener instantly tapping their foot and nodding their head. The high vocals on this track contrast fantastically with the relaxed vocals on the previous track, and go with the vibe of the song perfectly. Another unexpected highlight from this wonderful album.
Following on is the family friendly "Get The F*** Out". A song of pure attitude and aggression, this is just another anthem for Skid Row. The guitars in particular in this song shine through, backing up the vocal harmonies wonderfully. Even in an aggressive song, the band really show their musicianship and ear for what makes a song great.
Next up is "Livin' On A Chain Gang", a groovy rock and roll song, led by Bach's amazingly high vocals. This song drips with 80s swagger, yet with a 90s twist that makes it that little bit heavier. Skid Row certainly took the much loved 80s metal sound and gave it their own original heavy twist. This song is a classic example, especially with another brilliant sing-a-long chorus.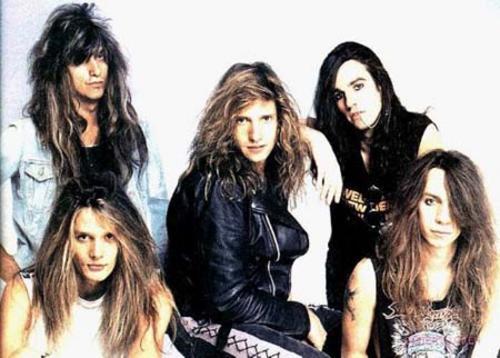 Up next is "Creepshow" which follows a similar vibe to the previous song. However, this song has more cowbell, which increases the classic vibe. Sabo's guitar work is just wonderful on this song, with his fills and harmonics blasting through the organised musical chaos all around.
Following on from this rock and roll mania is " In A Darkened Room", one of the band's biggest songs. The song's wailing lead line as it kicks in just sends a chill down the spine of the listener, and Bach's voice just flies out with raw emotion. The chorus is simply amazing, and it would have been amazing to witness the song live at a festival with thousands of people singing along. A wonderful haunting highlight of this varied album.
Next up is "Riot Act", a punk-metal number which sounds like Metallica crossed with The Clash. It really lives up to its title, with the aggression shown through the utter wailing vocals. This song must have been what Bach meant when he said he was going to sing "notes only dogs could hear". A simply fantastic heavy metal song.
Following this is "Mudkicker", the penultimate track on the album. This is a track possessed with a foot stomping groove and iron-heavy riff. The bass holds everything together in this song, with the root notes audible between the gaps in the riff, and it really keeps the track solid.
Closing the album is "Wasted Time", another beautiful acoustic led song which allows Bach once again to show off his full vocal range and the band to show off their wonderful songwriting abilities. This haunting song has wonderful vocal harmonies, and even harmonies created between the vocal line and the guitar pattern. When the distorted guitar kicks in, this song delves into 'epic' territory. This song is up there with the great rock ballads such as "Home Sweet Home" by Motley Crue. A fantastic way to close a brilliant album.
In closing, this album is everything that Skid Row stand for. There's aggression, melody, amazing musicianship and astounding songwriting. This band are really one of the best heavy metal bands of all time,a nd it is a shame that they are so underrated. Purchase this album, add it to your collection and sit back with a beer and just enjoy. Then, headbang.
FOR FANS OF: Guns N Roses, Motley Crue, Buckcherry