If there's a band that has defined rock and roll in its purest form for the past 40 years, then that band is Aerosmith. Their blues driven rock and roll was a sound that defined many a generation, and the songs are still timeless to this day. However, one album in particular really captured that raw, bluesy and versatile signature Aerosmith sound: 1989's "Pump".
"Pump" featured the absolute classic Aerosmith lineup: vocalist Steven Tyler, lead guitarist Joe Perry, rhythm guitarist Brad Whitford, bassist Tom Hamilton, and drummer Joey Kramer. These five guys together in a room made some of the greatest music ever recorded, and this album is no exception.
Kicking off with "Young Lust", the absolute bluesy swagger is evident from the off. Kramer's drums provide the pace and allow the combination of Tyler and Perry, otherwise known as 'The Toxic Twins', to really fly over the top. Tyler signature vocal style combines so well with Perry's bluesy guitar to create an incredible combination. A fast and furious start to this great album.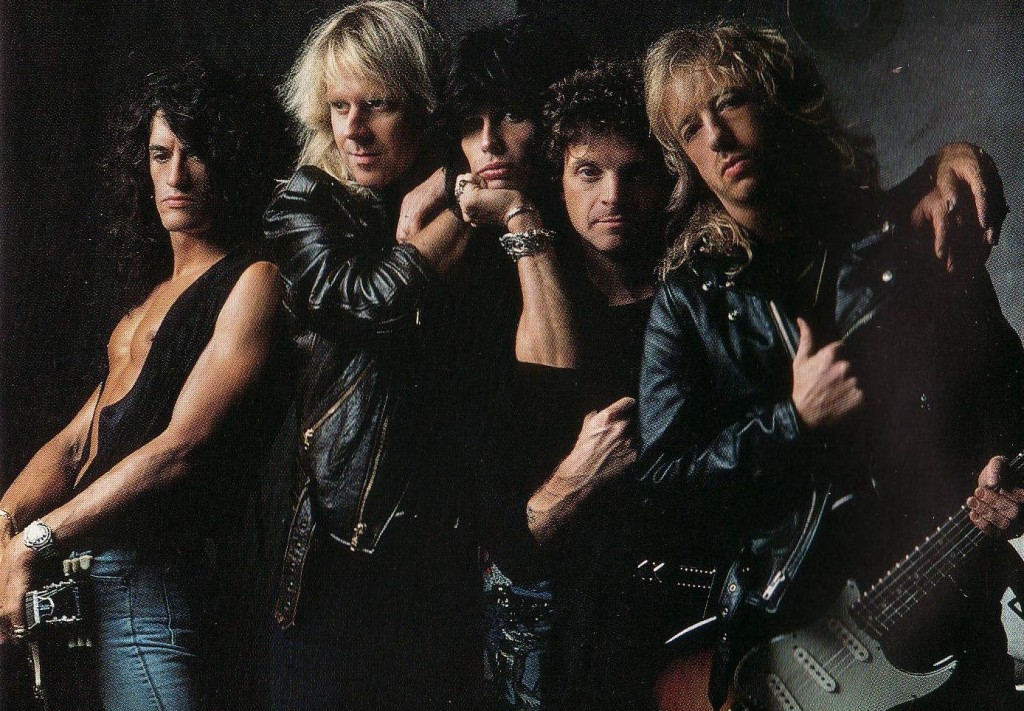 Next up is the groovy "F.I.N.E." which drips with groove and the main riff just underpins a brilliant vocal melody. The chorus is just classic Aerosmith, with the melody and guitar following each other tightly. This may not be the way other bands do it, but by God it works so well for Aerosmith.
Following on from this is "Love in an Elevator", one of the band's biggest songs, and it is easy to see why. With its sing-a-long verse and chorus, this song firmly planted Aerosmith back in the public consciousness. The mid section is simply stunning, and it includes a barnstorming guitar solo from Joe Perry. The man is simply one of the best rock and roll guitarists of all time, and proves it in droves here.
Up next is "Monkey On My Back". This song is filled with more groove than you could ever imagine, and the main riff is like a lighter version of the bands Aerosmith really influenced, including such luminaries as Guns N Roses and Skid Row. Tom Hamilton's bass is really audible on this song, creating a stunning foundation along with Kramer's drums to allow the guitars to create a wonderful sonic palate. It is simply a stunning song.
Next is "Janie's Got A Gun", a simply wonderful rock/pop song. It could easily be described as a ballad, however it has so much attitude under the emotional soulful vocals. The wonderful effect created by the musical layers and Tyler's vocals at the start is just wonderful and reminds us this truly is a great versatile band we're listening to. The use of gated drums provides a shotgun effect which ties with the song title brilliantly. The song starts out softly, yet really kicks up into a rock and roll song as it goes along, dropping back into a softer dynamic every now and then. This is simply a wonderful piece of music that deserves to be heard by all.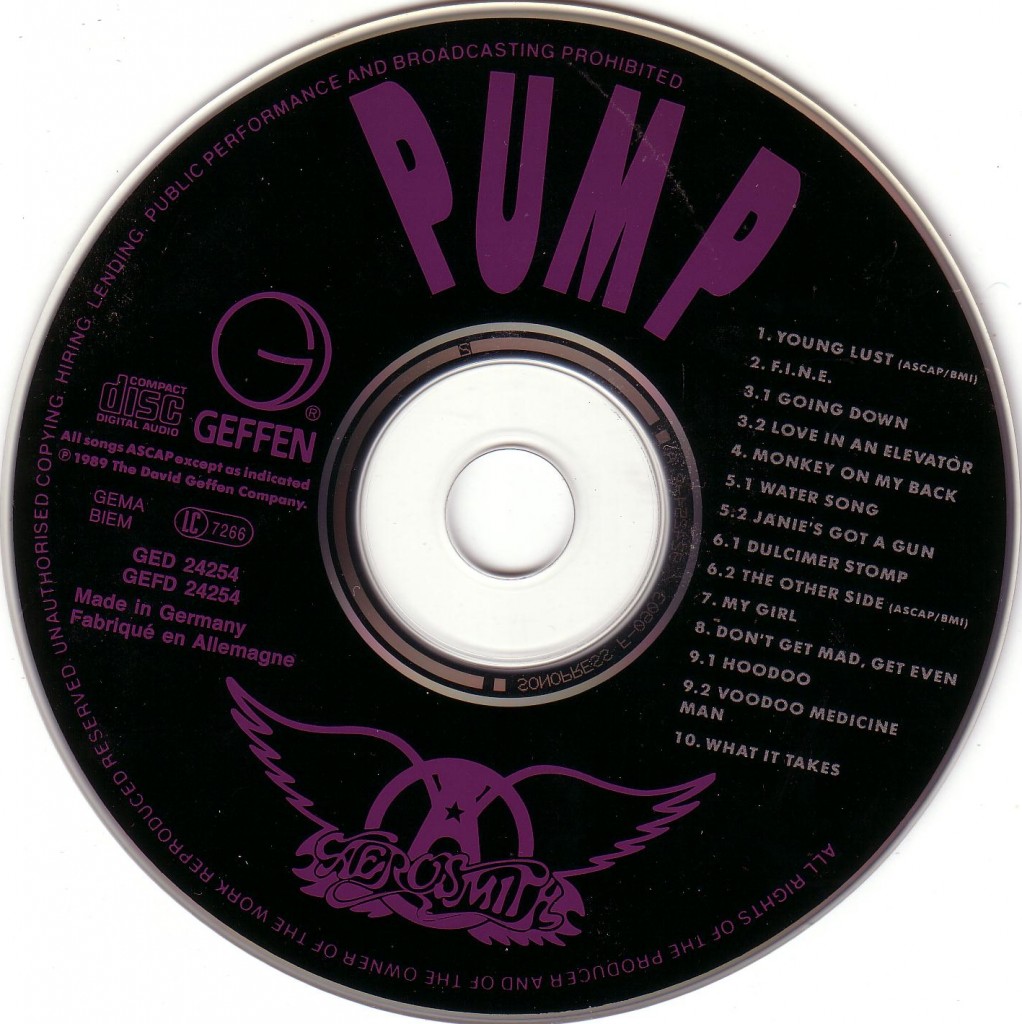 Following on from this amazing song is "The Other Side". The real highlight of this album, this song has layered vocals which are just perfectly done. Tyler uses both aspects of his voice, the low soulful tone and the signature high aggressive pitch to create dual vocal lines which are played in tandem. This effect almost makes you forget there's a band playing underneath, but when you listen closely, they are just doing their job and creating the perfect backing for Tyler. The use of brass instruments here adds another dimension and this funk rock song really blows it out of the water. What a stunning, unexpected song and a real highlight.
The blues kicks back up a notch with the next track "My Girl". The guitar on this track is the standout, really driving the song along, evoking memories of ZZ Top combined with Cream. The vocal harmonies here are done really well, adding yet another wonderful dimention to the Aerosmith sonic machine. Once again, Kramer's consistent drums hold the whole thing together, with the odd brilliant fill here and there.
Next up is "Don't Get Mad, Get Even", which includes a harmonica. Second only to the cowbell in the "criminally underused instruments list", the harmonica is a key component in the blues. The guitar takes over from the harmonica in this song which could easily have come straight from Robert Johnson. Well, Robert Johnson raised on a diet of ZZ Top. Tyler's lackadaisical vocals here almost seem to lag behind, yet keep pace all the way through. This groove is the trademark of a great blues singer.
Following this is "Hoodoo/Voodoo Medicine Man", a fantastically groovy blues number. The snare drums in particular accentuate this song wonderfully and break through the ethereal wall of guitars and vocals. The solo here has so much attitude and once again, shows Perry in a legendary light. A real underrated song, with great use of dynamics and feel.
Closing the album is "What it Takes", the only true ballad on the album. Tyler's voice is just fantastic here and the use of a piano increase the melodic content. This classic 80s ballad is just so perfect, with its structure adhering to that of the other ballads, yet every so often it'll throw a different section in there to keep you guessing. Even with their big emotional songs, Aerosmith really want to surprise the listener. It's just fantastic.
In closing, there isn't much to say about this album that hasn't already been said. It is musical, aggressive, soulful and emotional. A lethal combination for one of the best rock and roll albums of all time. This album comes with the highest of recommendations. If you like your music with blues, swagger and funk, this is for you. Fantastique.
FOR FANS OF: Bon Jovi, Guns N Roses, Van Halen