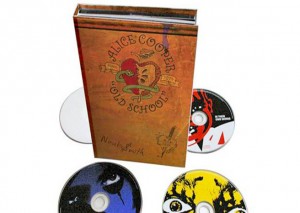 Alice Cooper is a bonafide rock and roll legend. The man has done it all. He pioneered the genre of shock rock, and influenced bands all across the rock and roll spectrum, including Metallica and Ugly Kid Joe.
Alice Cooper 'Old School' is really a collection which no true Cooper fan can be without. Its contents include four spectacular discs featuring interviews, recordings, anecdotes and even a full recording of a live show on the 1971 Killer tour.
Throughout listening to the preview set, it's clear that a lot of thought has gone in to this collection. Pre-production versions of Muscle of Love and Teenage Lament '74 are just wonderful additions and bring a real rustic feel to the proceedings.
Naturally, the collection includes live music, with disc 4 packed with live recordings of hits such as I'm Eighteen, Halo of Flies and Under my Wheels. Having the chance to experience this legendary part of a rock icon's career is an honour to the listener, and truly shows the value of good music.
This collection is definitely for the collector, with rare interviews and live recordings offering such a treat for the true fan. However, it has something for the fair-weather fan as well, with the hits being included so people can dip in and out of it easily. A fantastic collection to the catalogue of one of the greatest musicians of all time.
Alice Cooper 'Old School' is out now, priced at £24.99.
For more information on Alice Cooper please visit his website at: