Bad Touch won the Exposure Music Award back in 2012 and the Marshall Ultimate Band Contest the following year, and if you've caught the band live you know that's where they shine, in their natural element. Not they've shied away from the recording studio, with two albums under their belt and singles '99%' and 'Baby Get It On' radio play-listed by the likes of Planet Rock, and industry bigwigs now sniffing round.
Bad Touch are fronted by Stevie Westwood, a singer with soaring ragged blues vocal chops and an amiable personality to match. Here in an interview with Paul H Birch, featured at Ramzine, Stevie chats about life on the road, the changing music industry, and the band's future plans.
Ramzine: Bad Touch are becoming quite the tour dogs. You guys seem to be constantly headlining your own club dates or pulling in support slots at some major venues alongside festival performances. Does the band have a preference to what kind of gig they do?
Stevie Westwood: We've always just enjoyed playing. Yeah, some gigs are always gonna be better than others, but that's just the way it goes.
Obviously big festivals are fun, but we've had some awesome intimate hot' n' sweaty shows too! We just love performing and hopefully getting people to have a great time!
Ramzine: How have you got on with other bands you've toured with?
Stevie Westwood: We've been very lucky. Everybody we've opened up for or co-headlined with has been great. We're so grateful, as those opportunities helped craft our sound and stage show.
Ramzine: Isn't there still a downside with bands where camaraderie can turn to contempt if you're locked up on a tour bus together for too long?
Stevie Westwood: Ha, I wouldn't like to say! We are like five brothers, trapped in a tin can van or tiny room with no natural light backstage somewhere for weeks at a time, so yeah, of course sometimes we grind on each other's nerves. But it also means that we have to get over any grievance almost as quickly as it appears. I wouldn't trade the boys for the world.
Ramzine: Looking at recent videos, am I correct that Rob Glendinning is back playing lead guitar with the band?  If so, what happened there? Why did he leave originally, and did things not work out with his replacement in Harry Slater?
Stevie Westwood: Yeah, Rob's back. He needed time out. Harry was great but it just didn't work out, and we couldn't be happier to have our brother back where he belongs, Les Paul in hand!
Ramzine:  The band members got to know each other some years back at college up in Norfolk, I understand?
Stevie Westwood: Yeah, although when Bad Touch formed in late 2009 Seeks (guitar) and Rob (guitar) had been playing in bands together for a while. They then recruited George (drums). Bailey (bass) filled in one night and never left! Then they found me and that was that!
Ramzine: Had you been in other bands before Bad Touch got together?
Stevie Westwood: I don't know really… I'd always played guitar, and me and my high school buddies messed around with some Chili Peppers covers and stuff;  and I was the one who was most willing to sing (Most willing, by no means the most able!). That broke up.
 I turned up to my audition for Bad Touch with my guitar in hand, they then asked, "Can you sing?" I said, "Not really…" The rest, as they say, was history! It was certainly Bad Touch that trained me to be able to sing(ish) and be a frontman. I'm hugely influenced by the greats, Robert Plant, Paul Rogers, Van Zant, Mick Jagger, Chris Robinson (Black Crowes). But also by more recent singers have played a huge part in my life, Chris Robertson (BSC), Cormac Neeson (The Answer), Charlie Starr (Blackberry Smoke) to name a few..
Ramzine: What prompted a local covers band's decision to pursue the rock 'n' roll business as a more serious venture ?
Stevie Westwood: This was always the plan. We possibly may have been deluded in thinking it would come quicker than it has. But that's what you learn… When you're eighteen a year of your life seems like an eternity… but anything worth having takes time. We certainly never planned to play covers in pubs forever, and we still have a long way to go. It's all about keeping a pattern of moving upwards.
Ramzine: You've gone the independent route setting up your own record label, Bad Touch Records, releasing an EP in 2012, your first full length album Half Way Home two years back, followed by Truth Be Told last December. Has this proved more advantageous for the band than seeking a deal with an established label and would you have done anything differently business wise in hindsight?
Stevie Westwood: Times have changed. The days of record labels with money to burn on new bands are long gone. We are only now starting to get label interest after all this hard work! There's always things you'd do differently, but that's how you learn and evolve and move upwards.
Ramzine: How did you get producer Chris Kimsey involved in working on Truth Be Told?
Stevie Westwood: Our PR company put us in touch with him, and he wanted to work on our single '99%' , obviously with his impressive back catalogue we happily took him up on his offer!
Ramzine: How have fans and critics reacted to the album, and have there been any surprises with which tracks have proved to be the fans' favourites?
Stevie Westwood: What we've learned over the years is we're usually wrong! Ha, ha! If we think a song is a crowd pleaser, it'll probably be a flop, and vice versa.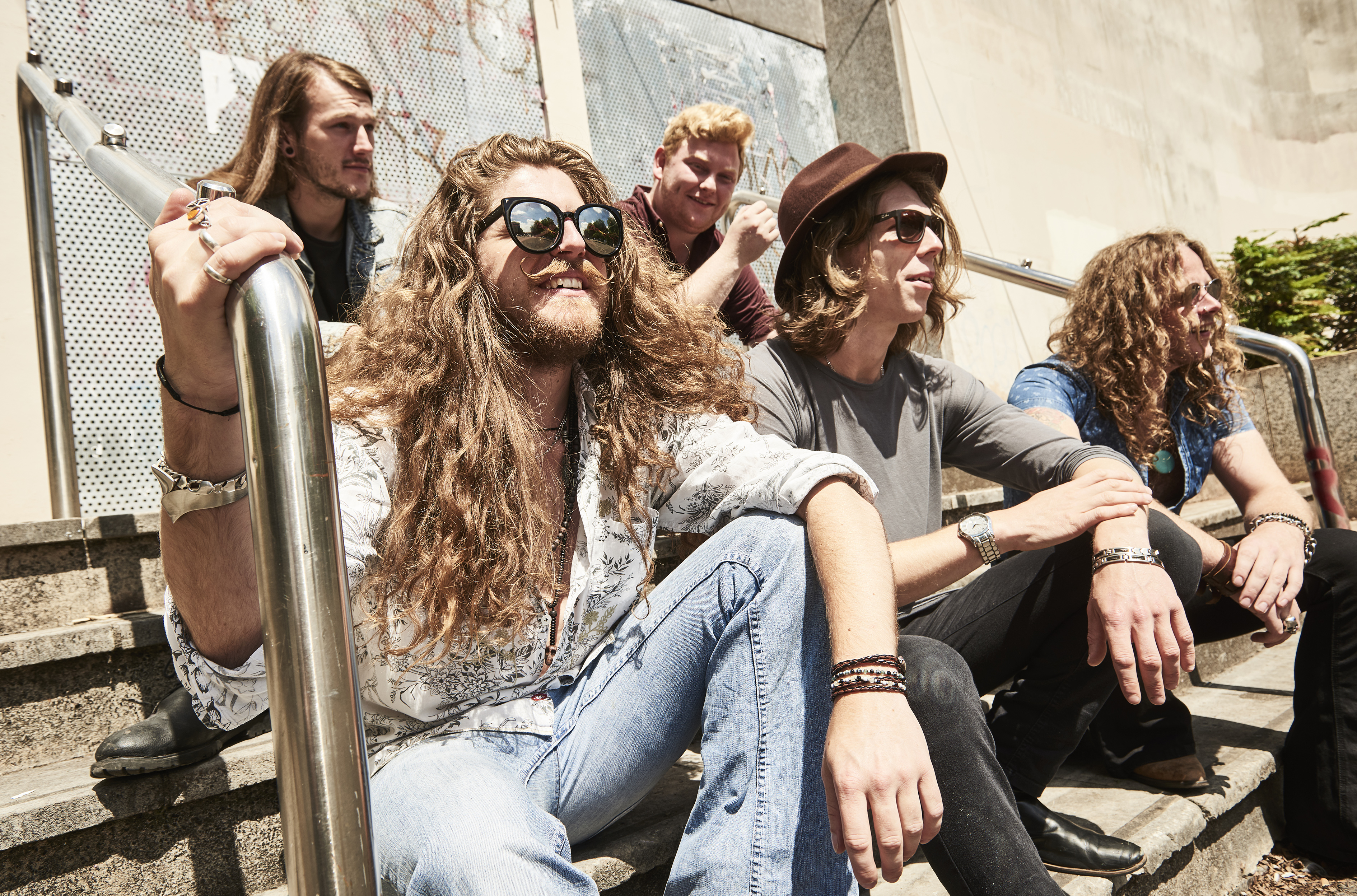 The support for Truth Be Told has been overwhelming. We cannot thank fans and reviewers enough; it certainly has helped push us forward as a band.
Ramzine: I had the opportunity to see you guys live in Birmingham back in April and was very happy to witness how tracks like 'The Mountain' had grown into a powerful epic, and appreciated the various harmonies on songs like 'Under My Skin' with its Humble Pie meets Black Crowes vibe, and – without intending to blow smoke where the sun don't shine – you were in particularly fine fettle that night. Have the songs grown in your own minds, as you lived them out live on stage?
Stevie Westwood: Thank you for the smoke blowing ha, ha! Of course. It's the cruel truth, certainly in my case, that you write the songs, record them… Then you learn how to play/sing them on stage. You always look back eight months after an album's come out and think, "Why didn't I sing it like that on the album!"
Ramzine: It's just over a year since '99%' was released as a single. Now you've come out with an Ike & Tina cover in 'Baby Get It On' featuring Mollie Marriott who's going out on tour with you. Are you please with the reaction to it?
Stevie Westwood: Yeah it's been phenomenal, we just can't wait to get this tour going!
Ramzine: When did you first become aware of Mollie?
Stevie Westwood: We work with similar people. We first met at Harpenden. Obviously her father, Steve Marriott, was an influence on me as a vocalist and I was a little star struck.
Ramzine: Might we be likely to see her join you for a live rendition of 'Baby Get It On' while on your imminent tour, where's she's the supporting guest?
 Stevie Westwood: With regards to our new single that would be telling! You'll find out in Coventry! Wink wink.
Ramzine: Are you looking forward to the tour and will there be any set changes or new songs played?
Stevie Westwood: We can't wait! We're nervous beyond belief, but in a good way. Yeah, we've really tried to make a show for everyone and yes there will be a couple of new songs just as a teaser of what's to come.
Ramzine: Are you playing any cities or venues new to the band?
Stevie Westwood: Yeah, there's a couple of places and venues that we have not been to previously. We're gonna give everyone the same treatment, old or new! Just a feel good rock 'n' roll show to remember!
Ramzine: Presuming Bad Touch stop being tour dogs over Christmas, what has the band got planned for 2018?
Stevie Westwood: We've got a handful of gigs booked for 2018, obviously we're wanting to get back into the studio to record some new music, and then take that back on the road!
Ramzine: Stevie, many thanks. See you on tour!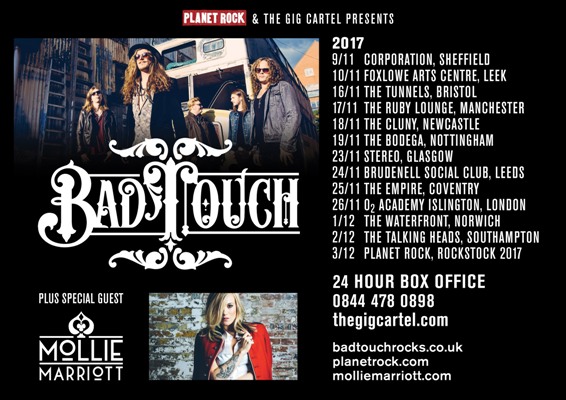 For more about Bad Touch visit their website by clicking here.
For more Ramzine news about Bad Touch's tour (featuring special guest Molle Marriott) click here.