The chances are you've seen Mollie Marriott live or on a DVD and never realised it. She's stood on stage alongside the elite of British rock, from such colossus acts as The Who and The Faces to more modern standard-bearers. That she may have stood to the side amiably singing backing and harmony vocals excuses your oversight while assuring her professional credentials. Now, thankfully, she's heading centre stage, allowing us the opportunity to be balled over and duly impressed.
Her debut album, Truth Is A Wolf, is already proving a critical success and she's about to go out on tour as special guest to Bad Touch.  She also happens to be the daughter of the late Steve Marriott, and step-daughter to Joe Brown, but above all she's a woman in her own right. She's Mollie Marriott…
Here, in an interview with Paul H Birch, featured at Ramzine, Mollie Marriott discusses – with honesty –  what's lead her to this point in her career and her hopes for the future.
Ramzine: The elephant in the room we can't avoid discussing is your family background. Your father was Steve Marriott of The Small Faces and Humble Pie fame, and your mother later remarried one of Britain's original home-grown rock 'n' rollers Joe Brown who's still going strong to this day. Some might presume yours was an enchanted childhood, growing up with the likes of Kenny Jones acting as uncle and you going round to play with George Harrison's son, Dhani, but of course, sadly, you also lost your father early in life.
Mollie Marriott: I will keep this brief, as I feel uncomfortable talking about some of things you mentioned. I had a wonderful family vibe growing up and am very fortunate to have learned firsthand from the best. I hold them all incredibly dear to my heart with unconditional love. My Mum has been a big influence on me. Those who know her will agree she's a real old school woman. Very 1940s and that's where we are similar.
Ramzine: My thanks for sharing those feelings with us. Was music something you gravitated towards naturally, and did your tastes in music change as you were growing up?
Mollie Marriott: Of course. I had no choice. Not by force but by DNA and conditioning. I've been brought up with all styles. The main ones I listen to and have done my whole life are rock, grunge, hip hop and old school sounds like Billy Holiday. As I got older I certainly started to appreciate people like Johnny Cash and Tom Petty for their writing.
Ramzine: Were there ever career interests aside from music?
Mollie Marriott: I tried lots of different things just to see, such as dental nursing, make-up, working as a personal stylist in fashion retailers. I always came back to music and just took what I learned in other fields to shape my character.
Ramzine: How did you come to be hanging out in a recording studio at 15 years old and have Liam Gallagher ask you record some vocals on demos for the Oasis album Heathen Chemistry?
Mollie Marriott: I was introduced to the boys at a young age as the studio was owned by one of my best friends and her mum is one of my parents' best friends so we were all super close and I would go and help her sometimes. They just wanted to hear what a female vocal would sound like on something. 
Stan Kybert (who produced Truth Is A Wolf) asked me first and I said no, so he sent Liam in. He said "If you can sing in front of me, you can sing in front of anyone; now come on!" I'm so glad he pushed me as he started the ball rolling for me in the session scene. I owe them a lot
Ramzine: Did you have formal training as a singer or as a musician?
Mollie Marriott: I did have some lessons on breathing and technique as a kid but again I learnt so much from those around me. My sister Sam was obviously a big influence to me but we do have different singing styles. I envy her for being able to sing in a British accent. I sound like Mary Poppins and it genuinely feels uncomfortable
Ramzine: You established yourself professionally as a backing singer, and over the length of a decade worked with numerous high profile musicians. What made you choose that route?
Mollie Marriott: I didn't want the pressure that comes with being a lead vocalist. I've never craved fame and just wanted to sing. None of that's changed its just now I feel I need to; purely for selfish reasons on a cathartic level.
Ramzine: In what way are the skills required for a backing or harmony singer different from that of a lead vocalist?
Mollie Marriott: Well in order to do your job properly you need to be able to blend and adjust your singing styles to fit the lead vocals.
Ramzine: I gather this area of your work has ranged from live performance to session work, and not only for record but television recordings, advert jingles and films.
Mollie Marriott: You'd be right, and that's why I love it because every day is different with different genres and people to work with. I love it and always will. I especially love being part of a big choir. Chills every time!!
Ramzine: Who are some of the artists you've worked with and were the experiences always positive, and can it feel like a typical 9 to 5 job if you're doing it every day?
Mollie Marriott: I've been fortunate to work with so many incredible artists from Chris Farlowe to Mark Knopfler and The Faces. No negatives for me. It is most certainly not a 9-5 that's for sure; as the hours can run crazy times!!
Ramzine: Continuing to think outside the box, you've acted as vocal coach and creative consultant for All or Nothing, the hit musical written by Carol Harrison, based on The Small Faces, and also a skiffle musical put together by Joe Brown and Roger Cook. Can you tell us a little about those ventures?
Mollie Marriott: Well the character I played in Don't You Rock Me, Daddio was called Mollie and written for me to play the part. How wonderful. It was so much fun. Obviously I was brought up on skiffle because of Joe and I genuinely like it. They are both incredible song writers and I hope it gets seen again.
As for All or Nothing – Boy! – What an emotional roller coaster that has been. I'm so proud of Carol; she has defied the critics who claimed there was no market for it. Now look, three tours in and a West End stint next year. The best '"Fuck you!" ever!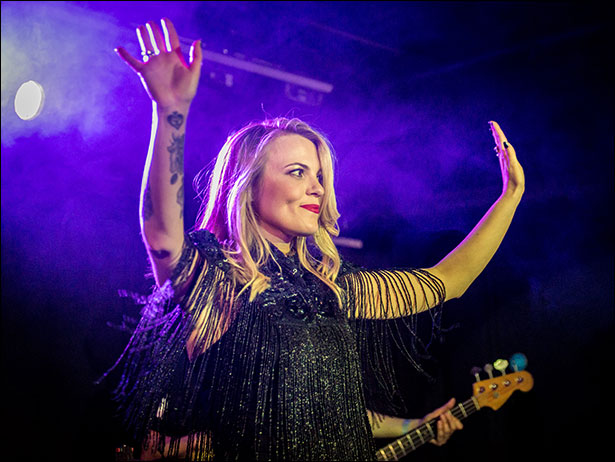 Ramzine: You've stood on stage with some of the biggest names in British rock, from tribute events like those for your father and his old band mate Ronnie Lane through to Bill Wyman's 80th birthday celebrations. What runs through your mind at times like those? Are you blasé, in awe, trying to be professional, having fun or that whole gamut of emotions?
Mollie Marriott: Ha! Apart from blasé, I'd say all of the above because most of them are friends and family so to be performing together is just wonderful and it's my favourite kind of show to do.
Ramzine: Did writing songs come naturally to you?
Mollie Marriott: Yes, with melodies. They flow like a river but I struggled with lyrics. I think it was because I didn't know how to write anything other than truth and wasn't prepared to discuss my feelings with anyone or what I was going through. Judie Tzuke is a great friend of mine and she completely opened me up and taught me so much. I also collect old poetry books from the 1800s to the 40s. I use these to write a lot!
Ramzine: I gather it took three years to put the lyrics together for the Truth Is A Wolf album, was this down to personal circumstances or you continuing to craft the work?
Mollie Marriott: Both. I had a lot of problems with the making of the record. I won't go into it because I'm only looking forward and to the positive otherwise it can put a downer on hard work. I just wanted to get it right and the more I was writing the more I was learning about myself as an artist.
 I went to Nashville to start the writing process as everyone kept saying "You have a Bonnie Raitt or Susan Tedeschi sound", but that wasn't what I was writing. So I shelved my songs and went to Nashville. I had an amazing time and wrote some songs but I didn't feel personally connected to them. So I came home, took the songs off the shelf and wrote the record. I brought back the song Truth Is A Wolf written by my friend Gary Nicholson as I felt it summed up where I was at, at that point in time, and loved the dark lyrics. After all, according to my band I am the queen of darkness, ha!
Ramzine: Do you find it easy to collaborate with people when writing songs?
Mollie Marriott:  Yes, I prefer it. It's a beautiful thing to make music together – I totally vibe off people. I do however prefer writers to work with who I feel comfortable around and don't feel vulnerable or judged.
RamRazine: While there's a lot of heartbreak expressed in Truth Is A Wolf, overall one feels you, as the singer and narrator, leave us with an upbeat positive vibe; having left the dark and entered the light.
What was your overall intent with the album, while it highlights the different characters of your voice and has a contemporary feel, it comes across as very much a themed work in the classic tradition whereby one should listen and appreciate the whole work rather than cherry pick and download a song or two.
Mollie Marriott: Thank you. I wrote it going through a seriously awful time and I was writing with those emotions. So 'Gravity' (on the deluxe version) was my "Finally I'm seeing the light of the tunnel" and 'Control 'was the last song written as a "Fuck you" to all who hurt me, stopped me and held me back. It opens with 'Control' and then it kind of starts into a back story as to why I feel like it.
Ramzine: One presumes you could have had a mega line-up of guests willing to appear on the record, but aside from Paul Weller playing on a couple of tracks, and some co-writes with Judy Tzuke you've not done so. Was there an intended focus for this to be about the songs and how you sung them?
Mollie Marriott: Of course. I never asked anyone to play on it as I wanted to do it off my own back but writing with Jude was a no brainer and Paul asked if he could play on it – There was no way I was going to say no. I felt the luckiest girl in the world. It was again, a beautiful thing.
Ramzine:  You've set up your own independent record label, Amadeus Music, and have a new website (www.molliemarriott.com). Is this because you wanted to take control of the direction your career took rather than be steered in a dubious X Factor direction?
Mollie Marriott: Yes. It was under Weller's and my manager's advice to self release after all I'd been through with labels in the past. You wouldn't catch me anywhere near X Factor!! I'm not fame hungry and I respect my career!
Ramzine: Are you pleased with how the album is being received?
Mollie Marriott: Pleased is an understatement. I'm truly blown away and so grateful that people (a) understand me and (b) appreciate it. It's such a vulnerable place to be and it's truly terrifying when you also come with quite a weight on the shoulders, but, gosh, I feel incredibly fortunate.
Ramzine: You're going out on tour with Bad Touch. Are you taking the musicians featured on the album out as a band?
Mollie Marriott: Yes I am. We've all been working together for years now and there is so much love there. I am taking a stripped down version of my band with me but I'm super exited albeit nervous. I suffer terribly with it.
Ramzine: You've released the old Ike & Turner song 'Baby Get It On' as a single with Bad Touch. Are we likely to see you performing this on stage together?
Mollie Marriott: I hope so otherwise what's the point! I'm proud with the outcome of that and considering we didn't know each other, there is a real vibe to it. It'll only grow on tour I'm sure.
Ramzine: What are your expectations for the tour; are you looking forward to it?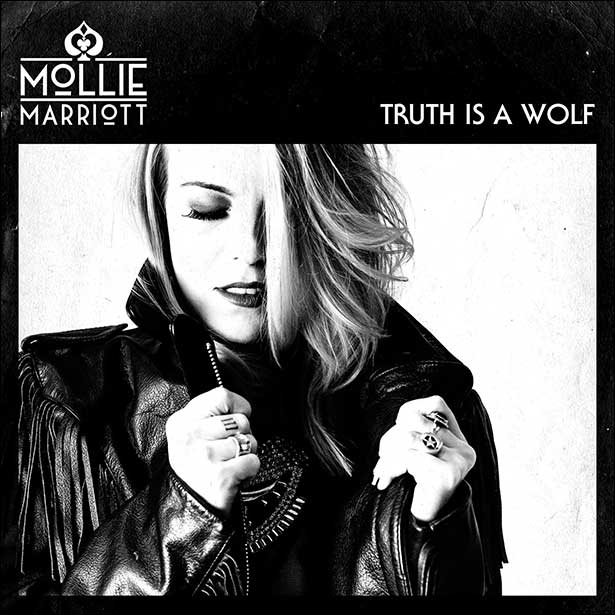 Mollie Marriott: I am, and I can't wait, to get back on the road making music. We have such fun with it. I just hope to be able to reach out and communicate with more people through my music. Not sure how it'll be being the only woman on the tour. Should be interesting, ha,ha!
Ramzine: And what beyond this for Mollie Marriott? Are plans for 2018 mapped out?
Mollie Marriott: Another tour, another album and keep pushing the musical forward. I can't wait.
Ramzine: Mollie Marriott, my thanks and we look forward to seeing you on tour!
For Ramzine's review of Mollie Marriott's Truth Is A Wolf album click here.
For more Ramzine news about Mollie Marriott's tour dates with Bad Touch click here.