Fifty years ago, the legendary Irish rockers Thin Lizzy recorded and released their self-titled debut LP via Decca Records, and this particular album is a real musical treat and an immersive listening experience, but sadly, it is also extremely overlooked and underappreciated. Not only does it showcase the talent of the Eric Bell/Brian Downey/Phil Lynott constellation, but it also contains some incredibly well-written and deeply poetic compositions that are rich in atmosphere and oftentimes moving and evocative. In the clear retrospective gaze of history, it is time to seriously re-evaluate and celebrate the aforementioned gem and discuss its many qualities, and what better way to do that than talking to original Thin Lizzy guitarist and founding member Eric Bell about the magical aura of those early days? Let us celebrate the 50th anniversary of Thin Lizzy's first record.
Within a year of playing together and finding your feet, so to speak, Thin Lizzy secured a record deal with Decca. What are some of your fondest and most treasured memories from those months leading up to the recording of the self-titled LP? You guys were touring all over Ireland at first, right?
Eric: It was when we realized that there was something about the music we played and the way we looked that seemed to be attracting people. At first, we were just another group in Dublin, and there were lots of really good groups around at that time, but we sensed after just being together for a few months that we were taking off.
With respect to the Thin Lizzy (1971) album, what were the recording sessions at Decca's studios in London like and do you recall roughly how many days you spent recording all of it? Did producer Scott English "get" your music and understand where you wanted to go, musically and lyrically, and what you wanted to achieve?
Eric: We just couldn't believe our luck recording in Decca studios and thinking about all the many famous people who had recorded here. We all felt a bit nervous as this was the real thing now, and we just wondered what the people in Decca would think of us. Looking back, I think it might have been nine days of recording and two days of mixing. Scott English was right with us and I remember he let us try out any ideas no matter how weird. At the time he seemed to be into what we were trying to do.
To these ears, the debut offering is pure magic and many of the riffs, melodies, and words have a beautiful and poetic quality to them. Do you feel a sense of nostalgia and longing when you listen to the album nowadays?
Eric: Yes, I find Thin Lizzy's first album very emotional when I listen to it nowadays. It just whisks me back, and I can picture us there in the studio working. It sounds very original to me now, what we were trying to do.
Judging from its musical content, Thin Lizzy were inspired and influenced by a variety of different styles and genres (hard rock, blues, folk, psychedelic rock, progressive rock, etc.) and there are some lovely Celtic undertones and melancholy vibes to that first LP. Did you ever plan or discuss the musical direction of the group's sound or did everything just unfold organically back then with you writing whatever you felt like without any regards for genre conventions? The record Thin Lizzy sounds so authentic, honest, and diverse to me – the variety of the material is a huge part of its charm.
Eric: No, we never really sat down and talked about this or that musically. Even from the very first rehearsal that we had, when we didn't really know what we were doing, it was a very honest approach to it all. We did play all types of music and didn't worry about that. In fact, when the album was released, the critics would always mention that we hadn't got a style of our own yet – there was too much variety.
Were there any leftover tracks from those early recording sessions that have remained unreleased? Speaking of those January 1971 sessions, how come Nick Tauber was hired to mix the album? I take it that the three of you were not entirely satisfied with English's version of the mix. Was Scott's version lacking a bit of punch and edge?
Eric: I really don't know if there were any leftover tracks. That would be interesting to find out. To be honest, and I've mentioned this lots of times, we were all very stoned (and Scott English as well) when we recorded the album, and I think Scott started getting a bit mixed up, especially with respect to my guitar parts. Anyway, Decca wasn't too happy with the album and next thing Nick Tauber was called in to clean it up.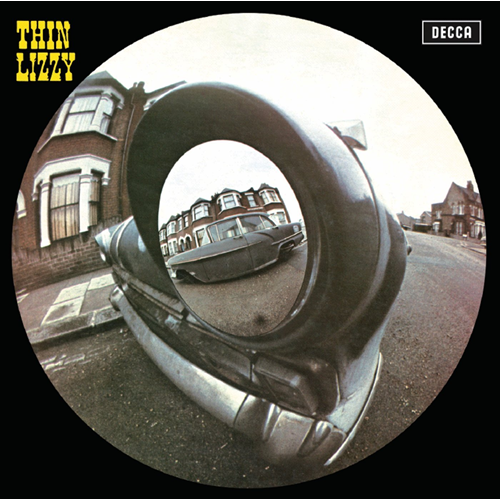 What are your own personal favorites from the self-titled album? I absolutely love 'Look What the Wind Blew In', 'The Friendly Ranger at Clontarf Castle', and the heartfelt and moving 'Eire', but I also love the funky, Hendrix-inspired 'Ray-Gun'.
Eric: I love the song 'Eire', and also 'Remembering'. In fact, I love the whole album.
Your autobiography, Remembering – The Autobiography Before During and After Thin Lizzy, was published a couple of years ago. What was the process of putting that together like for you? All those memories and recollections and whatnot, was it akin to a cathartic experience of sorts, putting words to it all?
Eric: As to how the book started, I was at some airport with one of The Eric Bell bands and our flight had been put back for a couple of hours, and I was just sitting there killing time. I slowly started realizing the time I was wasting and just found a notebook and pen in my bag and started writing; as many rough memories that I could remember, and it went from that. About six months later I stopped as it became too emotional. Then about a year or so later, I had a new manager, Andy Quinn, who one day asked me if I was writing a book, and he got me interested to finish it.
http://www.eric-bell.net/index.aspx