Bloodstock 2017 will be known as the year the festival cast its net much wider. As well as having headliners Ghost and main stage acts such as Skindred, a lot of bands playing this year are not usually part of the 'extreme metal' circle that BOA is known for. One great example of this is London based four-piece Courtesans. Who admit aren't 'metal', but are metal influenced. A lot of fans and other bands such as King 810 noticed there was a buzz around these women as soon as they set foot in Catton Park. We managed to catch up with the band at Bloodstock to talk about their sound, how important this festival is to them, and what's next for Courtesans.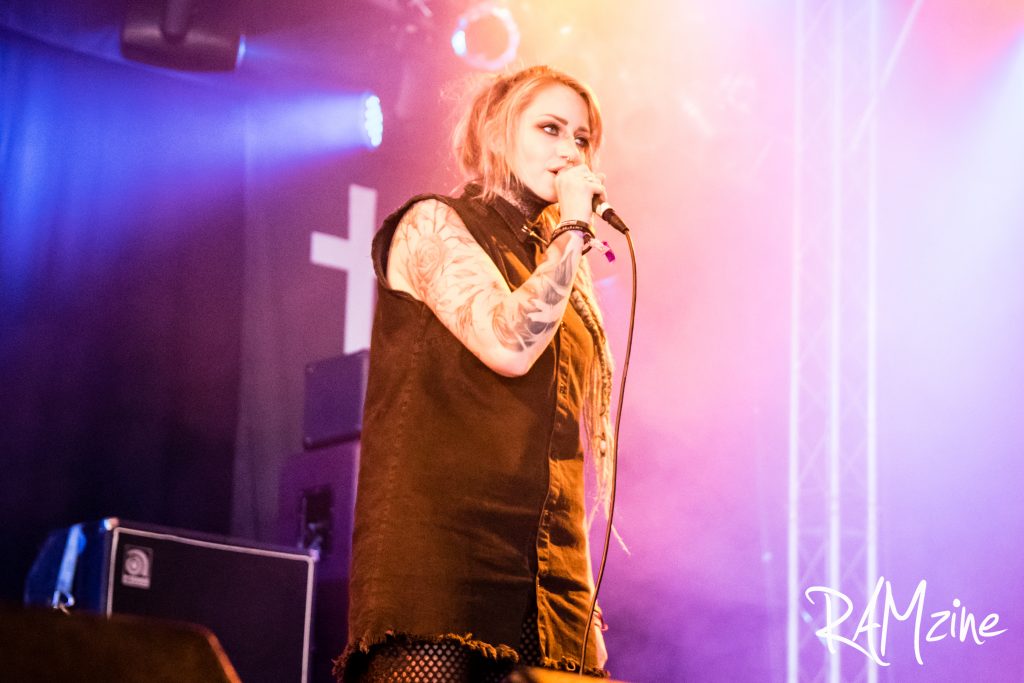 How do you think the set went today?
Agnes D. Jones (bass): From what I gathered, people were 'Feeling it'. A lot of people have come up to us and said how much they enjoyed it. We were really shitting our pants before hand.  On stage it was amazing. I was so ecstatic I started crying. But shh… this is a hard man's festival.
Vikki Brown (drums): It was amazing looking out on all those people.
Agnes: I love the fact people were just standing outside of the tent looking in. It was great.
Sinead La Bella (vocals): I had the time of my life!
Because you aren't a 'metal' band, technically, do you feel you have to 'heavy it up' for these things?
Agnes: No. We're proud to be different, and we aren't going to change a thing because someone says we should. It's a double-sided blade, it can go against you because people are often scared to take risks, which I understand, but if you stay true to yourself it does pay off.
Vikki: Everyone seemed to stay today as well.
Agnes: I must have seen about five people leave in total.
So what would you describe your sound as?
Agnes: Saffire came up with this term 'doom pop'. Which is quite reflective of our sound. If think of 'doom metal' which is really heavy, and gloomy, well we have uplifting melodies.
Saffire Sanchez (guitar): We have a few commercial influences, where the 'pop' part comes in to play.
Agnes: It's probably the best way to describe us, until someone else thinks of another way to describe it.
You are so versatile, that means you could basically play any festival?
Saffire: It's the polar opposite though, it doesn't apply to any festival.
Agnes: It's what I was saying about a double-sided blade. You can fit it anywhere, but you also can't fit it anywhere.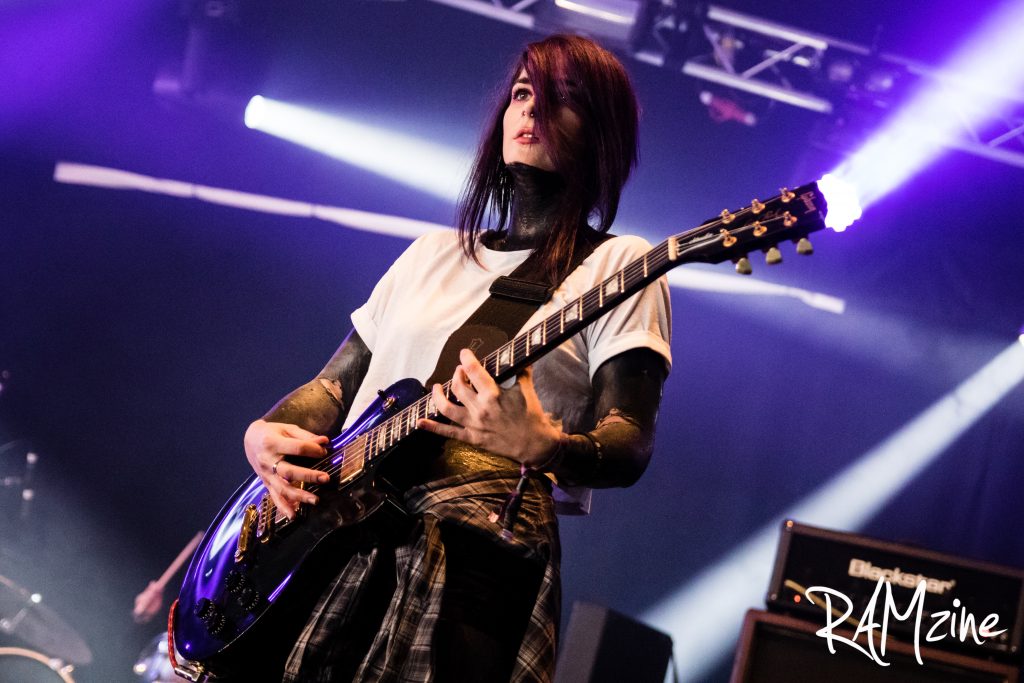 So how did you react when you heard you were playing Bloodstock?
Vikki: I think we all died a little bit (laughs).
Agnes: We all did different things – I got naked and ran around the house, Sinead rang everyone in her family, Saffire just vomed and Vikki… She is like a machine, she doesn't show any emotion – but when we mentioned playing Bloodstock, her face lit up.
This is one hell of a festival. I've been before as a fan, but never played. What I experienced though, is you want to be here. People are generally here for the music. We were a bit apprehensive, because we do not fit in with the metal crowd. We were received very warmly,with very open minds. And I met all these fucking lovely people.
Vikki: Best day ever.
How does it feel to play the Sophie Stage, considering it is named after Sophie Lancaster?
Sinead: It's a huge honour for us, not only as a band but for each of us individually. What happened to Sophie is a sad reflection of how intolerant our society still is, all of us in the band have experienced bullying at some point in our lives. So it's a subject that touches us deeply. We resonate with "S.O.P.H.I.E" standing for "Stamp Out Prejudice Hatred and Intolerance Everywhere" a lasting legacy.
Saffire: We have never been so humbled. At that very moment, we walked on stage, quickly glancing at the audience before taking our places. It was in slow motion. We looked at all the faces staring back at us and there was a sense of belonging as the nerves dissipated. The audience were every bit as opened armed as we could have hoped for and a shining example of respect and tolerance.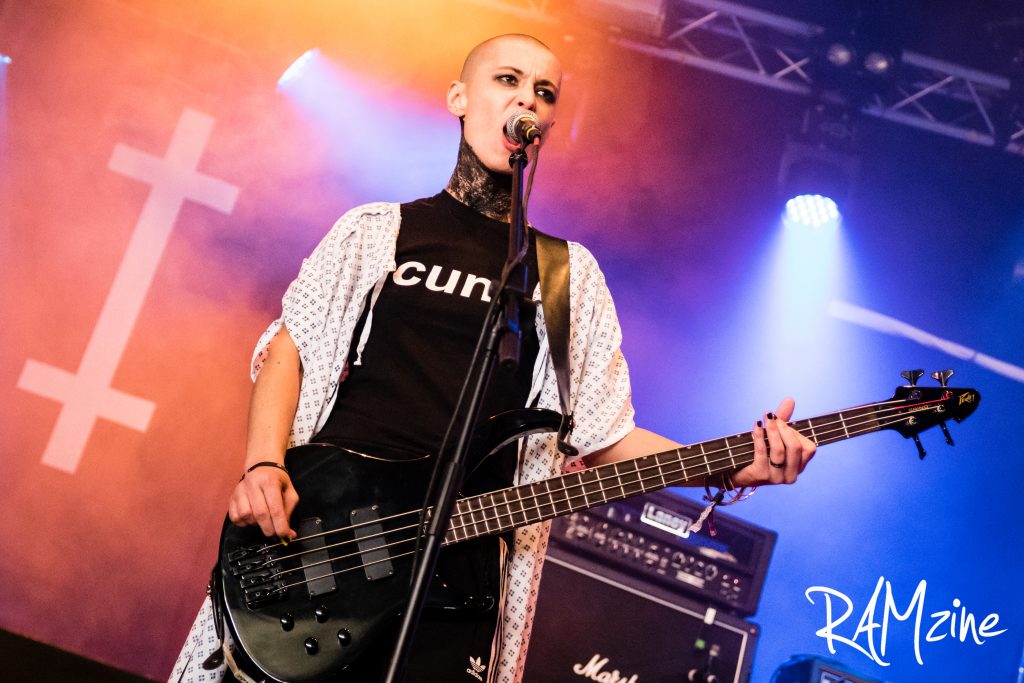 What's next then for Courtesans?
Agnes: We are writing an album. We are like halfway through, so this might be our last gig for a while.
Vikki: We are supporting Wednesday 13 in October. Plus some other gigs coming up but I can't say anything about that yet… But more writing, including 'Monkey Logic' which you heard today. That's the vibe you can expect on the new album. Very diverse again, very political, very opinionated, very ballsy, very pop-y.
Sinead: We're currently working on a new album, when it will be released we aren't 100% yet, these things take time and we want to get it right, so watch this space! As far as a new tour for now are lips are sealed but stay tuned with us online as we have a whole truck load of announcements coming in the next few weeks.
Saffire: We have an announcement coming in the next three weeks. We've got things planned that we're not talking about yet. New album? Hell yeah! 'Monkey Logic' is going on it, that's probably the track we get down to the most. It's more charged, tuning into darker realms in terns of content and groove. As far as dates… End of this year, beginning of next?
Are you looking forward to your support dates with Wednesday 13?
Sinead: Definitely, we are really looking forward to performing on the tour, meeting the guys and playing some new tracks for the first time.
Saffire: They are lovely gentleman and pillars of gothic society. Of course we are stoked to be performing alongside them, I think it has been a good pairing. We're both quite dirty and raw in our own special ways and glad we're slightly different in our genres.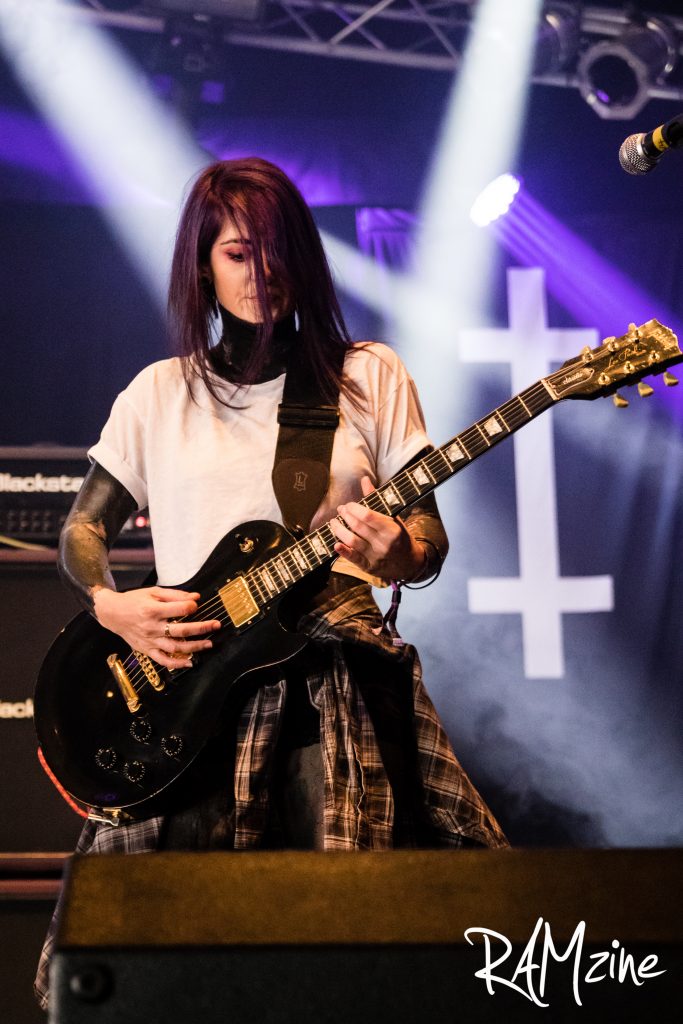 Photography by Ash Crowson.
Check out our Bloodstock 2017 highlights here. Full review of the festival will be in issue 15 of RAMzine.