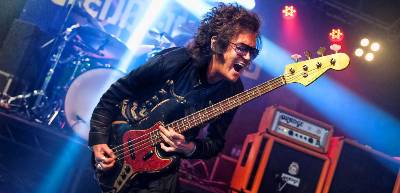 Black Country Communion, Black Sabbath and Trapeze are among the bands Glenn Hughes has played and sung with, alongside investing time in a healthy solo career in more recent years. Now the Cannock-born vocalist and bass player is putting the two sides of his musical career together .
September through to October will find Hughes' solo band performing with him throughout the UK and Ireland to perform songs exclusively from the band he was inducted into America' s Rock and Roll Hall of Fame  for being a member of, once  listed in the Guinness Book of Records as the loudest band in the world, Deep Purple.
Hughes' Classic Deep Purple Live tour will see him perform tracks from Burn, Stormbringer and Come Taste The Band. Ahead of this, he took time out to be interviewed for general release.  So, without further ado, Ramzine invites you to read on.
What's the best gig that you've been to or has inspired you the most?
Glenn Hughes: The best gig I have ever been to would have been Prince in Stockholm 1994. It was inspiring, soulful and very, very groovy.
What is your favourite part of touring and what is your least favourite part of it?
Glenn Hughes: My favourite part of touring is the time I spent on stage with my band giving the love back to my fans. The most difficult part of touring is the time zones I am travelling where I may lose a little sleep.
What's your favourite UK venue so far, and why do you like it so much?
Glenn Hughes: My favourite venue in the UK is the Royal Albert Hall. I have been playing there for five decades; it's a wonderful venue and a wonderful evening.
Do you have a pre-show ritual? If so what is it?
Glenn Hughes: My pre-show ritual is warming my voice up, spending time alone, preparing for my show, meditation, a lot of water and prayer.
How do like to relax on a day off during a tour?
Glenn Hughes: Relaxation for me is spending time in nature, getting away from the city if I can; spending time outside, allowing myself to feel free within the universe.
On this tour you are revisiting your Deep Purple past. Tell us more about how the idea for the tour came together.
Glenn Hughes:  In early 2017, I was asked by many promoters across the world if I would be interested in doing an evening with Glenn Hughes performing Classic Deep Purple Live. After few months of debating this, I went to Australia and New Zealand as a trial-run. It was a success, I loved it; I was dedicated to performing these great songs. So now, here I am on this worldwide tour and I am very happy.
You are touring all over the world at the moment. Are you looking forward to bringing the tour to the UK/Ireland?
Glenn Hughes:  As I am from the United Kingdom but have been living in America for so long returning home for me, to where I was born, and to play the marketplace that gave me my life, I'm very, very grateful to be coming to Ireland, Scotland, Wales and England. So here we go, it's going to be a great, great time. I can't wait to bring it to you and give the love back you freely given to me.
You were at the World Cup in Russia for a couple of matches. How was it and what do you think of England's performance?
Glenn Hughes:  I thoroughly enjoyed going to the World Cup, I was also at the World Cup in Brazil four years ago. I love soccer, I grew up watching English football, of course my team is Wolverhampton Wanderers and I am being very happy for them, but being in Russia, being in Moscow for the opening game of the World Cup and a few extra games, I was there for, was an incredible, emotional experience.
It was a well-delivered, well-organised event. So much love and so much support from many, many fans around the world. I was exhilarated to see so many people come together and shared the love with one another. England's performance was rather very, very good. I am very happy for them, I am very happy for British football.
What are your plans after touring Glenn Hughes Performs Classic Deep Purple Live all over the world? Anything you can tell us about?
Glenn Hughes:  To be honest with you, all I can think about is the touring of this particular cycle. It will be around two years long after then, not sure what I'll do. What I won't do is sit back and relax. I'll take a short period of break and then I'll be onto the next thing, whatever it is and I will embrace it and I will give it love.
Can you give us a preview of what songs people can expect to hear during the show?
Glenn Hughes:  Primarily it's the album Burn, Come Taste The Band and Stormbringer. These albums are so important to classic Rock fans and for Mark 3 and Mark 4 Deep Purple fans. So here we go; those songs we'll be presenting.
In 2016 you were inducted into the Rock and Roll Hall of Fame as part of Deep Purple. What was that like?
Glenn Hughes:  My induction with Deep Purple in the Rock and Roll Hall of Fame in April 2016 was a monumental occasion. I'm truly grateful to be given the gift of music, to be a songwriter and performer. Thank you to all the fans, the Hall of Fame for this amazing honour.
For more on Glenn Hughes' UK tour at Ramzine click here.