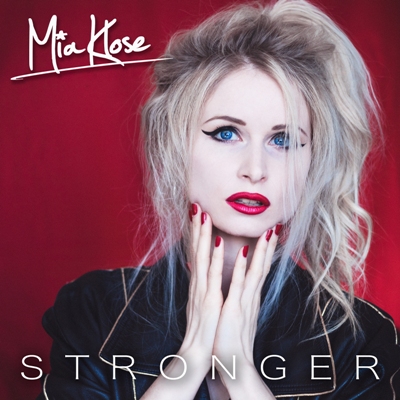 Sweden's blonde rock bombshell Mia Klose is back. Her new album, Stronger, will be released on the 28th September, marking her return to music after a two-year hiatus. Her sound and songwriting have matured, but the record is filled with hooks and 80s rock flavours. But that's where the 80s ends –  It's intended as music for the 21st century.
Mia Klose established a strong fan-base through regular gigging, along with 15,000 followers across social media platforms. Before her break from music, she played at events such as the HRH festival, the Sweden Rock festival and Bloodstock.
Klose also joined Steel Panther as a special guest during their sold out tours of the U.K and Germany, and later made her Download Festival debut on the Jagermeister stage. She has also been the support for Reckless Love and Sebastian Bach.
Returning to the music scene she wrote and recorded Stronger in London where it was mixed and mastered by Tony Wilson of Friday Rock Show on BBC 1 and Total Rock radio fame, with Crashdiet guitarist Martin Sweet also mixed one of the songs.
The album features her touring band of C-Rexx (bass), Jonny Nonsense and Kalle Arheden (guitars) and Henry Rogers (drums). Guitarist Jonny Scaramanga, who now plays for Europe's Kee Marcello, was previously a member of the band and was involved in the songwriting.
Pre-empting the album release Klose has a new single out titled 'Gimme Gimme' and you can check out the video for here it right here at Ramzine.