Drum n Bass, Rock, Dubstep, and Electro are just some of the many genres The Qemists present in their music. This year they have already toured with Korn! And are now making plans to release new album 'Warrior Sound', which features guest appearances from Hacktivist, Ghetts and Crossfaith! Having just signed a publishing deal with Just Isn't Music, The Qemists will soon be touring the UK! We caught up with the band to find out a bit more about them, and this exciting new release.
It all seems to be happening for you at the moment! You were just on tour with KORN! What are they like? Did you have a chance to hang with them much?
Yeah it's been a great start to the year for us with the Korn tour, we were hyped to be asked to support. We got to hang with all the members at some point throughout the tour and it was a total honour, they were so cool. It's always a risk when you meet people you have looked up to and respected as to whether they are going to be nice people or not, but they couldn't have treated us better.
How did you find the crowd recreation to you?
They were great! You can never entirely gauge how your stuff will be perceived by another bands audience, but I think Korn fans are a pretty diverse bunch and excepting of other genres, so although we were new to most of them, they got it and just went for it.
How would you describe a typical The Qemists fan?
Open minded, energy fuelled, party catalyst!
Tell us about 'Warrior Sound', where are you at with it?
'Warrior Sound' is our third album. We have been working on it for some time now, and it's really near that exciting stage of completion! We have a few bits left to do, but it is a body of work that we can truly feel proud of, and defines perhaps what we have been striving for. We could have put out two albums in the time we have spent on this one, but it's all about making great music you believe in, not average, middle of the road nonsense. You stand in the middle of the road, you get killed!
Are you pushing any boundaries, what do you think the critics reaction will be to the style?
One of the main method statements of The Qemists is to push the boundaries. I think as artists it's our responsibility to push things forward and try and evolve music and our place in it. As for the critics, who knows!
You have some pretty awesome collaborations on this new album, tells us about them, how did they come about?
Yeah we have lots of cool people and bands on this one. Collabs are something we have always done, and wanted to continue to do on this record. We have Ghetts who is an inspirational rapper from the Grime scene. We have always been fans of his work, and once we heard his track 'Rebel' we were like "we have to get this guy in the studio now!!" We sent a track to Crossfaith for Ken to vocal, again we were fans and felt on some level that our stuff might appeal and fit with their style. Ken is a phenomenal singer with huge energy, he really kicks on the record. Hacktavist were also on the bucket list for us, so we reached out with a track to try and entice them down to our studio and it worked! We had a great writing session with those guys, again they really deliver in energy and performance on the mic.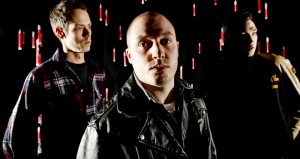 When will 'Warrior Sound' be out?
We hope it will be out early summer 2015.
Where do you draw influence from?
That's a broad question as there are three of us who listen to lots of different styles of music. But essentially it all started with Rock music in our early teens. But we really do get it from all sorts of places, music we hear, people we meet, places we visit.
Are you playing any festivals this summer? UK?
The festivals are being locked at the moment, so we can't say anything just yet!
The Qemists tell us about their favourite festival experience, and they give you some handy festival tips! See page 8 of the 2015 Festival Preview edition of RAMzine: 
p.s. we think you should do a duet with The One Hundred – they are awesome!
Yeah these guys are cool! If you have a contact, send it over!
The Qemists Live – Stompbox + Spor remix – Woodstock 2012.