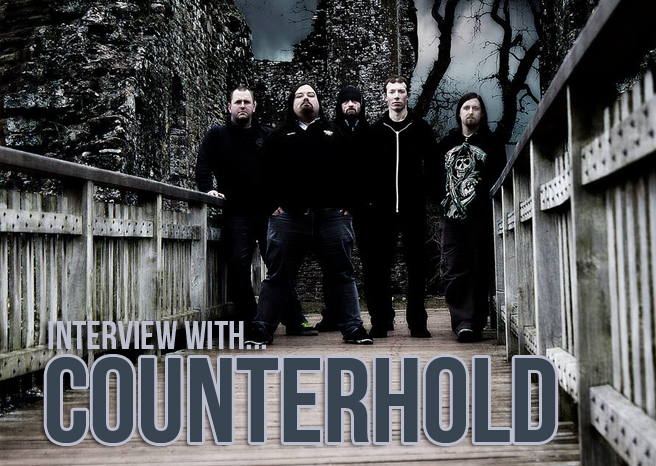 RAMzine spoke to Steve Jenkins of Counterhold, after randomly bumping into him at this year's Hammerfest. Although they don't specifically like the label I'm going to introduce them as a melodic progressive metal band, based in South Wales. Like them on Facebook!
As you are new to us at RAMzine could you tell us a bit about your story? How did Counterhold start?
"We first formed in 2006. We were called Fatal Taunt and we managed to fudge our way into building a tidy local following. It fell apart in late 2008 though when our bassist and drummer left in quick succession. Myself (Steve) and our guitarists Dave and Karl wanted to keep things going so we kept the best of the Taunt material and decided to start again with a new name. Got a line-up sorted in early 2009, a few more line up changes led to what you see now in 2011. 2011 is where it all kicked off! We've been honoured to support bands like Sepultura, Darkest Hour, Blaze Bayley, Diamond Head and even an acoustic support slot with Dave Mcpherson of INME."
Who are your main influences?
"We have different influences between us all. I (Steve) like everything from AC/DC to ZZ Top with Killswitch Enagage, Dimmu Borgir and Nightwish in-between. I even love my Jazz and Classical music too. Dave loves Steve Vai and Joe Satriani. Karl loves his Metallica and Linkin Park, Ben and Ryan are Nu Metal fiends! Deftones and Korn etc!"
What drives you to make progressive metal?
"We never went out of our way to be progressive. We have never boxed ourselves in to a genre. We couldn't if we tried. We simply jam out our ideas and if a riff rocks then we keep it! The only thing we've noticed over the years is our earlier stuff like Out For Dead and Get Out were more hard rock but as we've gone through the years we've come up with heavier stuff like Hellsgates and Time To Die. We're definitely not mellowing with age!"
We recently interviewed Breed 77 at Hammer fest (See interview here) and they said there isn't really anything new in metal these days. Would you agree?
"I disagree to a certain extent. There are completely different takes on metal going round. The Japanese are certainly giving a new spin on things with bands like Crossfaith and even Babymetal; (A split camp in my circle of friends on the latter but I f*cking love them!) The problem is, because labels and the media are nearly always searching for the next 'insert band here' truly original music is often ignored."
Do you think it's important for bands to do something 'different' in metal these days?
"Absolutely. There are far too many bands these days that could change the heads of any of their members and 'fans' wouldn't notice the difference! The whole purpose of rock and metal was to stand out from the mainstream. It's in danger of being swallowed up and watered down by the very thing it stood against!"
We saw your video for 'Charred Remains' which was very artistic. Are there any plans for another video in the future?
"Thank you very much! Our friend (and Fatal Taunt drummer) Kyle Howells did it for us for next to nothing. He did a stellar job on it! Nothing planned yet, mostly because we have funded everything we have done ourselves. So money is the major issue. We were hoping to get a lyric video done for Time To Die but that hasn't materialized so we may concentrate on another song just to freshen things up a bit."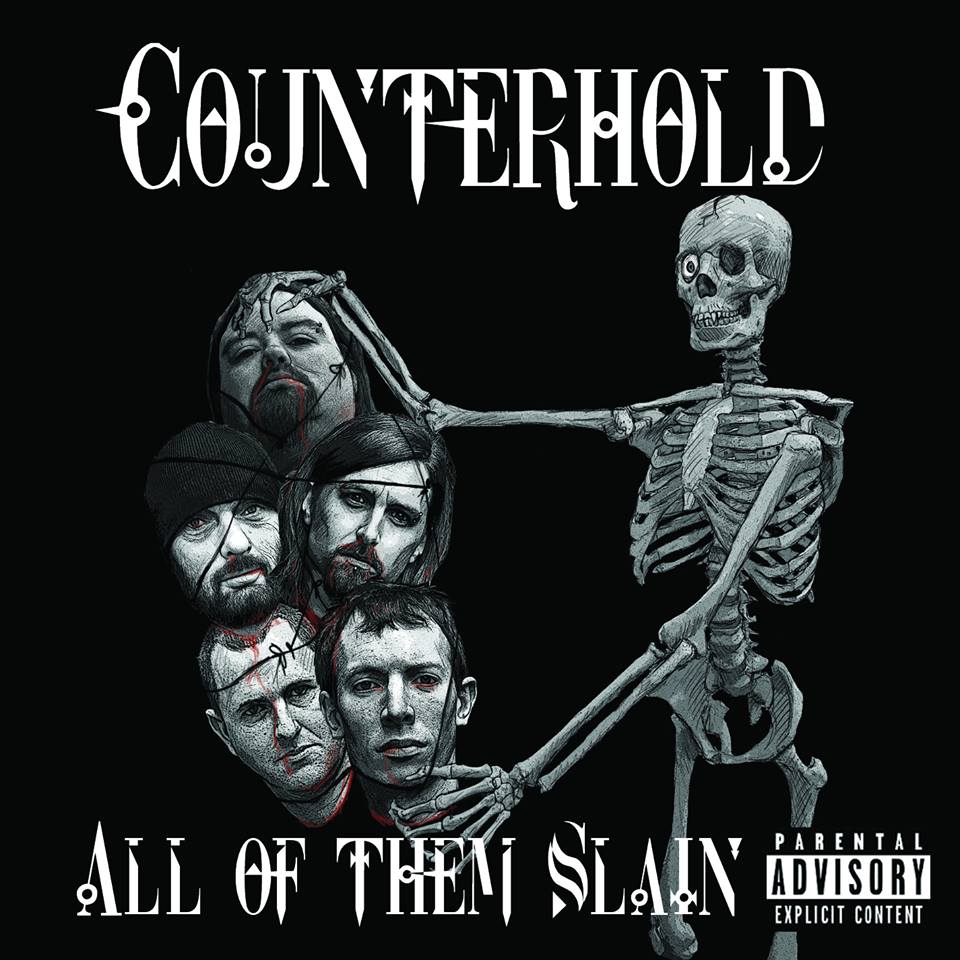 We had a listen to 'All Of Them Slain' and we thought is a great mix of technique alongside some great lyrics. What is your writing process? What comes first the riff or the lyric?
"I have stocks of lyrics waiting to be used. Normally the boys come up with the riff and I match something I have to it. I have nothing to match then I write something that does!"
We really like the album cover, very artistic!
"Thank you! A shout out to Rian Clarke for that beauty!"
When can we expect a new release from Counterhold?
"We were just discussing this at our last rehearsal. The album was an amalgamation of everything we have done over 8 years. We are already working on new material and are considering on recording and releasing an EP soon! So we have new stuff in our set!"
Anything else to add?
"Only that our bassist Ben is officially off the market! He got engaged to his fiance when they were in America a few weeks ago so a massive congrats from all of us! He's hates being in the spotlight and is quite a private guy but I take all responsibility for embarrassing him!"
Congratulations! And we hope to see the new EP in the near future!