This Easter weekend scores of rock fans will be pouring out onto the streets of Bristol (Saturday 19th) and Nottingham (Sunday 20th). But this is no Easter egg hunt – instead, these hungry music lovers will be in search of riffs, sing-alongs and the odd beer (or five). With a lineup covering a diverse range of genres, Hit The Deck festival makes its annual return to the two cities it calls home – this time with a lineup including Brand New, Kids In Glass Houses, The Blackout and Kvelertak. With acts spread across four venues in each city, there's bound to be something to capture everyone's ear, and we've picked five of the best, lesser-known bands to check out during the day.
Neck Deep
Neck Deep have absolutely exploded onto the UK pop-punk scene over the past six months, and are already looking at success over the pond too. Their debut album, Wishful Thinking, was released to great acclaim this year, and their punchy and slightly gritty take on the genre has had them selling out their gigs up and down the country.
Video: Neck Deep – Growing Pains
Baby Godzilla
Taking to their local stage as hometown heroes, Nottingham-based Baby Godzilla not only have a brilliant band name, but a furious energy that will cure any mid-afternoon slump courtesy of the night before. With hectic riffs, frantic drumbeats and some amazing vocal ferocity, a must-see for anyone who likes a bit of the heavier stuff.
Video: Baby Godzilla – Powerboat Disaster
Save Your Breath
It's a good year for the Welsh, with Kids In Glass Houses and The Blackout placing high up on this year's lineup. Hot on their heels are Newport gang Save Your Breath, with energetic pop punk tunes guaranteed to have the crowd bouncing. If you're into the likes of Set Your Goals and State Champs, this is where you need to be.
Video: Save Your Breath – Nothing Worth Having Comes Easy
The Front Bottoms
Anyone dropping in on Brand New's tour in the run up to the festival will likely encounter The Front Bottoms, supporting alongside Saves The Day. Their simple melodies and dynamic lyrics create a quirky sound that ranges somewhere between folksy and punky, making songs that tell stories laced with emotional bite.
Video: The Front Bottoms – Flashlight
Gnarwolves
South Coast punk rockers Gnarwolves describe their band interests as 'Sweet music, lager-drinking, skateboarding'. Although we're doubtful the organisers will be up for ollies and kickflips all over the venue, the first two will be guaranteed as Gnarwolves deliver a full on punk rock party. Just don't spill too much of your lager-drink.
Video: Gnarwolves – History Is Bunk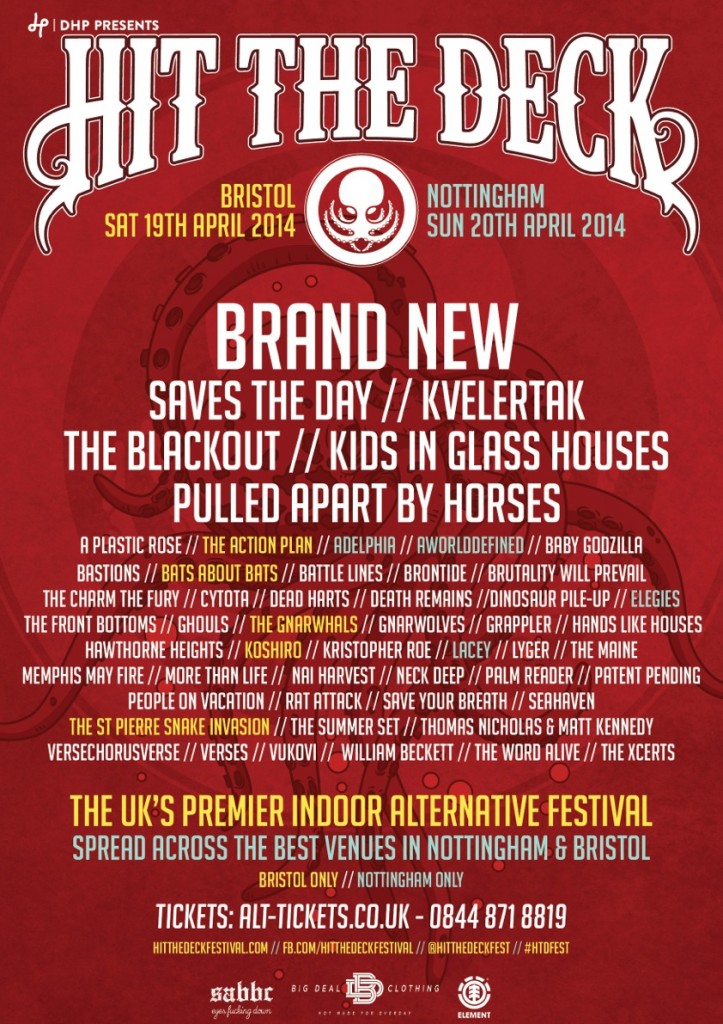 Hit The Deck Festival takes place on the 19th April 2014 in Bristol, and on the 20th April in Nottingham. For more information and to buy tickets, visit the official website.