With their latest album, 'Cult For the Haggard Youth', set to drop on the 21st of July, it is an exciting time in camp Dead Harts.  Its 11 blistering tracks are sure to garner it a lot of attention and the Sheffield based hardcore merchants look set to expand on their already growing reputation.  We got the opportunity to speak to guitarist Matt Pask about the album, coming from Sheffield and the future of this talented young band.
RAMzine: With so many bands coming out of Sheffield, what do you think it is about the city that inspires such great music?
"I think the fact there are so many good bands coming out of Sheffield just inspires more kids to pick up instruments and get together with their mates to make music. The more this happens, the more likelihood of a band making it. Simple really, but Sheff has been smashing it since BMTH took off."
RAMzine: Do you feel part of a (for lack of a better word) 'scene' in the city?
"The 'scene' in Sheffield is great for producing good bands, but it's just as tough as anywhere else to build a loyal fanbase. The market, especially for heavy bands, is pretty saturated so we consider ourselves lucky to be doing so well! Pretentiousness of the viewing public is becoming more of a problem. Music is more of a fashion statement than a passion to some people but we're trying to encourage people to look past that and back to what's important."
RAMzine: How would you describe the new album?
"It's our most diverse piece of writing so far. It shows a different side to us than our first album 'Born into Rags to Die No Richer'. That's not to say it isn't heavy and it's not to say we didn't enjoy writing it either because we had a blast."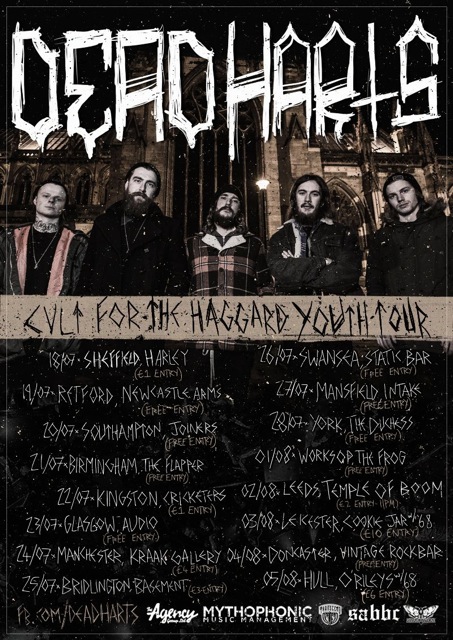 RAMzine: There is an experimental edge to your music, how important do you think that is to stand out in the modern music scene?
"Our edge is communicated in our live performances, we concentrate less on shredding and more on movement. It's difficult to stand out nowadays if you're just good musicians, as harsh as it sounds. You have to have the competitive edge to keep ahead!"
RAMzine: Are there any particular influences behind that sound?
"Our main influences haven't changed much since the beginning. Norma Jean and The Chariot are usually the roots we can trace back to. But we've spent time on the road with our friends While She Sleeps and The Devil Wears Prada, it's the influence of more diverse bands like those guys who have given CFTHY more depth and encouraged us to mix it up a little."
RAMzine: How do you approach writing as a band, and do you consider how they go will down in the live environment?
"All 5 of us sit in our practice room and just see what happens. No pressure to churn stuff out. Most of the time we just have a laugh, get intoxicated and then jam until we have something we're all happy with. It's a democracy so we all have to approve of something before it makes it into a track."
"Every song is written based around the live environment. I think a lot of bands would do things the other way round but the stuff we write has to translate when we play it on stage. Mostly this means it has to be playable whilst swinging off a lighting rig or blacking out through headbanging."
RAMzine: You have already played a couple of festivals this summer and have a couple more coming up, do you approach that kind of show any differently to a normal one?
"Not at all. Doesn't matter to us whether we're playing in front of 50 or 5000 people. We'll still hit as hard as possible and enjoy it just as much. We approach playing an intimate sweaty show in an old practice room the same as we would Download Festival. It's been a successful method so far."
RAMzine:   What is your goal for the rest of the year?
"Do what we love most, tour the hell out of the new album in the UK and Mainland Europe and then see what new continents next year brings."
With a headline tour kicking off later this month and a slot supporting Hacktivist later this year, it appears these plans are already in full swing and there will be plenty of chances for you to check out the Dead Hart's experience for yourself.  If you know what is good for you, you will not miss out.

The crushing new album 'Cult For The Haggard Youth' is out July 21st via Transcend Music.
Make sure you catch them live!
July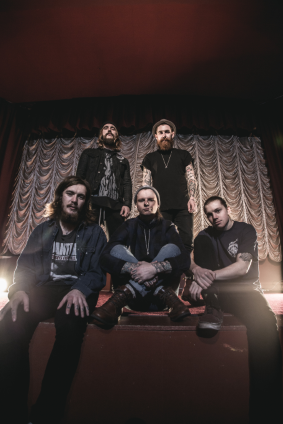 18th Sheffield, Harley (£1 Entry) 19th Retford, Newcastle Arms (Free Entry) 20th Southampton, Joiners (Free Entry) 21st Birmingham, The Flapper (Free Entry) 22nd Kingston, Cricketers (£1 Entry) 23rd Glasgow, Audio (Free Entry) 24th Manchester, Kraak Gallery (£4 Entry) 25th Bridlington, Basement (£3 Entry) 26th Swansea, Static Bar (Free Entry) 27th Mansfield, Intake (Free Entry) 28th York, The Duchess (Free Entry)
August
1st Worksop, The Frog (Free Entry) 2nd Leeds, Temple Of Boom (£2 Entry – 11pm) 3rd Leicester, Cookie Jar W/'68 (£10 Entry) 4th Doncaster, Vintage Rock Bar (Free Entry) 5th Hull, O'Riley's W/'68 (£6 Entry)
Video: Dead Harts – Cult for the Haggard Youth (OFFICIAL) HD