Fall of Every Sparrow (F.O.E.S) have smashed out an impressive resume in the short time they have worked together. Having formed just last year, they have already made their name supporting the likes of Hacktivist and 36 Crazyfists.
Five months of this togetherness was spent crafting 'Ophir', their atmospheric first EP released in February 2014. For a first release the post/alt rock offering quickly gained attention and comparisons were drawn with the sounds of Karnivool and Circa Survive.
The Liverpudlian four piece have just finished a ten date tour, continuing to build hype as they supported Press To Meco around the country during August. We caught up with the boys to see how the tour was going and what the near future hold for the boys with probably the best collection of beards you're going to see this year?

So the Press To Meco tour has finished; any highlights of the tour – on stage or off – you'd like to share?
"Getting to know Press To Meco and watching them smash their set every night was a real treat. Insanely talented band and really great guys too!"
The tour consisted of ten dates up and down the country from Dundee to Southampton, where did you find the biggest F.O.E.S. crowd?
"Our Newcastle show fell through two days prior, but luckily we were offered a last minute show in Glasgow at The Old Hairdressers. Glasgow is kind of a second home for us, and it was really cool to see the room fill up for that one."
There were a couple of unavoidable venue hiccups along the way, with your Workington venue shutting down and a change of date for your Swansea show – did this cause many problems?
"Not whilst we were on the road, thankfully. There were quite a few frustrating changes to the tour when it was being planned. We really owe it to our booking agent for sorting all that out so vigilantly. It was a really smooth run in the end."
You guys toured early this year to promote Ophir, tell us about that…
"The first UK tour we did back in February was totally off our own back. We only took small guarantees for two of the shows and played the rest for exposure alone. It totally rinsed us, but it was an amazing experience to tour the F.O.E.S material for the first time. Then we joined Daily Dischord and headed out on another tour in June with Atlas:Empire. They're an absolutely brilliant band and such great guys to be around."
So tell us, how did F.O.E.S. come into existence?
"We've all been in projects together for years prior. Two of our old bands fell through within a year of each other and we decided to give this line up a go. Funnily enough, we were all pretty cautious about whether it would work or not. There was a pretty pessimistic chat before our first rehearsal together, but our minds were quickly put at ease even after a few hours of jamming out ideas. It came together really organically."
What's next for F.O.E.S. this year?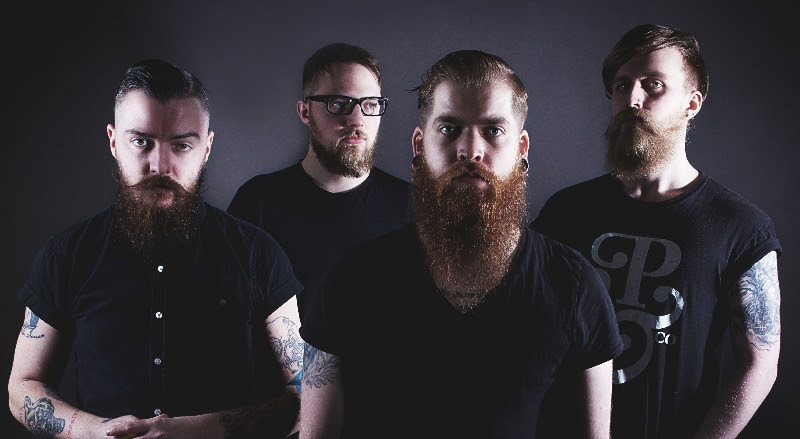 "We're looking to do another short run of dates in October followed by a brand new single later this year. Insanely excited to put some of the new material out!"
With the launch of Ophir in February you guys are gaining quite a following; how are you finding the change in momentum?
"It's what we hoped for really, and it's exactly why we spent 8 months writing, recording and staggering track by track releases before the EP in February. It mightn't have been the same if we'd rushed it. The response has been really humbling so far and we're so grateful for everyone who's already behind the band in its relative infancy."
We've read before that F.O.E.S. have taken influence from the likes of Karnivool and Circa Survive, but do you have any influences or soft spots for bands we might not expect?
"We covered BANKS "Before I Ever Met You" in an unreleased live session earlier this year. We really like what she's doing…and in a broader sense, that whole dark, trip-hoppy sound in general. You can add the obvious ones like Massive Attack and Portishead to that list. Oh, and Josh likes Belinda Carlisle, the absolute melt."
Fast forward to August 2015…where do you see F.O.E.S. being this time next year?
"There'll definitely be a fair bit of new material released between now and then. We're really proud of the tracks we recorded this year and we're hoping they get a similarly warm response to Ophir. As long as there's a means for us to keep touring more and we're bringing new fans to the F.O.E.S fold, we'll be happy with that. Small steps."
You can catch Ophir by Fall of Every Sparrow on Bandcamp along with a bit of merch. Keep an eye out for dates towards the end of the year, we're going to be seeing a lot more of F.O.E.S.!