Johnny Touch! Already they sound like an awesome band, like the name some super cool 80's action hero. Johnny Touch is actually an Australian band led by Pahl Hodgson (lead vocals), Jamie Whyte (lead guitar), Inphiltrator (bass guitar and backing vocals), and finally Denimal (drums and backing Vocals).
Johnny Touch have previously released a demo and two split 7" record, but they are still not very well known outside of Australia. Signed by the US Label Shadow Kingdom Records, the band released their album 'Inner City Wolves' on the 19th of August.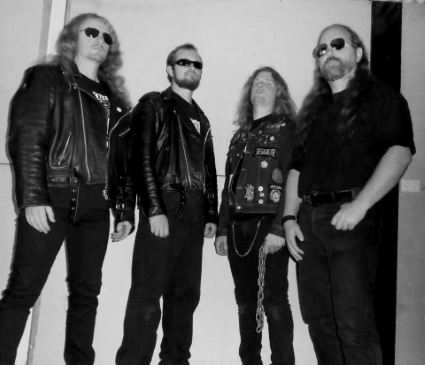 After listening to the first two tracks of the album 'It's Alright' and 'The Metal' embrace you. You can hear that their inspiration is being drawn from such bands as Iron Maiden and Judas Priest. Once there album drops they will sure dominate a lot of the UK metal music lovers.
It makes me think back to when I got my first Iron Maiden album and how blown away I was by the immense power coming from the speakers, shredding guitar riffs and god like vocals that even the heavens could hear. Johnny Touch is very much up there in the same league. Pahl Hodgson's vocals are nothing short of amazing, every track better than the last from start to finish leaving a long lasting impression.
I have a few favourite tracks on the album but the one that stands out the most for me is 'Radiation Axepossure'. The opening drum solo and the soul shredding guitars on the track are truly awesome. It's an instrumental piece that rocks like a Van Halen esc jam.
A few tracks later 'End of Daze' has a real nice soft melody and vocals. This track has the best of both worlds, it soon kicks into heavy guitar rhythm, spine chilling solos and a drum beat that will get you rocking out to the music!
Overall, I have to say that I'm impressed with the whole album from start to finish. Great structure of songs. Johnny Touch fans will not be disappointed. There is also talk about a vinyl release in the works, so keep your eyes wide open for that bad boy.
 8/10
Johnny Touch 'Inner City Wolves' is out now via Shadow Kingdom Records.