Berit Hagen is the 23 year old Norwegian-born artist known as 'The Commander-in-Chief.' She is the self-proclaimed 'First female 7-string guitarist.' (She plays a prototype Falchion 7 string – said to be the only one of its kind in the world.) She has been roundly praised for her innovative heavy riffs, her catchy song-writing, her impressive solos, and a voice that is truly one-of-a-kind.
The C.I.C. released her official début E.P. "Evolution" in 2012 (her unreleased demos 'Battle for the Mind' and 'State of the Union' came earlier. ) The E.P. was produced by legendary engineer/ producer Sterling Winfield (Pantera, Hatebreed, Hellyeah).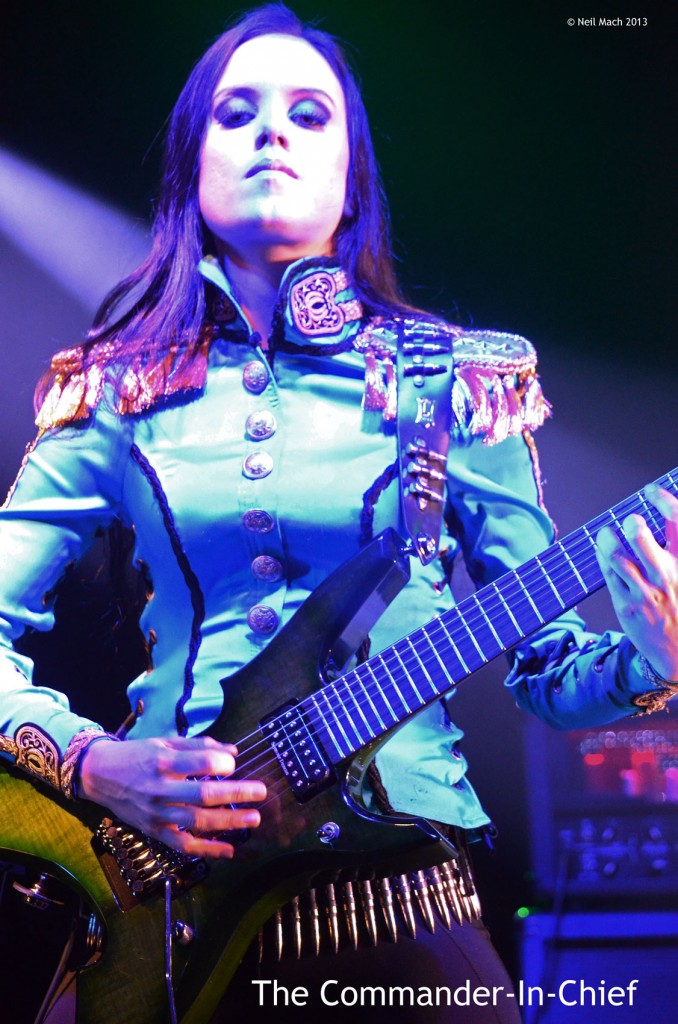 When we saw the Commander's performance at Hammerfest, we discovered a world of frenzied screeching vocals and jagged high-energy compositions. These orbited guitar-work that was so blistering fast, and so excitingly angry, that it felt as if hydrochloric acid had been scoured into our sub-conscious minds.
After her main-stage show at Hammerfest, the Commander in Chief completed an "interview marathon" accomplishing 15 interviews in less than four hours in the press tent.
RAMzine was there to take part.
RAMzine: Tell us about your 'Evolution' E.P. Is it about science gone wrong?
"Science gone wrong. Of course, that is correct. It was inspired by the guy who invented the lobotomy [Moniz] – I think he got a Nobel Prize for his invention – and then it was Walter Freeman (Walter Jackson Freeman II) and his lobotomobile. He went around with his lobotomobile – executing lots of lobotomies on a load of people. That was the inspiration for this song – and also the book 'Frankenstein'."
RAMzine: Yes, it was a terrible procedure – and banned eventually. So how do these ideas come to you?
"Oh, I was just reading, I was reading about the brain. I love to read."
RAMzine: You are very creative – not only musically – but you are interested in all of the arts … which art or discipline gives you the maximum freedom to think?
"It's simple, I love writing songs .. because I see song-writing as creation. Once you start work, the song just takes on a whole new life of it's own. You can [create] illustrations from the lyrics. You have your guitar that you can use to build up [the piece] – and then there are other tools that you get in to fill it out. Then you have your own voice which is also built into it – so it's like a giant puzzle …"
RAMzine: So it is like a patchwork?
"Yeah, there you go, like a patchwork."
RAMzine: If it's like a patchwork, which bit of it comes first?
"I love this question. The first thing that comes to mind is the riff, and then (for example, in the song that we were just talking about,) when I played the riff I quickly realized that [the song] was 'supposed' to be about a mad scientist … then I just kind of went on from there. I wrote the text, but then I changed the lyrics quite a bit. God knows how many times."

"When it comes to my song 'Thou' – that song started out with a picture. I actually created an illustration first – it was basically four hands – and they were reaching out for a dollar bill …"

"And then I did not know what was going – or what to call that picture. But I knew that it was all about a question of money, and then I wrote a lyric for that image …"

"And then, when I had written the lyrics – and I had the picture – I had to find the song that could actually, how shall I put it, house the amount of lyrics that I had actually written for the picture … So I went for this song that I was working on – that was basically a guitar exercise – 'cos it has a lot of stuff going on in it…"

"But a lot of times, when you listen to technical metal, and especially to extreme metal – you have loads of lyrics to listen to. For example, think of Dimmu Borgir – so I tend to pick the longest songs that I have – so that there is loads of space around it for my lyrics. Yeah."
RAMzine: Do you have a lot of different projects going on at one time?
"I'm afraid I do. It is a mess … I have a lot of ideas for songs – and I record all those ideas, but then it really is [a task] to be able to actually take these ideas and make something out of them. And while I do that, a whole lot of new ideas come to me… in terms of art and on the music front."
RAMzine: How do you know when you've finished a job, then?
"I just know it … I know that when it is done its done."
RAMzine: Some artists just can not seem to finish their work. You know, they keep thinking "I had better polish that one more time." Is that what you're like?
"Yeah, well the thing is, I am so intense that when I know that something is not going well I'm like "Grrrr!" You know, I cannot get it out of my mind. In a way that makes any sense. I was working on a picture – it was a portrait of a woman – and I was actually trying to draw her. And the first version of it was just awful – and it was really bugging me. I tried not to think about it, but I was like "Oh that picture…" I made a new one, and then it was starting to get better but – at a certain point – I just – like – finished it. It was like: 'Bam!' It's done. "
RAMzine: Was the guitar the first instrument that you picked up?
"Yep. It was during the year that I turned 16."
RAMzine: Up to then, what was your musical background?
"Background music? Man, I was a music fan… like very big, I just wanted to gather up loads of records …"
RAMzine: So it was – largely – listening to music rather than a creative background?
"Yeah."
(At this stage the mother of the Commander-In-Chief – Elizabeth Hagen – stepped in to answer the question on behalf of her daughter)
Elizabeth Hagen: "I am a classically trained opera singer. She [The Commander in Chief] grew up listening to me singing arias every day … she would have this insanely eclectic taste as a kid … She would eat her breakfast to French music …then listen to Latin American music all during the day – she's always been very open minded."
RAMzine: Thanks. So you picked up the guitar … In what context? Was that in the classroom or other structured environment?
"Um, No. I wanted to just write songs. But I didn't have anything to write them on. So I had to have a tool. And I picked up the guitar because it was a heavy instrument. I also wanted to play drums – but then I wanted to write songs – so that's why I went for the guitar."
RAMzine: Do you play keyboards at all?
"Oh, keyboards. Yeah, I got myself a Midi keyboard. I need it for my singing … I am a classically trained singer but .. you kinda always want to step up when you come to the actual peak. So, now, I'm really into like complex art – like crazy rules and runs [?] – So I need to have a piano so that I can actually figure them out…"
RAMzine: Do you sing all your songs in English?
"Yeah, all my songs are in English."

RAMzine: Why have you chosen this language?

"Because I moved to the United States, that's why. When I started in Norway – I would have written in Norwegian. But then, when I was living in the United States – and I had a band in high school – it was like: 'What is the point of writing these songs in Norwegian when no one understands them?' That's why."
RAMzine: How would you respond if I told you that sometimes your voice is not powerful enough to transcend your sparkling guitar-work?
"Well, I do not think that's true. But I think it all depends on what context you look at it. I mean, I think when it comes to songs like DROPOUT (re-mixed in 2011) – I think, you know, that when people listen to that song, they will hear that the voice and the guitar work – they really flow together. And the sound is way better live than it is in the recordings, anyway …"
RAMzine: So, how is your career going? Are you expanding your territories and your fan-base?
"Oh yeah. I want to make loads of merchandise. Then the next thing on the agenda is to get the 'Evolution' video made – so that we can release it. I have like a big guitar show going on in Norway – so that will be really fun. It's the Nordic Bergen International Festival …"
RAMzine: Did you make your own outfit? Why is it a military style?
"Yeah I designed it. But I don't know how to sew .. so I got a lady to sew it up for me."

"I chose the Commander in Chief uniform, because she is the top commander of all that is military. And she is the head of everything. I always liked military stuff. When I was young I looked out for military jackets. I think – as a chick – it's kinda hard to do that, because, you know, you can only find military jackets for guys … but then you have to alter them to fit you."
Thank you very much, Commander-in-Chief!