We recently caught up with Northampton-based quartet Lay Siege to chat about their new mini-album Obolus and their plans for the future.
Your debut mini album 'Obolus' has been very well received, were you expecting the response you got from it?
Well we were really happy with what we had achieved with the record, but we weren't expecting unanimously positive reviews and we certainly weren't expecting so many people to pick up on what we were trying to do. We thought some bad reviews would be an inevitability, but somehow none materialised. There were a few web reviewers who weren't particularly impressed but amazingly no one said it was trash!
How have you been celebrating all the fantastic reviews regarding the release?
We're not really those kind of guys so there wasn't a lot of "celebrating," but we have all drawn a lot of confidence from the reviews and it's nice to be able to look at each other and be proud of what everyone brought to the table.
Your video for "Explorer" is really racking up the views on YouTube was the video fun to make?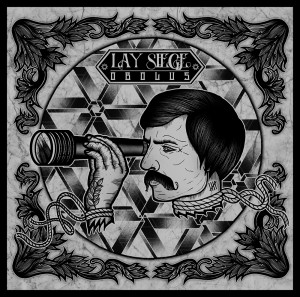 No it was an ordeal! We managed to pick one of the coldest days of the year to film the video, and although we were able to get some great shots of the snow outside, the massive rooms inside the house and the absence of any heating meant we were shooting in -14C at times. Also, the attic (where we did the individual shots) was covered in dry pigeon poop, and as we were stamping about it was getting into the air and we were all breathing it in for hours. Apparently it can be quite dangerous stuff!
You guys are playing the Bristol New Hour Festival in November are you excited for the show?
We're always excited for shows, but this one is extra exciting because we have never played Bristol and there are some great bands on the bill, including our good friends ACODA.
How did the recent tour with Our People Versus Yours go?
It was our first ever proper run of dates so we weren't entirely sure what to expect, but we took to it really well and by the end of the tour we felt like we could just go on and on. We're quite often playing to people who have seen us before so it was good to see that we can turn up to an audience who have no idea who we are and have them getting down within the first minute of our set.
What were your highlights of the tour?
This will definitely sound cheesy, but by the last couple of days were getting on really well with OPVY, so getting to know them was a highlight. They're top quality gents. Another highlight would be when Dan from OPVY completed a peer pressure challenge and narrowly avoided serious injury on a water feature in Birmingham.
Are there any places you would like to gig in but haven't yet had the chance to?
Probably just bigger stages with great sound, like the Academies etc. We feel like we're ready to get up there now but obviously there's a long road of serious groundwork ahead before we earn the right too.
Finally what does 2013 hold in store for Lay Siege?
We're working on new material so that's what's happening!
Sounds exciting!
You can watch the video for "Explorer" here:
You can download "Obolus" for free from the band's website: