Deserted Fear is a Death Metal Band from Eisenberg/Thuringia, Germany. Formed in 2008, they recorded their first demo in 2010 and started to play live the same year. In the later part of 2011 they went into the studio to record their début album ' My Empire'.
The band signed to FDA REKOTZ for the release of their album, which is out now – (Released 28th of September 2012.)
After an inclement intro, with the sounds of big-horned ships emerging from the darkness, 'The Battalion of Insanities' track screeches in with an omnipotent and earth wrenching donderbus bass, creating all kinds of merry hell, whilst muzzle-blasts of stinging percussion fill the air with their pungent bursts of energy. Pathological vocals evoke a futile battlefield, and a salivating yowl acts as a centre-piece.
Menace is all around in 'Pestilential' as the filthy beats continue to flap their calloused wings against your bare soul, threatening your twisted reason. Chord shapes are tightly riveted together in this piece, creating substantial sub-structures for the blackened counter-melodies to ingest and to grown fat upon.
'Nocturnal Frags' has a theme of burnished embers that light up a blackened sky. This is a conspicuously plodding monster of a song. It limps along like some sort of half-eaten beast-thing, spitting fire as it lumbers. And do not dare get too close to the fiery guitar either – it spews out hellish forked tongues, agonising those who get too close.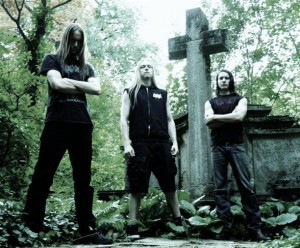 'Morbid Infection' employs a spinning buzz-saw of guitar sounds that revolve menacingly around the gravelly vocals of Manuel Glatter. Throaty at times, these rumble on with an incalculable fury – but the vocals are only a small part of this extraordinary piece. Secondary features include a vertical detonation of incredibly fierce sounds that precede an attack from an improbably sour guitar solo which lights up half the sky.
'Black Incantation' has a bruising, swaying, infectious riff that will confuse your carcass and grab the seat of your pants. Vocals are daubed in great slabs of sound. And these then drip down into deep gorges created by those traitorous low notes. All this is set against a swarm of guitars, that bleed and buzz  without remorse.
'Scene of Crime' sounds like the noise of traffic as it hits the highway. Sudden dramas unfold. The vile crash of metal against metal. Speed giving way to stagnation. And all the time, the frustrated beings that are swarming together in their continuously heaving mass, are funnelled blindly towards a stinking abyss.
And after the sickening futility of that experience, the big guns of the 'Field of Death' may appal you even further. As the sirens call, we experience one of the best riff based sounds on this recording. The clattering of drums allow the vocal melodies to rise and fall. Cycled against one another, the vocal and instrumental parts climb and duel like morbid serpents. The descant imagery of the raiding sirens is never far away. Even when the darkening wings frame the hour of your death.
Clamouring 'Bury Your Dead' completes the album, with sweaty, sticky notes and browned guitar lines. It's almost more than you can tolerate in one sitting. But as the great hymn plays out, you realize that you are here to mourn an inevitable death.Title track 'My Empire' sizzles with a decaying potency, before the rush of thrashing drums is discharged into the inflorescent darkness created by bitter guitars. The dramatic vocals add dark passion and pitiless pleading across the piece. Then a howl anticipates a gurgling, chiming guitar that both illuminates and disgusts at the same time.
This is a multi-dimensional album, capable of shocking – yet still engaging . By employing contrasting motifs and using visceral counter-melodies, the band have created a work of deliciously diseased fascination. This is work of tormented genius.
http://www.facebook.com/desertedfear