Dying Fetus. The mere mention of their name is enough to put most people off. However to those who can see the beauty in death metal they are the top dogs, exceeded only by perhaps their New York brothers Cannibal Corpse. As if the simple aspect of their presence wasn't enough, following them on their European tour are an entourage of some of the finest new death metal acts out there. So without further ado…
Cerebral Bore fly onto the stage in a frenzy of spinning hair and fantastic guttural vocals. The power in Som Pluijmer's is near enough unbelievable if we weren't hearing it with our own ears. Their performance is extremely strong, although for the majority of their set they seem to keep themselves quite isolated from the audience, keeping their eyes to the ground and making little interaction with the crowd. By the end of their performance this is no longer a problem and their set has clearly made an impression with people tonight as they are cheered off stage.
Revocation almost literally explode into their set. Initially they perform very well and their guitar solos are extremely impressive. However they make the mistake of insulting the audience for not moshing which, whether it was meant in good humour or not, does not get the warmest of responses. That said; a badass foreword about Vikings, dragons and killing before a heavy instrumental track seems to change people's hearts and triumphantly finish on No Fucking Funeral.
If there's one band who know how to open a set, it's Job for a Cowboy. They kick off with Entombment of a Machine and make an instant connection with the audience with the signature scream that defines the song. The entire band are consistently energetic and lead singer Jonny Davy shows himself to be a captivating front man. He pretty much steals the show until bassist Nick Schendzielos brings out a snazzy new bass with neon green lights in place of the inlays on the fret board which snatches everyone's attention. It is clear from the crowd's epic applause as Job for a Cowboy conclude with the classic Knee Deep that they've enjoyed every minute of their performance and are sad to see them go.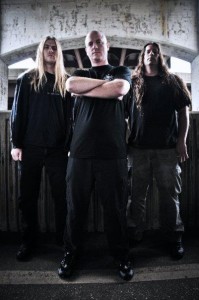 Now we've been to many gigs in the past, but never has it gotten as surreal as standing in a room of 200 people all chanting 'DYING FETUS!' The trio may not be known for their energetic and lively performances, but their cool and serious stage persona's as they roar vicious vocals to the crowd just add to the atmosphere that surrounds them. They play a nice varied set of older songs such as the delightfully titled Tearing Outside the Womb to brand new tracks like Subjected to a Beating which is more than just a song for some given the intensity of the moshpits. They end their fantastic performance with their fairly modern hit Homicidal Retribution leaving behind a battered but satisfied Birmingham.