Saxon is one of those bands who have seen a lot in their time: the new wave of British heavy metal, Playing the first Monsters Od Rock, the first Wacken, and of course the first-ever Bloodstock. Celebrating their 40 plus years with this set and having just released a covers album (Inspirations) – we caught up with Saxon vocalist Biff Byford to talk about their career, working with his son, his solo album, and maybe some clues to who they might cover next.
How are you feeling today, now that you know you are going back on stage tonight?
Pretty good, so far. It's good [to be back]. I mean everybody's pretty nervous so far. I'm sure all the bands are the same. Until we get on there and figure out what it sounds like, we don't know. We're all a bit adrenalized.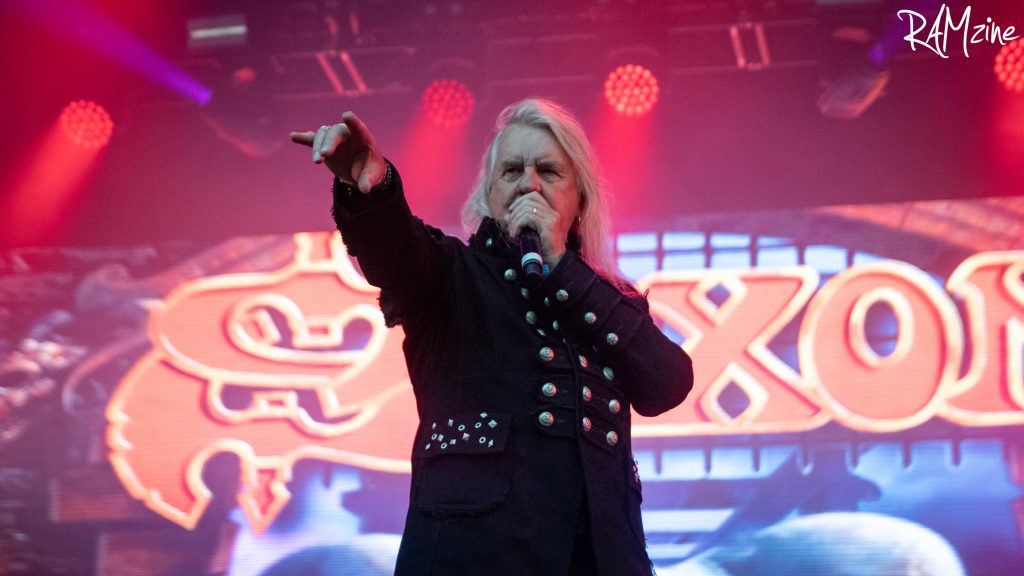 You've been a busy boy over the lockdown period, releasing a solo album, a covers album with Saxon, and an album with your son Seb's band Heavy Water – what inspired you to record a solo album (with the help of a few guests)?
I just fancied doing it, so I got some friends together, some friends from Sweden and we wrote some songs and I already had some to record. So we just put it together taking a break [from Saxon] really. It was great. Covid stopped the touring of it but I think we can start promoting it again next year. We've got a video in the can.
We [Saxon] did the Inspirations, our cover album, which was a totally 'lockdown' album. Which was good fun. And Seb, my son, worked on it with us – he recorded some vocals for it. That lead to recording an album together. That's how the Heavy Water thing came about.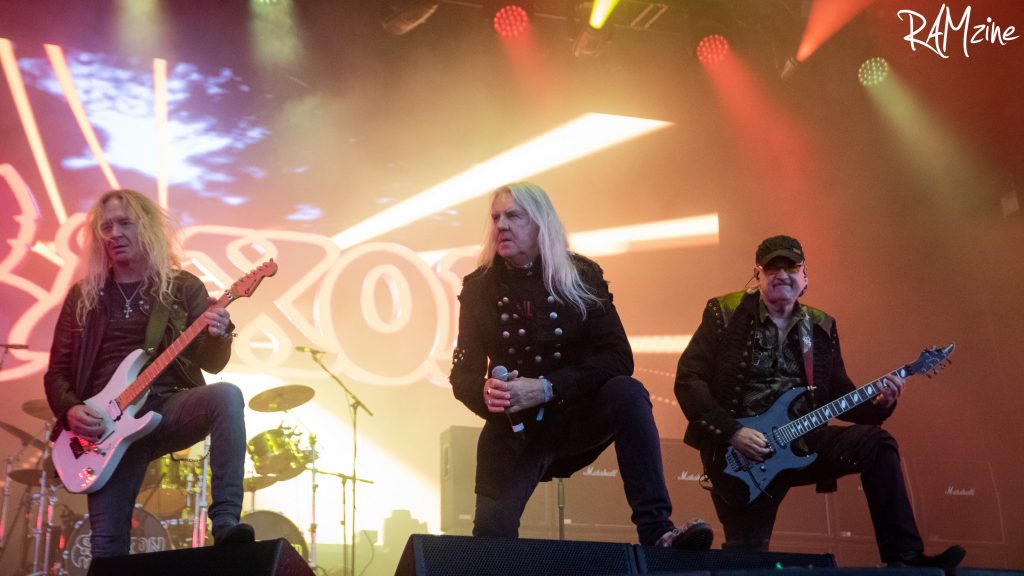 Has Seb always wanted to work in the music industry?
Yes, he was a drummer early on in his life. He turned to guitar, and then started singing. So yes.
Going back to Inspirations, it's all covers. Was there a process of choosing songs?
I chose the songs I thought we would bring something to. Not to do a carbon copy. We're going to do another one actually. All the bands we couldn't do and didn't do because there are so many bands that influenced us from the 60s and 70s. For instance, we didn't do The Who or Uriah Heap so it's always something that we want to do but also something that we can bring something to the table to.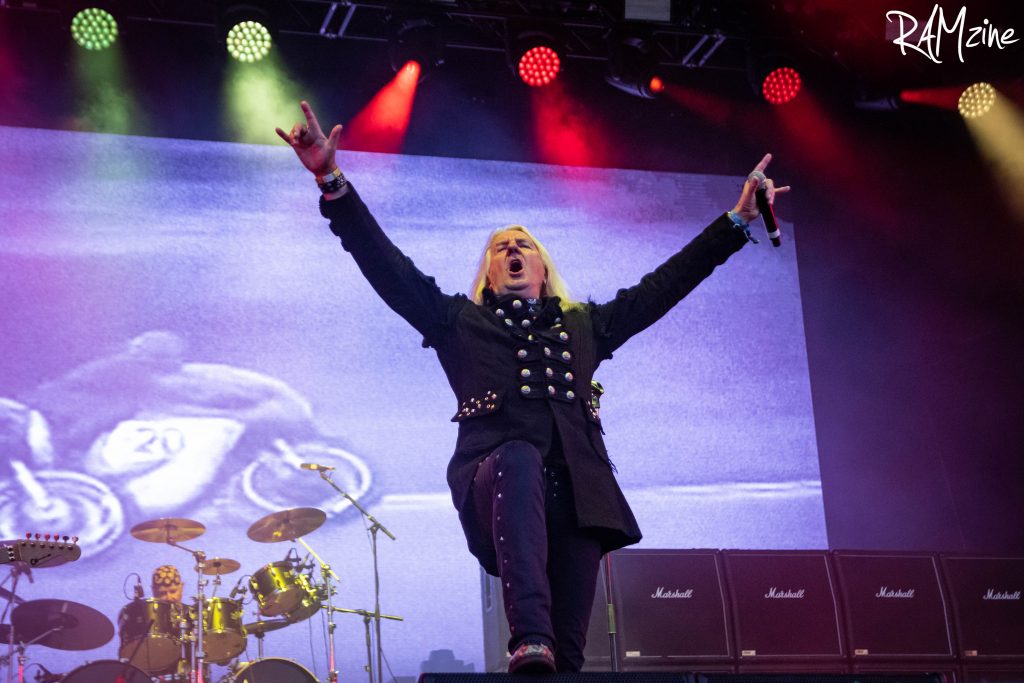 So after the second 'Inspirations' album are you doing another Saxon album?
Yes, it's finished. Just a couple of weeks ago, I signed it off. It's ready to go and I think it will be out in February. You will hear about the pre-order and video soon I think.
So would you do any more work with Seb?
It's getting great reviews, the album, we might do another. It is a band, Heavy Water, not so much a project. So we might just tour it and do another album.
You've been in the business a while now, has it changed a lot?
I think it's more or less the same. different faces, but still the same. Still hard to make a break for young artists and new bands. It's always been the same.
Having been around for 40 years, what's the key to longevity?
Songs. Take Brian [Tatler of Diamond Head, was sitting nearby], Metallica covered a lot of their songs. Now they're up there and it's great for them.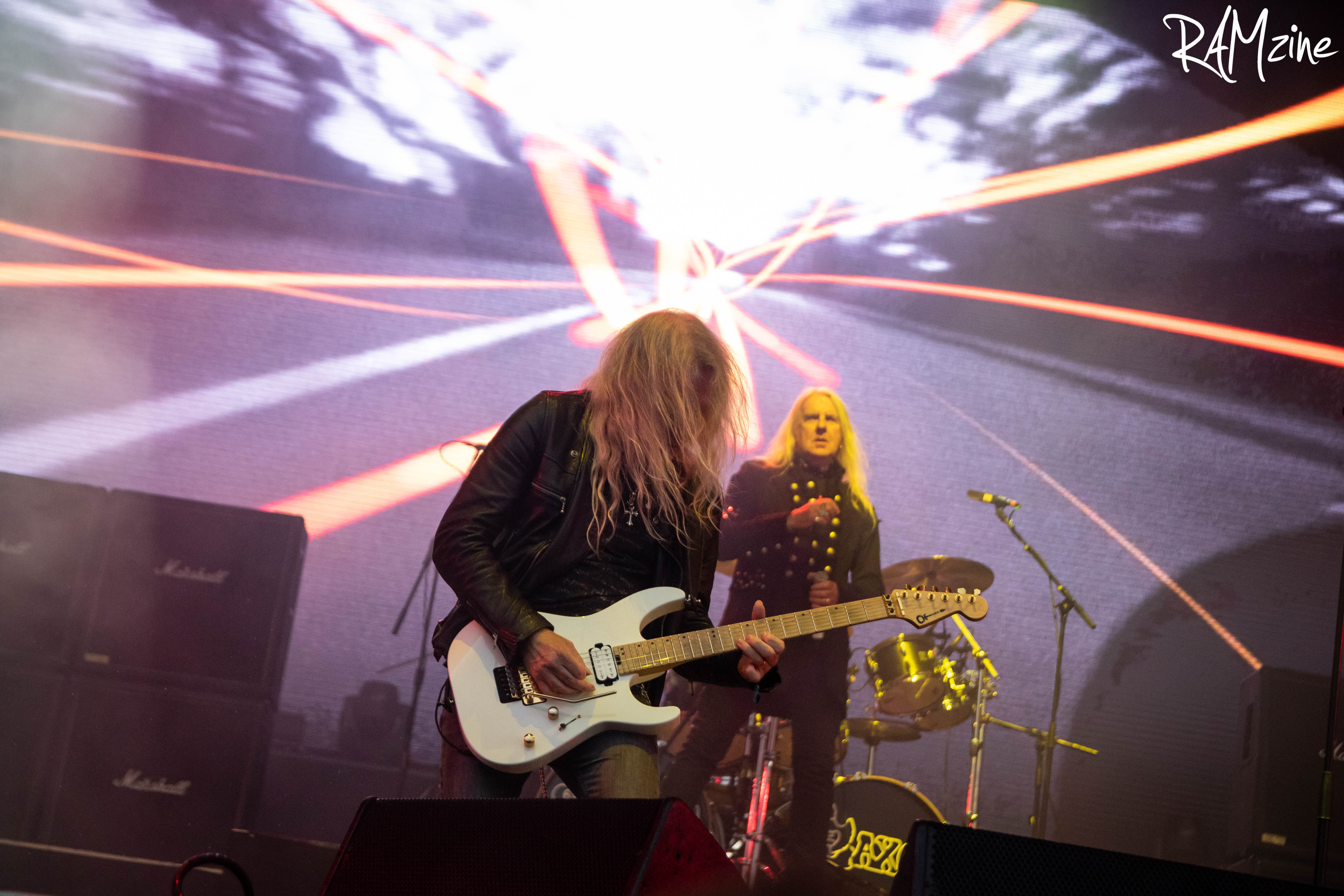 Having headlined the first Bloodstock, does it mean a lot to be invited back on their 20th anniversary?
No, not much. We did it at the Derby Assembly Rooms, and also the first 'open air' festival. The first was just a gig of 7 or 800 people, the very beginnings of Bloodstock. We also did one of the first Wackens as well.
Do you feel there's a certain versatility to your music being on the same bill as bands like Napalm Death and Skindred?
Yes, there is. We can be very melodic and we can be very heavy as well. We have crossed the line between 'metal' and 'classic rock'. We're very lucky we've got some big riffs. Some big mosher bits as well some jumping up-and-down bits.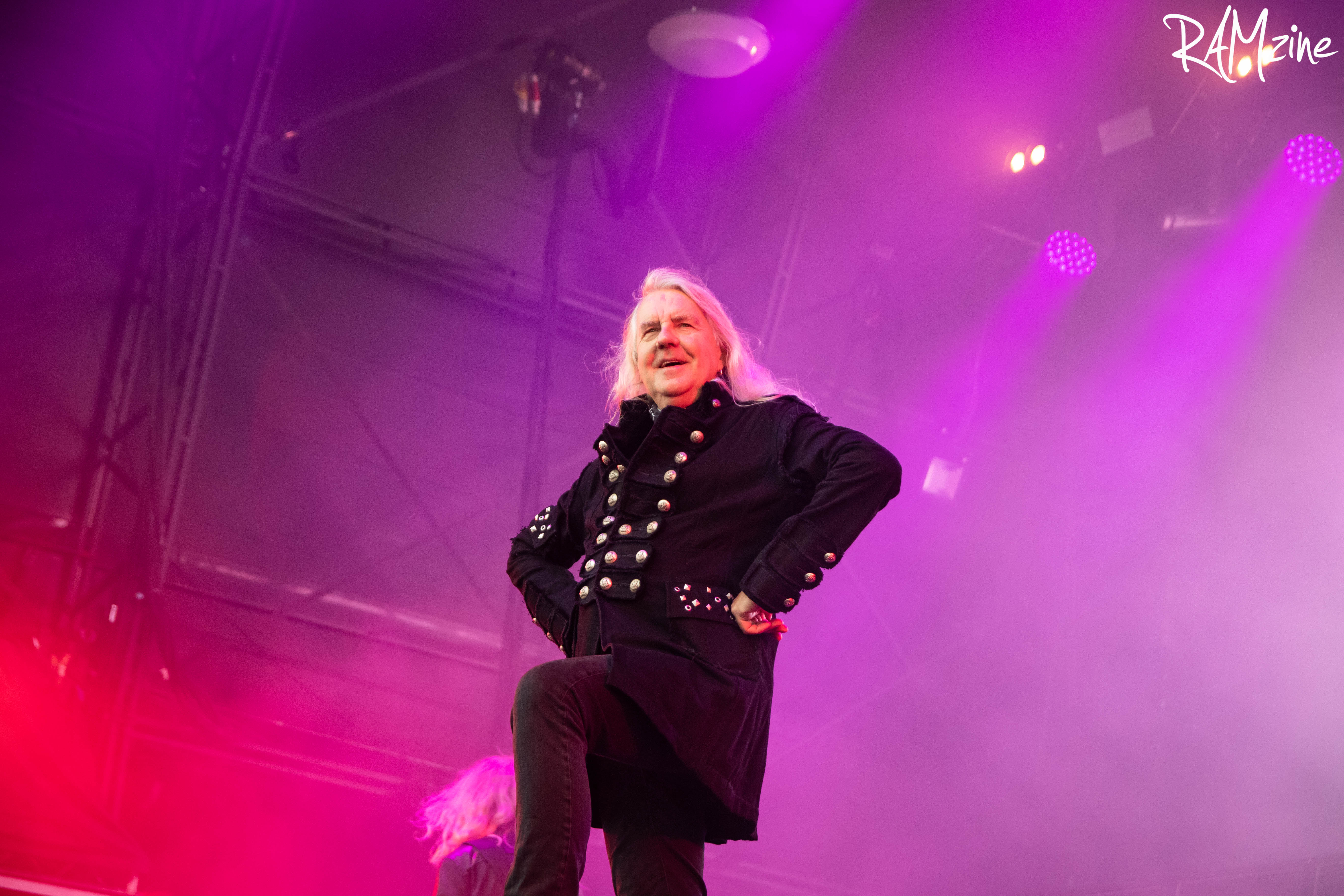 What do you think of the legacy of Saxon, for example, I have lost count of the number of Saxon back patches I've counted?
Yeah, it's great! That comes from the 80s, people wearing their battle jackets, I think it's great. It only really happens in this genre.
If you could go back, is there anything you would do differently in your career?
I probably wouldn't have been married so much (laughs).
Here's one from an old fan of yours – are you going to bring back the dagger?
No. I haven't done that since the 'Son Of A Bitch' days [Saxon's former band name] been a long time I've done that, must have been back in the day. I just moved on to different things.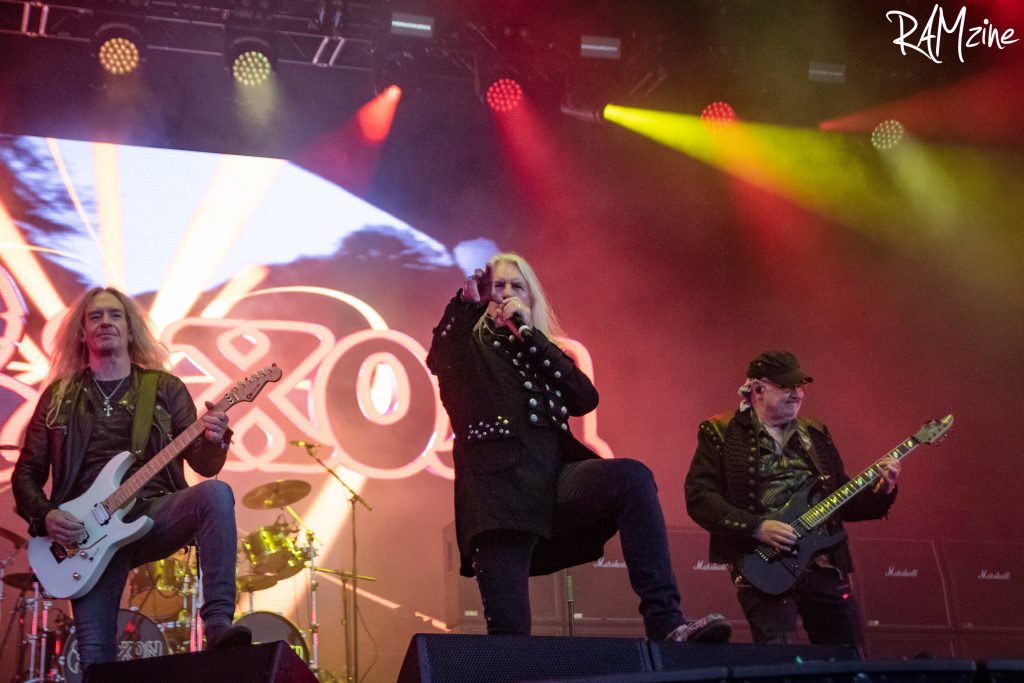 So as well as the new album, is there a tour coming up?
We're doing the postponed live shows in January, Glasgow and Hammersmith Apollo. After that we're in Europe, touring. Touring pretty much all next year… fingers crossed.
Do you still pick up influence from the music you hear today?
I don't personally, our influences hit us when we were young. I suppose the rest of the band like if you were a guitarist, Van Halen and probably Metallica might influence you.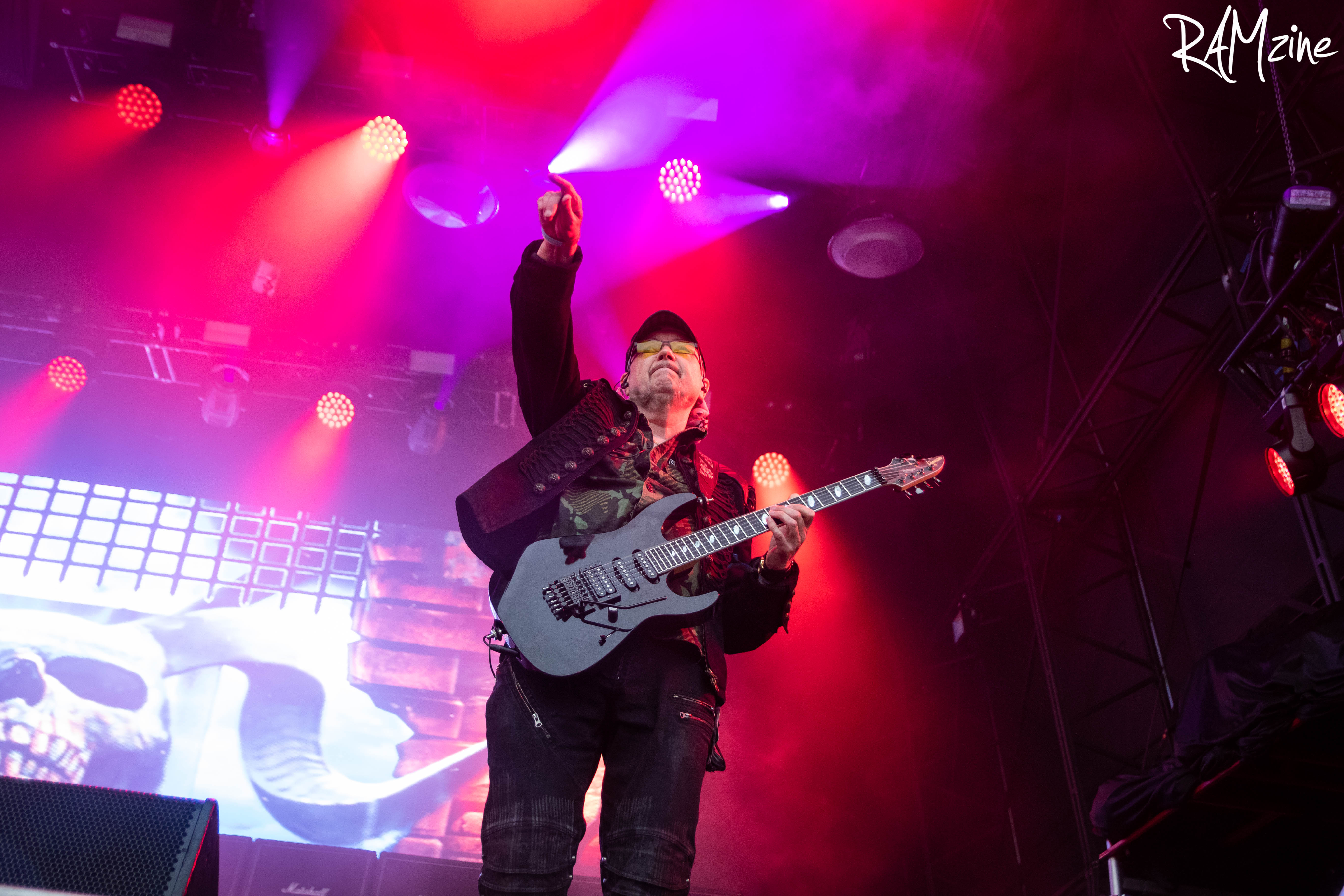 Do you feel metal has a true home or place of origin?
The Midlands. If you're going to go down that road. I mean Yorkshire, where I'm from, it was very industrial as well. But, if you want to pinpoint it, it has to be the Midlands. I mean, Sheffield isn't that far from the Midlands really. The bands from the Midlands are endless. Obviously Sabbath, even Slade was pretty heavy in their early career. We did one of our first tours with them in 1979. Really heavy, and loud!
What advice would you give someone who wants to start a band, or get to the next step in their career?
Just try and find some chemistry between band members and writing. Think about the look and style. Try and find something that hasn't been done before.
…
The Saxon album Inspirations is out now. Available to download and stream on all leading services.
The Heavy Water album Red Brick City is also available via all leading services.
Keep your eyes on RAMzine for further news on Saxon and all your other favourite bands.
Watch this space for further coverage and interviews from Bloodstock 2021 including Diamond Head and Venom Prison among many more.
Read what we thought of Saxon and many other bands at Bloodstock 2021 in our review here.
All photography by Ash Crowson.