Greetings Jo Henning, how are you? Could you tell us a bit about your musical upbringing and what some of the first bands you fell in love with were? Do you recall your first ever album purchase?
JH: Pretty good, thank you. Great to be back with some new music. Well, I learned to play guitar by myself, buying records by my favorite bands and trying to learn from them. It was time-consuming and fun. I started to play in a band when I was fifteen, playing different styles of music along the way such as rock, blues, funk, and hard rock. Later, I got a musical education at a Norwegian university. I was always into hard rock and fell in love with Deep Purple at a very early age. In my teens, I really dug into bands like Purple, Rainbow, Whitesnake, Free, Dio, and Black Sabbath (i.e. classic hard rock bands). On the other hand, I also listen to guitarists like Rory Gallagher, Al Di Meola, Paul Kossoff, David Gilmour, and others. My first album purchase was Stormbringer by Deep Purple.
Your solo project simply named KAASIN sounds really exciting and your first composition (i.e. your new single) is full of energy, atmosphere, and splendid hooks. How do you feel now that you are about to launch the single and are you satisfied with the outcome? Was it a tune that had been lying around for a while or did you compose it recently?
JH: Well, thanks. I see KAASIN more as a band than a solo project, but of course I will be at the head of the songwriting and the decision-making. Still, I want everyone involved in KAASIN to bring something to the table. That's important to me. It feels really great at the moment. We are really looking forward to the release of 'Runaway Train' and I am pleased with how it came out. 'Runaway Train' was originally planned to be a Come Taste the Band (CTTB) song. I wrote the tune three years ago with my good friend and singer Vidar Heldal who co-wrote the vocals. Then I decided to use it in KAASIN, recording the song earlier on this year. KAASIN have this incredibly talented singer, Jan Thore Grefstad, and he really delivered the goods in the studio. The band sounds great with wild analogue synth, sparkling Hammond, thunderous bass and drums, incredible vocals, and mystic guitars – just like I want it to be! I produced it with Halvor Halvorsen and Leif Johansen (21 Guns/Phenomena/A-ha) did a great job mixing the song. I believe all those rockers who love seventies and early eighties hard rock will be pleased with KAASIN and 'Runaway Train'.
'Runaway Train' by KASSIN has since been released, listen to the track now on Spotify!
There is a wonderful 70s-inspired hard rock vibe to your brand-new single, 'Runaway Train', that recalls pioneers and greats ala Deep Purple, Bad Company, and to a lesser extent Free. What bands and artists inspire you the most both musically and lyrically speaking? What about everyday events and happenings – do they inspire you in terms of coming up with words to the songs?
JH: Musically, I am of course inspired by Ritchie Blackmore and the extended Purple family as well as Paul Rodgers and Paul Kosoff. You can hear those influences in a song like 'Don't Let Me Bleed' (feat. Joe Lynn Turner on vocals) from CTTB's REIGNITION album and also 'Slave for Your Love' (feat. Doogie White on vocals) from that same album. It's that kind of bluesy hard rock thing and if Paul Rodgers had joined Deep Purple in '73, I think it might have sounded like that. I listen to and get inspired by different kinds of music. The rhythm and feeling in blues and funk will always be a part of my writing and improvisations are important both in the studio and on stage. By the way, the guitar solo in 'Runaway Train' is a totally improvised "1st take" – I played it just once. It's got those Eastern flavors that Blackmore did in songs like 'Stormbringer' and 'Stargazer'. Lyrically, I tend to write stories about people and happenings that I observe. The KAASIN song 'Runaway Train' is about some kind of restless freedom and sometimes it's hard to achieve that freedom. To get it you might hang on to a "runaway train".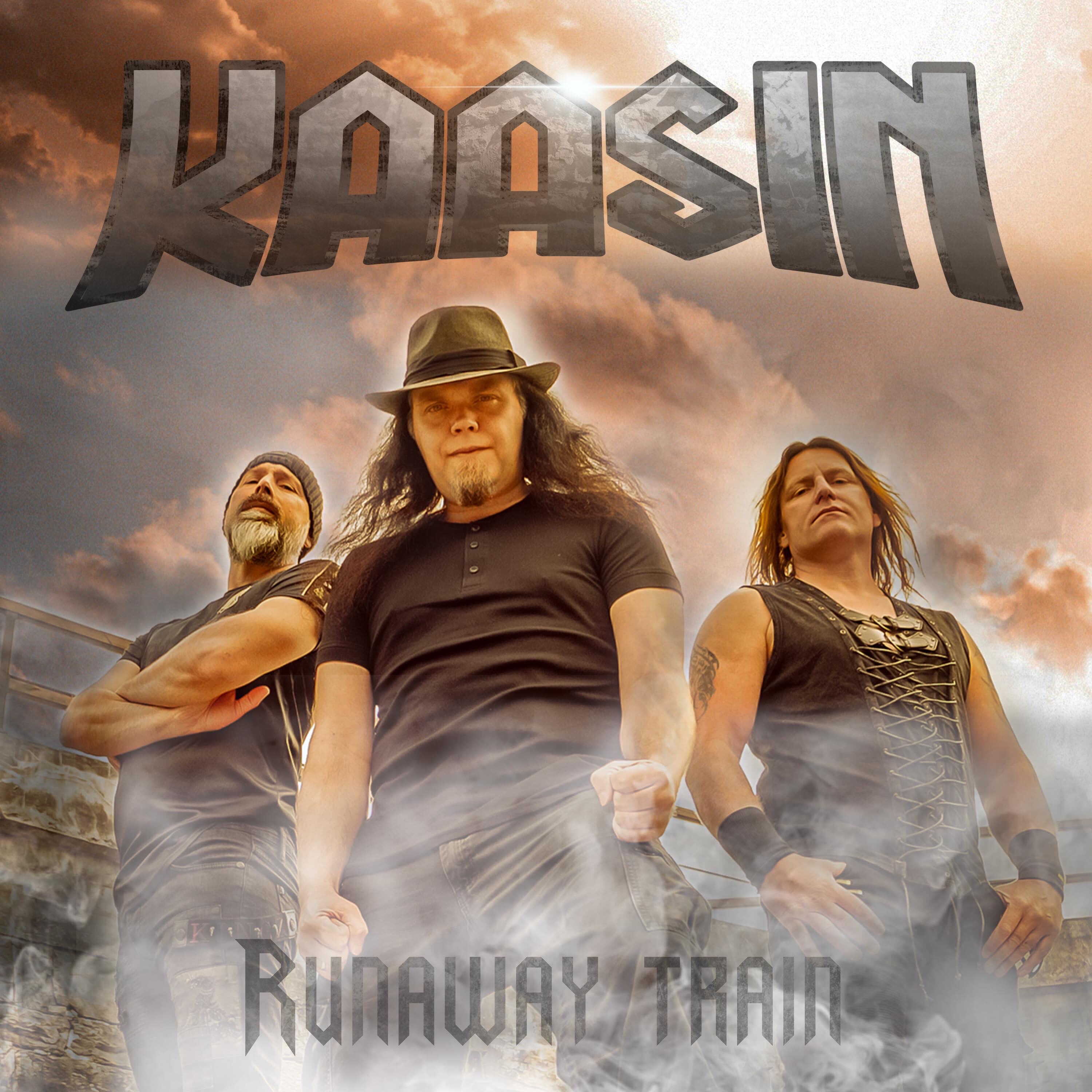 I was thrilled when I saw that Rick Hagan was involved in KAASIN. Not only is he a super cool dude, but he is a great drummer too. Where did you hook up with the guys in the band and have you been friends or at least known each other for a long time? The line-up is impressive and has a lot of musical pedigree.
JH: I have known Rick Hagan for a long time, and he is a great musician. A real rock 'n' roller. Working with him was great. His own band HEX AD is great stuff and he's got this positive energy. The bass player is Staale KAASIN and he is my cousin. A great bass player in the tradition of Jimmy Bain – just what KAASIN needs. He is also doing some great writing for the band and I will write more with him in the coming months. The keyboard man, Benjamin Dehli, is doing all the right things. Analogue synths and Hammond. I didn't know him. Our producer, Halvorsen, told me about him and we gave it a shot. Spot on! He delivered some fantastic keys on 'Runaway Train'. Jan Thore Grefstad is doing the vocals in KAASIN and he is absolutely fabulous and an amazing singer, kind of like a cross between Freddie Mercury and Ronnie James Dio with a dash of Paul Rodgers thrown in for good measure. He is that good!
I am really excited about working with him in the coming months.
I know that you are a huge fan of the fabulous Deep Purple and the mighty Rainbow, but what about the extended Purple family of bands such as Whitesnake, Gillan, Glenn Hughes, Jon Lord, Joe Lynn Turner, and so on and so forth? Are you fond of those outfits too and have they inspired/influenced you?
JH: Yes. I have always been into the extended Deep Purple family. They have all inspired me one way or the other. Purple, Rainbow, and Whitesnake (until 1987) are close to my heart, but of course I like what Glenn did as a solo artist and in Black Country Communion too.
You have shared the stage with such renowned and legendary musicians as Bernie Marsden, Glenn Hughes, Graham Bonnet, and Doogie White. Plenty of fond memories I take it?
JH: I have so many memories and I feel lucky and proud to have been working with all those fantastic musicians. I have learned a lot from them. Glenn told me to always play a show like it was the last one. I get that. A show should always be special and different from the one before. And Joe Lynn Turner once told me: "I've learned all I know about the music business from Ritchie Blackmore and now I am learning it all to you. I am passing the torch to you". I wrote two songs with Joe entitled 'Tied Down' and 'Don't Let Me Bleed', and I think you can hear his words in those two compositions.
Is Come Taste the Band on hiatus or have you parted ways?
JH: Come Taste the Band had great success with the album REIGNITION (feat. Doogie White and Joe Lynn Turner) and the following tour. But after all that work it was time to take a break. The band was put on ice in January. There are no plans for a comeback at this point in time. That said, I really hope to work with Doogie White again. He is a fantastic singer and a very good friend. It was such a joy to write the CTTB REIGNITION album with him. Hopefully, we will relaunch our partnership sometime in the future.
What does the future hold for your solo project? Perhaps a full-length album and a possible tour once this awful pandemic is less of a burden to us all?
JH: I really want to work with KAASIN this year and the next. We are currently writing the follow-up to 'Runaway Train'. We hope to release it in November this year. We also have enough ideas for a full-length album. Hopefully, we will release a proper record and do a tour next year.
Finally, could you list a few of your all-time favorite records as well as some of the best and most memorable gigs/performances that you have ever witnessed by classic rock/hard rock bands?
JH: My favorite albums are Deep Purple's Burn, Rainbow's Rising, Nils Petter Molvær's Khmer, all albums by Free, and Thin Lizzy's Thunder and Lightning. The best gig: Deep Purple in Oslo 1993.
Thanks once again for your time and best of luck with your future musical endeavors. Do not forget to keep us posted on any news.